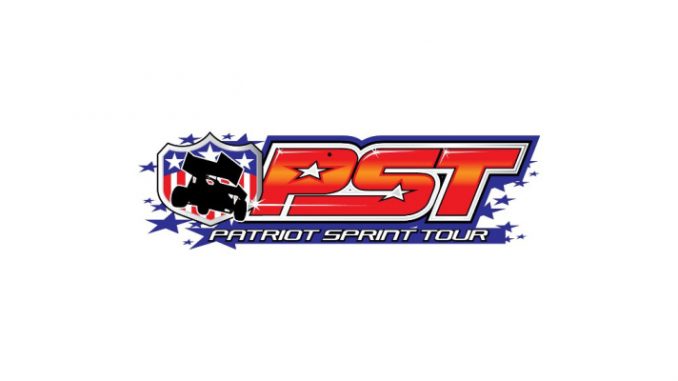 From Paul Harkenrider
CORNWALL, Ont. (July 16, 2017) — Dylan Westbrook may have lost the battle to Steve Poirier but won the war as he was crowned the 2017 Patriot Sprint Tour Canadian Champion at the Cornwall Motor Speedway on Sunday Night.
Rain was in the area so the Patriot A-Main got pushed ahead of all the other divisions to ensure a PST Canadian Champion would be crowned that night. Two points separated Westbrook and Jared Zimbardi with the championship being awarded to the highest finisher after the 30 lap A Main.
Steve Poirier drew the pole position; however, at the start of the race, he would fire before completely entering the white starting box, bringing out the yellow and getting docked one row. This would hand over the pole to Westbrook starting alongside fellow Canadian, Mitch Brown.
Westbrook would take the lead in the opening laps, then on lap two, Jordan Poirier would bring out another yellow after spinning on the top of turn three.
Westbrook restarted the field once again building a very comfortable lead over Mitch Brown and Steve Poirier as those two would battle for the runner up spot. Jared Zimbardi would crack into the top five after starting seventh by lap eight.
More laps would click by with Poirier getting by Mitch Brown while continuing to ring in the race leader of Westbrook. Zimbardi was also able to get by Mitch Brown for third on lap 18.
Lap 19 would find Jake Brown coming to a stop re-stacking the field once again, Brown was unable to get his car fired back up and his night would end early along with Ryan Turner who went pit side during that caution as well.
On the ensuing restart, Westbrook would not get as far away from Poirier in the clean air allowing him to sweep by Westbrook on lap 22 to take command. This left no positions between Zimbardi and Westbrook in the final eight laps.
Poirier would cruise to the checkers but the most important battle on the race track was between Westbrook and Zimbardi. The Scotland, ONT teenager was able to hold off a hard charging Zimbardi and pick up his first career series championship with the Patriots. Mitch Brown would take home fourth, followed by Cory Turner completing the top five.
Westbrook will just have to make an appearance at the Canadian Sprint Car Nationals at Ohsweken Speedway in September and he will officially be crowned the series champion.
The Patriots return to American Series action with a trip back to the Woodhull Raceway this Saturday, July 22. As always, all fans are encouraged to check out patriotsprinttour.com for up to the minute news, schedule info, point standings, etc. You can also like "Patriot Sprint Tour" on facebook and follow @PatriotSprints on Instagram and twitter.
Patriot Sprint Tour
Cornwall Speedway
Cornwall, ONT
Sunday July 16, 2017
A Main: Steve Poirier (2), 2) 47x- Dylan Westbrook 3) 35- Jared Zimbardi 4) 10-Mitch Brown 5) 97- Cory Turner 6) 20fm- Jordan Poirier 7) 51L- Lee Ladouceur 8) 42w- Rick Wilson 9) 15aw- April Wilson 10) 123- Yan Bilodeau 11) 11j- Chris Jones 12) 98- Paul Pekkonen 13) 51N- Guillaume Neiderer 14) 1-10- Jake Brown 15) 91- Ryan Turner
Heat 1: 1) 10- Mitch Brown 2) 123- Yan Bilodeau 3) 47x- Dylan Westbrook 4) 42w- Rick Wilson 5) 91- Ryan Turner 6) 1-10- Jake Brown 7) 98- Paul Pekkonen 8) 51N0 Guillaume Neiderer
Heat 2: 1) 28fm- Steve Poirier 2) 35- Jared Zimbardi 3) 97- Cory Turner 4) 51L- Lee Ladouceur 5) 20fm- Jordan Poirier 6) 11j- Chris Jones 7) 15- April Wilson
PST Canadian Champion: 47x- Dylan Westbrook