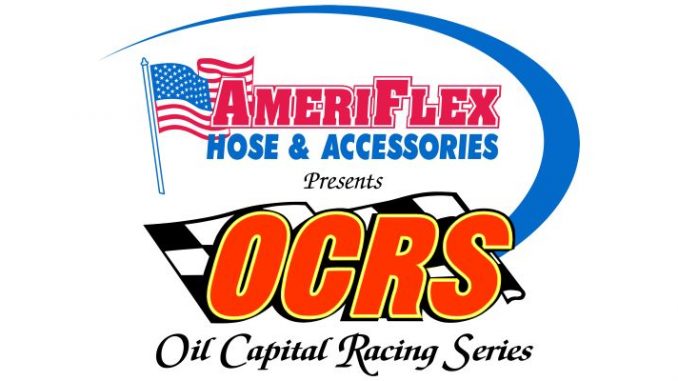 By John Lemon
Tulsa Okla. (August 22, 2017) –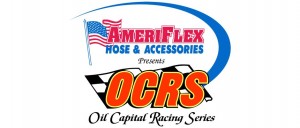 , a 14-car, 15-lap shootout that paid Sean McClelland $5,000 for his last lap pass to win. Over the next off-season, pencils scribbled on paper till another plan came to fruition.
Now comes the newest creation of a huge payday for the series as this Saturday night, the Salina Highbanks Speedway will host the Ameri-Flex Challenge II presented by Grand National Trailer as part of the Oklahoma Open Wheel Thunder Nationals that will also feature the sprint cars of the ASCS Red River Region.
$3,000 to win and $1,000 to start is all on the table for the Ameri-Flex / OCRS teams that qualified for this event through a set protocol during the early – mid part of the racing season. While the 2016 version of the Ameri-Flex Challenge bore the highest paying amount to win in series history, the 2017 edition will be the highest paying single program event in history with over $18,700 on the table for the taking. In addition to the cash offerings, the teams will draw for several contingency prizes after the event to enhance its value even further!
Whit Gastneau comes into the event with a hot hand as he scored his first win of the season at the Thunderbird Speedway last weekend in thrilling fashion. Gastineau will have his hands full with the likes of series points leader Zach Chappell, who has tallied 7 top-5 finishes in the 9 events held. Then there's Alex Sewell who has racked up a top-5 in all 7 of the events he has entered including two wins for the season.
Early season points leader Shane Sellers, 2-time defending champion Robert Sellers and last year's highest collector of victory lane hardware, Sheldon Barksdale, are just a few of the others that will vie for the $3,000 winners purse. The format for the Ameri-Flex Challenge II presented by Grand National Trailer will see the drivers compete in heat races, qualifiers and climaxing the big money show with a 25-lap main event.
In addition to the ASCS sprint cars, the Kansas Antique Racers (KAR) will perform with their racing machines from the past. The speedway will also run the pure stocks as well. Hot laps will be at 6:30 with racing starting at 7pm.
Nutz' n' Boltz
Almost A Perfect Night
Last weeks return to Thunderbird Speedway after a 4 year hiatus was a rousing success. 30 Ameri-Flex / OCRS sprinters stretched across the pit area, fans flocked back to the speedway and filled the stands like nobody's business, the new LED lighting for the track made for excellent viewing and the main event had Whit Gastineau & Andrew Deal put on a show one hopes to see when they buy a ticket and they stayed within a mere couple of feet of one another lap after lap. The one downside? It was quite sultry with dew points hovering in the mid 70's. It will feel like April this weekend so enjoy that!
Lady Troubles
Jaiden Hughes and Shayla Waddell each had tough night's at T-Bird. Hughes pulled into the infield during the main while Waddell had a motor conk out on her in the main. Hughes had only a few practice laps on the large track prior to race night while Waddell had experience the speed of T-Bird prior to its temporarily shut down a few years ago. Waddell is a qualified driver for the Ameri-Flex Challenge II presented by Grand National Trailer this weekend thus she will be in action this weekend.
Ah It's Just a Little Dent
Robert Sellers had a wheel separate from his car during the Ameri-Flex Hose & Accessories main event in turn 2 at Thunderbird. Fortunately for Sellers, he was able to control his car till it reached a stopping point without going end over end. His fortune was misfortune for the family of Ameri-Flex / OCRS competitor Joseph Miller as the wheel smashed into their personal vehicle as it sat in the pit area. In an irony of sorts. Miller's father Lonnie owns an automotive paint & body shop in their home state of Arkansas. We can't help but wonder if he will give himself a discount.
Dirty Deal-er
The night before the Thunderbird race, Andrew Deal raced at Creek County Speedway in a non-wing affair. At the conclusion of the night, Deal expressed that the Thunderbird race just wasn't in the cards and he would be MIA. In a matter of several hours later, Deal pulled a card from the bottom of the deck and Thunderbird was on the schedule. The result was a runner-up finish to winner Whit Gastineau in what played out to be one of the most exciting races of the season. For Deal, he left the track extremely gleeful he made the show after all. Not a bad card play Andrew, not bad at all.
It Wasn't MRN Radio But It Was Cool
Kelly Westphal of Wesmar Racing Engines fame makes a couple of announcing gigs with the series a year. He does a good job and the regular announcer gets to run around and play all night when KW is in da house. He made the trek to Thunderbird (who didnt) and wound up teaming on the mic with former Ameri-Flex / OCRS announcer and now ASCS staffer Terry Mattox. They eventually called the races switching back and forth in a similar fashion as what you would hear on an MRN broadcast. It kept the fans entertained and came off quite well. No word yet if either will be quitting their day jobs.
Series Debut Of Truck Lungs
It was announced early last week that the series signed on Truck Lungs as the newest sponsor for the 16 year old series. A $5000 point fund for a 3 race series was announced and was named: Truck Lungs High Plains Shootout.
Thunderbird, Enid & 81 Speedway's are the stomping grounds for the mini series. Dan Morris (owner of Truck Lungs) & KOTV storm chaser Von Caster, who is a Truck Lungs customer, were on hand to talk about the onboard air system product during intermission. You can checkout this amazing product at www.trucklungs.com
Truck Lungs High Plains Shootout Top 10:
1) Whit Gastineau 105
2) Andrew Deal 100
3) Shane Sellers 98
4) Zach Chappell 96
5) Alex Sewell 93
6) Mickey Walker 90
7) Sheldon Barksdale 85
8) Sean McClelland 82
9) Danny Smith 77
10) Brett Wilson 74
10) Kyle Clark 74
Appreciation Of The Massive Kind
This weekends event at the Salina Highbanks took a collective team of people to bring this event to life. It is for this very fact that series officials expresses their sincere gratitude to the following:
Corvan & Logan Robison of Ameri-Flex Hose & Accessories
Brandon Williams of Grand National Trailer
Tom Lorenz of Smiley's Racing Products
Rick & Rita Whitehead of Drive Shafts Inc.
Mike DeVore of H&R Block
Dan Musselman of Maxim Racing
Doug Schoenfeld of Schoenfeld Headers
Pat Grady of Amsoil (Grady Oil Co.)
Bob Douglass of Rod End Supply
And……. a special thank you to Dave Bohannon, Keith Sanders and Bryce Hall of the Salina Highbanks Speedway & Finishline Restaurant. Thanks to everyone of you for your support!
It's been talked up and hyped up all season…….
Now it's time to get after it and race for some serious cash & contingency product!
What: Oklahoma Open Wheel Thunder Nationals featuring the Ameri-Flex Challenge II presented by Grand National Trailer
With: ASCS Red River Region Sprint cars, Kansas Antique Racers and Pure Stocks
When: Saturday August 26, 2017
Where: Salina Highbanks Speedway / Salina Oklahoma
Time: Gates open at 5pm (pit gates 3 pm) / Hot laps at 6:30pm / Racing begins at 7pm (OCRS drivers meeting at 5:45pm)
Tickets: Adult General Admission: $20 / Seniors: $17 / Kids: $10 / Pit Pass: $35
Location: Racetrack sits directly on Highway 20 between Pryor and Salina.
Track Phone: (918) 434-RACE (7223)
Track Website: www.salinahighbanksspeedway.com
About the Ameri-Flex / OCRS Series –
Established in 2002, the Tulsa OK based Ameri-Flex / OCRS series sanctions dirt track sprint car racing in the southern region of the central plains. Fan appeal and quality race teams, combined with our solid core of supporting sponsors are the nucleus of the series. Thrilling competition providing the ultimate quality family entertainment is the essence of what the Ameri-Flex / OCRS series is all about.
Website: www.ocrsracing.com
Facebook: www.facebook.com/oil.series