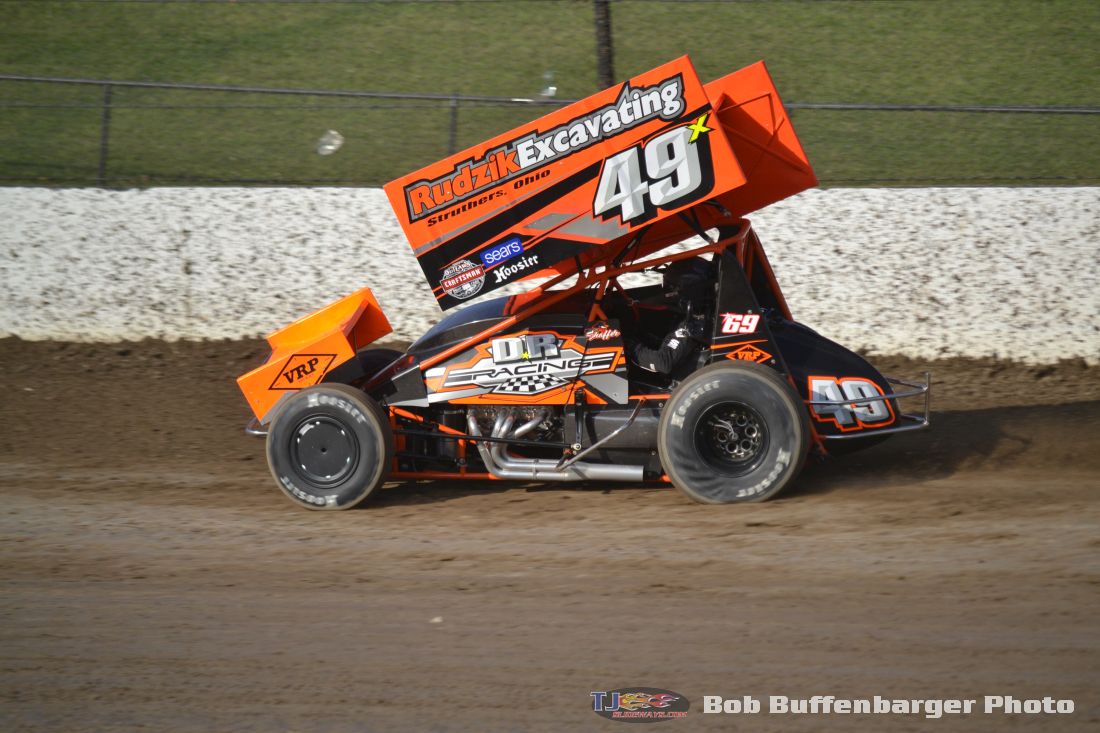 Rossburg,Oh. (Sept 22 2017)-Tim Shaffer started on the pole of the 30 lap World of Outlaws feature Friday night at Eldora Speedway and led every lap. It wasn't a cakewalk as Donny Schatz put pressure on Shaffer in the closing laps after Shaffer had built up a big lead.
Shane Stewart who started next to Shaffer looked like he had something for the leader until a right rear tire exploded on lap 13. At the halfway mark Shaffer's lead was growing but as Shaffer approached traffic Schatz was beginning to mount a charge. With 20 in the books it was Shaffer, Schatz, Jason Johnson, Abreu and Saldana.
With 10 laps remaining Schatz was gaining ground quickly and Rico Abreu had charged into 3rd. Abreu got into the turn 4 wall with two laps left which closed the field but Shaffer was able to fend off Schatz for the victory.
Feature (30 Laps): 1. 49X-Tim Shaffer [1][$10,000]; 2. 15-Donny Schatz [4][$5,500]; 3. 71-Joey Saldana [6][$3,200]; 4. 41-Jason Johnson [3][$2,800]; 5. 5-David Gravel [7][$2,500]; 6. 49-Brad Sweet [11][$2,300]; 7. 24-Rico Abreu [5][$2,200]; 8. 19-Brent Marks [22][$2,100]; 9. 10H-Chad Kemenah [19][$2,050]; 10. 17-Jac Haudenschild [13][$2,000]; 11. 9-Daryn Pittman [15][$1,500]; 12. 2-Shane Stewart [2][$1,200]; 13. 18-Ian Madsen [9][$1,100]; 14. W20-Greg Wilson [10][$1,050]; 15. 12N-Cole Duncan [21][$1,000]; 16. 1ST-Gary Taylor [12][$900]; 17. 4-Parker Price-Miller [24][$800]; 18. 7S-Jason Sides [18][$800]; 19. 1S-Logan Schuchart [17][$800]; 20. 5T-Travis Philo [23][$800]; 21. 1A-Jacob Allen [16][$800]; 22. 93-Sheldon Haudenschild [14][$800]; 23. 11K-Kraig Kinser [8][$800]; 24. 99-Brady Bacon [20][$800]; Lap Leaders: Tim Shaffer 1-30; KSE Hard Charger Award: 19-Brent Marks[+14]
Qualifying Flight-A: 1. 2-Shane Stewart, 12.899; 2. 41-Jason Johnson, 13.001; 3. 5-David Gravel, 13.058; 4. 71-Joey Saldana, 13.086; 5. 18-Ian Madsen, 13.086; 6. 9-Daryn Pittman, 13.092; 7. 1S-Logan Schuchart, 13.112; 8. 49-Brad Sweet, 13.127; 9. 17-Jac Haudenschild, 13.146; 10. 10H-Chad Kemenah, 13.15; 11. 12N-Cole Duncan, 13.173; 12. 19-Brent Marks, 13.203; 13. 4-Parker Price-Miller, 13.329; 14. 5T-Travis Philo, 13.347; 15. 39-Spencer Bayston, 13.351; 16. 17M-Max McGhee, 13.433; 17. 23-D.J. Foos, 13.445; 18. 49D-Shawn Dancer, 13.545; 19. 11N-Cap Henry, 13.561; 20. 22M-Dan McCarron, 13.66; 21. 5QB-Quentin Blonde, 14.255
Qualifying Flight-B: 1. 15-Donny Schatz, 13.017; 2. 49X-Tim Shaffer, 13.096; 3. 24-Rico Abreu, 13.135; 4. 11K-Kraig Kinser, 13.167; 5. W20-Greg Wilson, 13.167; 6. 17X-Caleb Helms, 13.18; 7. 93-Sheldon Haudenschild, 13.182; 8. 1ST-Gary Taylor, 13.273; 9. 7S-Jason Sides, 13.282; 10. 1A-Jacob Allen, 13.295; 11. 14-Tony Stewart, 13.33; 12. 13-Clyde Knipp, 13.387; 13. 20-Hunter Schuerenberg, 13.392; 14. M1-Mark Smith, 13.408; 15. OO-Dane Lorenc, 13.416; 16. 99-Brady Bacon, 13.425; 17. 7K-Cale Conley, 13.46; 18. 33M-Max Stambaugh, 13.651; 19. 27-Brad Lamberson, 13.714; 20. 45T-Bob Tucker, 15.161; 21. 45-Trevor Baker, NT
Heat #1 – Flight (A) (8 Laps) – Top 5 Transfer: 1. 2-Shane Stewart [1]; 2. 5-David Gravel [2]; 3. 18-Ian Madsen [3]; 4. 17-Jac Haudenschild [5]; 5. 1S-Logan Schuchart [4]; 6. 12N-Cole Duncan [6]; 7. 11N-Cap Henry [10]; 8. 39-Spencer Bayston [8]; 9. 4-Parker Price-Miller [7]; 10. 23-D.J. Foos [9]; 11. 5QB-Quentin Blonde [11]
Heat #2 – Flight (A) (8 Laps) – Top 5 Transfer: 1. 41-Jason Johnson [1]; 2. 71-Joey Saldana [2]; 3. 49-Brad Sweet [4]; 4. 9-Daryn Pittman [3]; 5. 10H-Chad Kemenah [5]; 6. 19-Brent Marks [6]; 7. 17M-Max McGhee [8]; 8. 5T-Travis Philo [7]; 9. 22M-Dan McCarron [10]; 10. 49D-Shawn Dancer [9]
Heat #3 – Flight (B) (8 Laps) – Top 5 Transfer: 1. 15-Donny Schatz [1]; 2. 24-Rico Abreu [2]; 3. W20-Greg Wilson [3]; 4. 93-Sheldon Haudenschild [4]; 5. 7S-Jason Sides [5]; 6. 20-Hunter Schuerenberg [7]; 7. 7K-Cale Conley [9]; 8. 14-Tony Stewart [6]; 9. 45-Trevor Baker [11]; 10. OO-Dane Lorenc [8]; 11. 27-Brad Lamberson [10]
Heat #4 – Flight (B) (8 Laps) – Top 5 Transfer: 1. 49X-Tim Shaffer [1]; 2. 11K-Kraig Kinser [2]; 3. 1ST-Gary Taylor [4]; 4. 1A-Jacob Allen [5]; 5. 99-Brady Bacon [8]; 6. 13-Clyde Knipp [6]; 7. M1-Mark Smith [7]; 8. 33M-Max Stambaugh [9]; 9. 45T-Bob Tucker [10]; 10. 17X-Caleb Helms [3]
Craftsman Club Dash (6 Laps): 1. 49X-Tim Shaffer [1]; 2. 2-Shane Stewart [4]; 3. 41-Jason Johnson [2]; 4. 15-Donny Schatz [3]; 5. 24-Rico Abreu [6]; 6. 71-Joey Saldana [7]; 7. 5-David Gravel [5]; 8. 11K-Kraig Kinser [8]
C-Main (10 Laps) – Top 2 Transfer: 1. 7K-Cale Conley [2][-]; 2. 11N-Cap Henry [5][-]; 3. 23-D.J. Foos [1][$150]; 4. 22M-Dan McCarron [7][$150]; 5. 45-Trevor Baker [10][$150]; 6. 5QB-Quentin Blonde [9][$125]; 7. 45T-Bob Tucker [8][$125]; 8. 33M-Max Stambaugh [4][$125]; 9. 27-Brad Lamberson [6][$125]; 10. 49D-Shawn Dancer [3][$125]
Last Chance Showdown (12 Laps) – Top 4 Transfer: 1. 12N-Cole Duncan [1][-]; 2. 19-Brent Marks [3][-]; 3. 5T-Travis Philo [7][-]; 4. 4-Parker Price-Miller [5][-]; 5. 11N-Cap Henry [14][$300]; 6. 14-Tony Stewart [4][$250]; 7. 39-Spencer Bayston [9][$225]; 8. 13-Clyde Knipp [6][$200]; 9. OO-Dane Lorenc [12][$200]; 10. 17M-Max McGhee [11][$200]; 11. 20-Hunter Schuerenberg [8][$200]; 12. M1-Mark Smith [10][$200]; 13. 17X-Caleb Helms [2][$200]; 14. 7K-Cale Conley [13][$200]
CONTINGENCY WINNERS: MSD Ignitions ($25 cash): Kraig Kinser; MSD Ignitions ($50 cash): Donny Schatz; JE Pistons ($50 cash): Brad Sweet; VP Racing Fuels ($50 cash): Brent Marks; Edelbrock ($50 cash): Chad Kemenah; Comp Cams ($50 cash): Jac Haudenschild; Extended Stay America ($50 cash): Daryn Pittman; Cometic Gasket ($50 cash): Shane Stewart; Super Flow ($50 cash): Greg Wilson; Craftsman Club ($100 cash): Shane Stewart, Jason Johnson, David Gravel, Kraig Kinser; Sears ($100): Tim Shaffer; KSE Hard Charger: Brent Marks; Comp Cams ($50 product certificate: Donny Schatz; JE Pistons (Set of Rings): Parker Price-Millerr; JE Pistons (Set of Rings): Jacob Allen