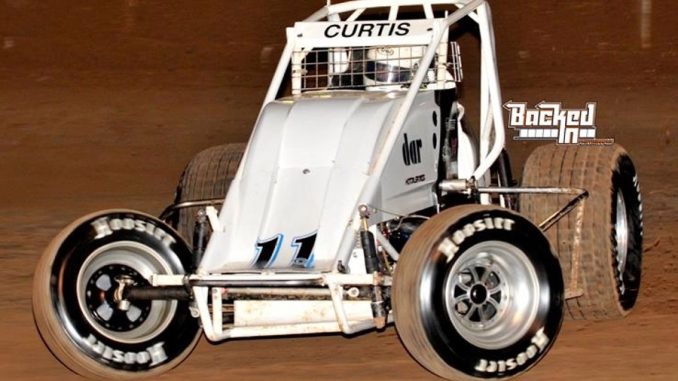 From Lance Jennings
QUEEN CREEK, Az. (March 14, 2018) — This Saturday, March 17th, the Sands Chevrolet USAC SouthWest Sprint Cars are back in action at Arizona Speedway. Located within ET Motopark in San Tan Valley and promoted by Jonah Trussel, the second point race will also showcase IMCA Sport Mods, Modlites, Pure Stocks, and the Robert Horne Ford Bombers. The Front Gates will open at 5:00pm and Racing at the fast 3/8-mile oval will start at 7:00pm. For more event and ticket information, visit www.arizonaspeedway.net or call 480.926.6688.
NOTICE TO RACERS: The Schoenfeld 14272735-78 Muffler is MANDATORY for Sands Chevrolet USAC SouthWest competition at Arizona Speedway. Failure to comply will be disqualified from the events. . The Hoosier 105/16 Medium is the ONLY legal right rear tire and cockpit adjustable shocks are NOT allowed. The engine restrictor rules are 1-7/8″ with open heads and 2-3/16″ with ASCS cylinder heads. The weight rule is 1,475 lbs. with driver and the USAC SouthWest Sprint Car Rule Book can be found online at www.southwestsprintcars.com or www.usacracing.com. USAC MEMBERSHIPS can be purchased online at https://usacracing.redpodium.com/2018-usac-sprint-midget-sc
To date, Arizona Speedway has held thirty-two USAC SouthWest Sprint Car events. "The Magic Man" Mike Martin won the April 13, 2013 debut and R.J. Johnson leads all drivers with sixteen victories. Last season, Johnson and Stevie Sussex had two wins at the San Tan Valley oval as "Chargin" Charles Davis Jr., Brady Bacon, and Chris Windom had one triumph.
Entering the second point race, five-time champion R.J. Johnson (Laveen, Arizona) sits atop the point standings. The pilot of Bobby Martin's #51 Martin Family Auto Museum / Pecon Builders Sherman did not compete at Las Vegas, but won the February 3rd "Steve Stroud Memorial" at Canyon Speedway Park. The second generation driver leads the series with fifty-two career victories and will be looking to take the checkered flags at Arizona Speedway.
Just two points behind Johnson is veteran "Chargin" Charles Davis Jr. (Buckeye, Arizona). Driving his #50 MP Environmental / Massey Motorsports RSS, Davis had sixth and eighth place runs in the Las Vegas doubleheader. The five-time Arizona sprint car champion has twenty-one SouthWest wins and will have his sights on gaining valuable points with a San Tan Valley triumph.
Stevie Sussex (Tempe, Arizona) ranks third in the point standings. Racing John Grau's #34AZ Western Premier Hauling / KSE Custom Drywall Maxim, Sussex posted fifteenth and fourth place finishes in Las Vegas. To date, Stevie has twelve SouthWest wins to his credit and will be looking to earn the $1,500 payday.
Michael Curtis (Cottonwood, Arizona) sits fourth in the chase for the championship. Driving Kevin Turner & Greg Wheeler's #11C DAR Racing / JT Engineering Maxim, Curtis scored seventeenth at Las Vegas on February 28th after a flip ended his night. Michael will have his sights on earning his first USAC SouthWest win this Saturday night.
Veteran Josh Pelkey (Peoria, Arizona) is fifth in the point standings. The pilot of Robbie and Gaye Allen's #12 ABC Body Shop / PPG Automotive Finishes Maxim skipped the non-point Las Vegas shows and finished sixth at Canyon. The 1997 ASCA Champion has five USAC SouthWest wins and will be looking to add another winning trophy to his collection.
"The Bull" Tye Mihocko, "The Magic Man" Mike Martin, Landon Cling, Dennis Gile, Matt Lundy, Johnny Shelton, Colton Moroney, Larry Kesterson, Tyler Adams, Mason Keefer, and Wayne Siddle round out the USAC SouthWest standings.
Arizona Speedway is located at 47800 N. Ironwood Road in San Tan Valley, just five minutes from Mesa, Arizona. To get to the track, exit Ironwood Drive on US 60, then head four miles south. Adult Tickets are $15, Senior Tickets are $12, Kids Tickets (11 & under) are FREE. For more event and ticket information, visit www.arizonaspeedway.net or call 480.926.6688.
The Sands Chevrolet USAC SouthWest Sprint Car Series thanks AMSOIL, Hoosier Tire, and Beaver Stripes for their support. For more information on the series, visit www.southwestsprintcars.com, www.usacracing.com, or follow the series on Facebook.