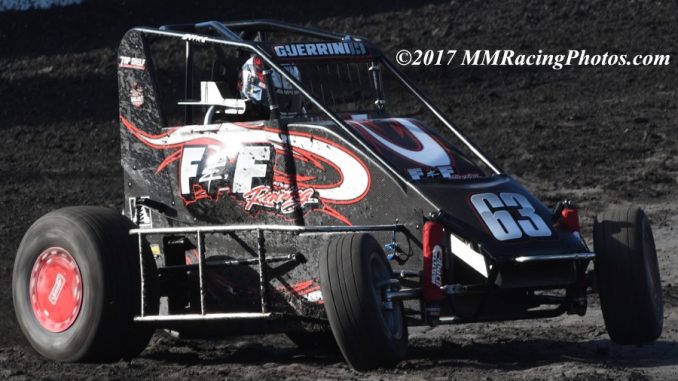 From Lance Jennings
BAKERSFIELD, Ca. (March 14, 2018) — This Saturday, March 17th, the Light Up The World USAC Western States Midget Series presented by CBD Living Water will open their 2018 season at Bakersfield Speedway. Promoted by Scott Schweitzer, the first point race is co-sanctioned with the Bay Cities Racing Association (BCRA) and will also feature IMCA Stock Cars, American Stocks, and the California Lightning Sprints. The Pit Gates will open at 2:00pm, the Front Gates will open at 4:00pm, and Racing is scheduled for 6:00pm at "The West's Fastest 1/3-Mile High Banked Clay Oval." For event information, visit the track's website at www.bakersfieldspeedway.com or call 661.393.3373.
Since July 3, 1987, Bakersfield Speedway has hosted 108 USAC Western States Midget races and P.J. Jones claimed the inaugural victory. Former champions Sleepy Tripp and Robby Flock are tied for the series lead with eight Bakersfield triumphs, followed by Billy Boat (7), Ronnie Gardner (6), Jay Drake (5), and "Flash" Jordan Hermansader (4). Heading into Saturday's event, Ricky Shelton holds the 1-lap qualifying track record of 12.339, set on June 21, 1997.
Last November, Ronnie Gardner (Corona, California) clinched his fifth consecutive championship. Driving the Six8 Motorsports' #68 PAC Springs / Wilwood Brakes Stewart, Gardner posted three feature wins, four Woodland Auto Display Fast Time Awards, five heat race victories, nine top-10 finishes, and 93 feature laps led. Ronnie has been searching for a new ride and will be looking for his twenty-third series victory.
Frankie Guerrini (San Rafael, California) took second in the Western Midget point standings. Racing the family owned #63 F&F Racing / Davis Motorsports Spike, Guerrini had one hard charger award, nine top-10 finishes, and 13feature laps on the year. The former BCRA Champion has one career USAC victory and will have his sights on the Bakersfield triumph.
Veteran David Prickett (Fresno, California) scored third in the championship point standings. Piloting the Neverlift Motorsports' #22Q Crysalli Artesian Water / Mt. Rose Cocktails Spike, Prickett had two heat race victory, one hard charger award, one Light Up The World Beverages Hard Luck Award, and seven top-10 finishes to his credit. The 2012 Dirt Series Champion will be looking to claim the Bakersfield main event win.
Cory Elliott (Bakersfield, California) finished fourth in the chase for the championship. Driving the family owned #11E Capital E Trucking / FK Indy Spike, Elliott had one feature win, four heat race victories, eight top-10 finishes, and 30 feature laps led on the season. The 2015 Rookie of the Year will have his sights on earning a victory in front of his hometown fans.
Robert Dalby (Anaheim, California) placed fifth in the USAC Western States Midget point standings. Piloting the family owned #4D RD Spring & Stamping / Monster Seal Spike, Dalby posted three heat race victories, one hard charger award, and six top-10 finishes on the year. This Saturday, Robert will be looking to earn his first win at Bakersfield Speedway.
Among the other drivers expected to be in action are Michael Faccinto, Randi Pankratz, Shannon McQueen, Mason Daniel, Maria Cofer, Robby Josett, Jake Swanson, "The Panda Express" Terry Nichols, Alex Schutte, Clayton Ruston, C.J. Sarna, Kyle Beilman, Bryan Drollinger and more.
Maria Cofer (Macdoel, California) earned last season's BCRA championship. Floyd Alvis, JR Williams, Alex Schutte, Chad Nichols, Cory Elliott, David Goodwill, Michael Faccinto, Scott Pierovich, and Danny Carroll rounded out the top-10 in points.
Bakersfield Speedway is located at 5001 North Chester Extension in Bakersfield, California. Adult tickets are $15, Senior and Military tickets (ID Required) are $13, Kids tickets (6 to 12) are $8, and Children Tickets (5 and under) are FREE. For more event information, visit the track's website at www.bakersfieldspeedway.com or call 661.393.3373.
NOTICE TO RACERS: USAC memberships can be purchased at the track or online at https://usacracing.redpodium.com/2018-usac-sprint-midget-sc.
2018 APPROVED/LEGAL MUFFLERS:
B&B: FRAC-0375-S w/side outlet,
COAST FABRICATION: 300x625x17-2s, 350x625x17-2s, 400x625x17-2s
EXTREME: 3515-3030 (15″ Long 5″ round shell with 3″inlet & 3″ outlet), 3615-3030 (15″ Long 6″ round shell with 3″ inlet & 3″ outlet), 3515-3030-8 (15″ Long 5″ round shell with 3″inlet & 3″ outlet with turnout), 3615-3030-8 (15″ Long 6″ round shell with 3″ inlet & 3″ outlet with turnout)
FLOWMASTER: (BCRA Approved) 13009130, 13509130, 13509135
SCHOENFELD: 14272535
*Failure to comply with the muffler rule will risk disqualification from the event.