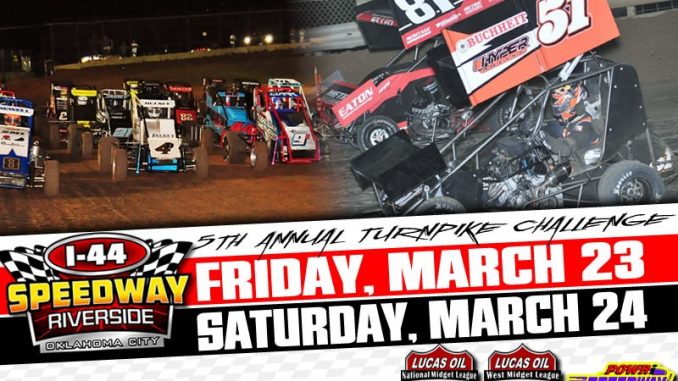 From POWRi
BELLVILLE, Ill (March 19, 2018) — This Friday and Saturday kicks off the Fifth Annual Turnpike Challenge at I-44 Riverside Speedway in Oklahoma City, Oklahoma.
With practice on Thursday night, teams will have the opportunity to gear up for what has become one of the largest outdoor events of the year, for both midgets and micros.
With over 60 POWRi Lucas Oil National and West midgets at last year's event, Christopher Bell was the class of the field, sweeping the annual co-sanctioned weekend. Bell's sweep places him at the top of the Turnpike Challenge winner's list, with six event wins to his name. The only other drivers to capture Turnpike Challenge victories include Matt Sherrell and Jason McDougal. Returning to Oklahoma, Bell has a target on his back as drivers look to chip away at his legacy. But, chipping away at Bell's accomplishments will be no easy feat, as I-44 is one of Bell's original stomping grounds from his micro-sprint days.
Set to open 2018 at the Fifth Annual Turnpike Challenge, the POWRi Speedway Motors 600cc Outlaw Micro League looks to see if Frank Galusha and Frank Flud can defend their victories in the second showing for the micros at the Turnpike Challenge. Both Joe B. Miller and Craig Ronk will be on a mission at this year's Turnpike Challenge, wanting to start 2018 on a strong note.
For additional information, visit www.powri.com, "Like" POWRi and POWRi West on Facebook and follow @POWRi_Racing and @POWRi_West on Twitter.