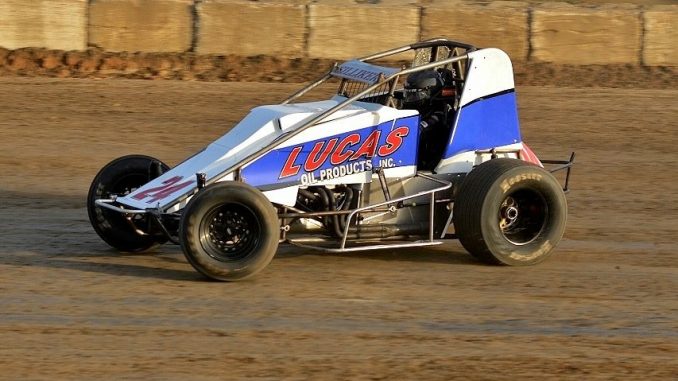 From Greg Calnan
EAST SELKIRK, Manitoba (April 16, 2018) – Fresh off their 2017 successes, it's been a busy offseason for Ben Silliker and Silco Racing. Now, their 2018 Season is coming together, accentuated by some major pre-season announcements.
Silliker, just a grade seven middle school student, has signed a multi-race deal with Nathan and Danielle Moore out of Kaufman, Texas. The deal will see Ben travelling throughout the US Gulf South Region, driving primarily in the POWRi Elite Non-Wing Series. Ben will be by far the youngest driver racing in the series, a hot topic in the Southern United States Dirt racing scene, but Ben has no plans on letting that slow him down.
The deal also includes use of the Lucas Oil Trademark. The popular motor oil producing company will be featured as the primary sponsor on the cars throughout the 2018 racing season.
Justin Zimmerman will be Silliker's Crew Chief. Justin is a seasoned dirt-racing veteran with multiple wins, top fives, and top tens to his name.
The team will be making starts in the Gulf South Region in Winged Sprint Cars as well, with the series and races to be officially announced shortly.
For 2018, Team Silco is announcing the launch of their new website. In addition to an avenue for team and sponsor promotion, the new site will serve as a hub for team news, results, and schedules. Readers will be able to follow Ben and team Silco here, and on their active Twitter and Facebook accounts as well.
This past weekend Silliker competed at Abilene Speedway in Abilene, Texas. After some mechanical issues in the heat race he rebounded with a 2nd place finish in the B-Main. He started 18th in the very competitive A-Main. The racing line was around the bottom of the track and called for some very technical racing. Silliker was able to finish the night off with a 12th place finish.
"I want to thank Abilene Speedway for the great night of racing" said Silliker. "I also want to thank Nathan and Danielle Moore, as well as Justin Zimmerman for all that they do. Without them and Lucas Oil Products I wouldn't have this great opportunity".
Silliker will be behind the wheel of the #24 Lucas Oil POWERi Elite Non-Wing racecar again this weekend, April 21st, as they compete at Superbowl Speedway in Greenville, Texas. He looks to back up his recent top ten result with another strong finish.