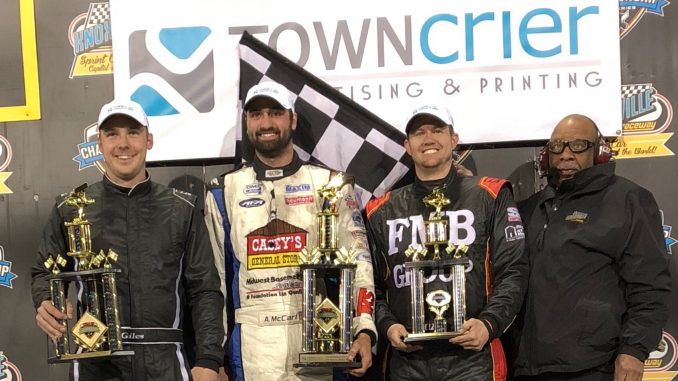 From Bill Wright
KNOXVILLE, Iowa (April 28, 2018) – The 410 sprint car feature at Knoxville Raceway Saturday night took a similar refrain to the Season Opener the week prior. Austin McCarl shot out to an immediate lead, and led the distance to take home $4,000 here on Town Crier Night. A pair of driver misfortunes and an unbelievable finish in the 360 class saw Ryan Giles take his fourth career win, and Matthew Stelzer visited Victory Lane for the sixth time in the 305 class.
McCarl shot from his starting spot in row two to take command early in the 20-lap feature. Chris Martin and Josh Schneiderman trailed him. Tasker Phillips spun with a lap in the books, setting up a restart that saw Aussie Brooke Tatnell drive from fourth to second. Schneiderman and Martin battled for third, with Martin prevailing on lap five.
McCarl entered lapped traffic on lap eight, and had opened up a 3.2 second lead on Tatnell. Meanwhile, his father Terry had moved into the top four. On lap twelve, Austin jumped the turn three cushion and nearly faced disaster with the fence, but brought the car back under control. A lap later, his brother Carson McCarl would bring the last caution of the even twith a turn two spin.
Austin McCarl led Tatnell, Martin, Terry McCarl and Jamie Ball back to green. The man on the move, however, was 13th starter, Davey Heskin. Restarting seventh, he used the bottom to perfection, moving up to fourth. He would take third two laps later.
McCarl would never be headed for his second consecutive win here. The Altoona, Iowa driver was followed by Tatnell, Heskin, Martin and Terry McCarl. Ball, Rager Phillips, Justin Henderson, Lynton Jeffrey and Matt Juhl rounded out the top ten. Jeffrey set quick time for the second week in a row and won his heat. Phillips and Terry McCarl were other heat winners.
"I was able to get a good start," said Austin in Victory Lane. "Chris (Martin) did a good job. He did exactly what I would have done. I was just able to get him. The racetrack got pretty tricky. I started getting tight. I thought about my Dad a lot that race. I had to slow down more than I wanted to be honest. It got treacherous. Me not crying tonight doesn't mean I'm not excited! It's great to start two for two, and I have a great car."
Seven-time 360 track champion, Clint Garner, appeared to be on his way to a win in his 18-lap feature event. Sawyer Phillips ran a strong second, but Garner pulled away when he entered lapped traffic on the seventh circuit. Garner was on cruise control, until things went up in smoke for him on lap fifteen.
Phillips would fly by and assume the lead. He took the white flag with a 4.5 second lead over Ryan Giles, but it was not to be. Third running Jamie Ball went up in smoke as well, bringing the caution, and setting up a green, white, checker finish with Phillips now leading Giles, Matt Moro, Skylar Gee and Travis Rilat.
While Phillips hit the high side on the restart in turn one, Giles performed a big slider. Phillips somehow found his way between Giles and the turn two wall to maintain the point heading down the backstretch. It was anyone's race coming for the white flag, but when Phillips missed his mark on the low side of one and two, Giles slipped by to take his fourth career win here.
Phillips retained second, ahead of Moro, Gee and Rilat. Hard-charger Robbie Price, Joe Beaver, Calvin Landis, Tyler Groenendyk and McKenna Haase completed the top ten. Giles also registered quick time on the field, while Beaver, Landis and Ball won heats.
"I saw Clint go down, and I saw Jamie go up in smoke," said an emotional Giles in Victory Lane. "This is just unbelievable. It's my wife's birthday today and my son turns four on Monday. We went through a lot of changes this year. I wasn't sure I wanted to continue to do this, but that wasn't an option for my Dad. I owe this all to him. I didn't know if (Phillips) was going to be out there (in turn two on the restart) or not. He gave me room, and I definitely appreciate that. Luckily, it worked."
Rob Kubli took the early lead, ahead of Mike Mayberry and Matthew Stelzer in the 15-lap 305 feature. Stelzer showed he was the car to beat by getting by Mayberry on lap two, and chasing down Kubli and passing him on lap four. Kevin Hetrick moved into the top three on lap five.
Stelzer would enter traffic on lap eight, but he had a clean track ahead of him after a spin ten laps in by Josh Jones. The restart had Stelzer leading Kubli, Hetrick, Devin Kline and Eric Bridger. Hetrick found the low side past Kubli for second, but he had nothing for Stelzer. Kline would take third with two to go, ahead of Kubli and Bridger. Ryan Leavitt, Jayce Jenkins, Mayberry, Chris Horton and Evan Epperson rounded out the top ten. Bridger set quick time, while Kubli and Stelzer were heat winners.
Join us next week, Saturday, May 5, for Budweiser "National Beverage Day" ($1 Busch Light) Night featuring the 410, 360 and 305 sprint cars! For more information, visit www.KnoxvilleRaceway.com!
410 Results
Knoxville Raceway
Knoxville, IA
Saturday April 28, 2018
Winged 410 Sprint Cars
Time Trials, 1. 12, Lynton Jeffrey, Sydney, NSW, Aust. (9), 15.736; 2. 55, Brooke Tatnell, Sans Souci, NSW, Aus (20), 15.811; 3. 24, Terry McCarl, Altoona, IA (8), 15.907; 4. 7, Carson McCarl, Altoona, IA (11), 15.976; 5. 2KS, Austin McCarl, Altoona, IA (12), 16.05; 6. 5J, Jamie Ball, Knoxville, IA (19), 16.083; 7. 71A, RJ Johnson, Tampa, FL (5), 16.144; 8. 11, Max McGhee, Camby, IN (4), 16.165; 9. 56N, Davey Heskin, St. Michael, MN (24), 16.217; 10. 09, Matt Juhl, Tea, SD (3), 16.245; 11. 49, Josh Schneiderman, West Burlington, IA (18), 16.26; 12. 44, Chris Martin, Ankeny, IA (23), 16.295; 13. 20, AJ Moeller, Rockwell City, IA (10), 16.355; 14. 9, Rager Phillips, Pleasantville, IA (15), 16.403; 15. 7W, Tasker Phillips, Pleasantville, IA (1), 16.431; 16. 83, Justin Henderson, Tea, SD (14), 16.58; 17. 15, Bobby Mincer, Burlington, IA (13), 16.716; 18. 75, Glen Saville, Razorback, NSW, Aust (21), 16.775; 19. 4, Dakota Hendrickson, Omaha, NE (16), 17.001; 20. 21, Brinton Marvel, Pittsboro, IN (22), 17.053; 21. 19, Bob Weuve, Newton, IA (7), 17.282; 22. 85, Chase Wanner, Agency, IA (6), 19.14; 23. 91, Cale Thomas, Fairland, IN (2), No Time; 24. 66M, Max Grogan, Basehor, KS (17), No Time; 25. 71, Tim St. Arnold, Des Moines, IA (25), No Time;
Heat 1, 8 Laps, No Time: 1. Lynton Jeffrey (6); 2. Justin Henderson (1); 3. Carson McCarl (5); 4. AJ Moeller (2); 5. Dakota Hendrickson (7); 6. Chase Wanner (8); 7. Matt Juhl (3);
Heat 2, 8 Laps, No Time: 1. Rager Phillips (2); 2. Josh Schneiderman (3); 3. Brooke Tatnell (6); 4. Austin McCarl (5); 5. Max McGhee (4); 6. Bobby Mincer (1); 7. Cale Thomas (8); 8. Brinton Marvel (7);
Heat 3, 8 Laps, No Time: 1. Terry McCarl (6); 2. Chris Martin (3); 3. Jamie Ball (5); 4. Glen Saville (1); 5. Bob Weuve (7); 6. Tasker Phillips (2); 7. Davey Heskin (4);
A main, 20 Laps, No Time: 1. Austin McCarl (3); 2. Brooke Tatnell (6); 3. Davey Heskin (13); 4. Chris Martin (1); 5. Terry McCarl (7); 6. Jamie Ball (4); 7. Rager Phillips (9); 8. Justin Henderson (11); 9. Lynton Jeffrey (8); 10. Matt Juhl (14); 11. Carson McCarl (5); 12. Tasker Phillips (16); 13. Glen Saville (15); 14. Josh Schneiderman (2); 15. RJ Johnson (23); 16. Max McGhee (10); 17. Cale Thomas (22); 18. AJ Moeller (12); 19. Dakota Hendrickson (17); 20. Bobby Mincer (18); 21. Bob Weuve (19); 22. Chase Wanner (20); 23. Brinton Marvel (21); 24. Tim St. Arnold (24);
Winged 360 Sprint Cars
Time Trials, 1. 9, Ryan Giles, Grimes, IA (13), 16.43; 2. 2M, Matt Moro, Polk City, IA (2), 16.572; 3. 3, Nate Van Haaften, Otley, IA (15), 16.595; 4. 55, McKenna Haase, Des Moines, IA (4), 16.79; 5. 40, Clint Garner, Sioux Falls, SD (18), 16.805; 6. 99, Skylar Gee, Leduc, ALB, Can. (8), 16.838; 7. 1, Travis Rilat, Heath, TX (1), 16.87; 8. 3P, Sawyer Phillips, Pleasantville, IA (3), 16.915; 9. 5J, Jamie Ball, Knoxville, IA (19), 16.915; 10. 17, Tyler Groenendyk, Oskaloosa, IA (17), 16.937; 11. 70, Calvin Landis, Knoxville, IA (14), 16.957; 12. 76, Brad Comegys, Bondurant, IA (6), 17.006; 13. 21, Robbie Price, Cobble Hill, BC, Can (7), 17.053; 14. 15, Christian Bowman, Altoona, IA (10), 17.119; 15. 40C, Cody Wehrle, Burlington, IA (5), 17.172; 16. 53, Joe Beaver, Knoxville, IA (9), 17.199; 17. 6, Mitchell Alexander, Knoxville, IA (16), 17.34; 18. 24N, Nathan Mills, Bondurant, IA (12), 17.398; 19. 13JM, Jordan Martens, Sioux Falls, SD (21), 17.568; 20. 1A, John Anderson, Des Moines, IA (11), 17.854; 21. 8L, Tom Lenz, Marion, IA (20), 17.3;
Heat 1, 7 Laps, No Time: 1. Joe Beaver (1); 2. Tyler Groenendyk (3); 3. Robbie Price (2); 4. Ryan Giles (6); 5. Travis Rilat (4); 6. McKenna Haase (5); 7. Jordan Martens (7);
Heat 2, 7 Laps, No Time: 1. Calvin Landis (3); 2. Sawyer Phillips (4); 3. Matt Moro (6); 4. Clint Garner (5); 5. Christian Bowman (2); 6. Mitchell Alexander (1); 7. John Anderson (7);
Heat 3, 7 Laps, No Time: 1. Jamie Ball (4); 2. Skylar Gee (5); 3. Nathan Mills (1); 4. Cody Wehrle (2); 5. Brad Comegys (3);
A main, 18 Laps, No Time: 1. Ryan Giles (5); 2. Sawyer Phillips (1); 3. Matt Moro (6); 4. Skylar Gee (4); 5. Travis Rilat (10); 6. Robbie Price (12); 7. Joe Beaver (11); 8. Calvin Landis (7); 9. Tyler Groenendyk (9); 10. McKenna Haase (8); 11. Christian Bowman (16); 12. Brad Comegys (13); 13. Cody Wehrle (14); 14. Mitchell Alexander (17); 15. Nathan Mills (15); 16. Jamie Ball (3); 17. Clint Garner (2); 18. Jordan Martens (18); 19. John Anderson (19);
Winged 360 Sprint Cars
Time Trials, 1. 81E, Eric Bridger, Winterset, IA (7), 17.02; 2. 22, Ryan Leavitt, Knoxville, IA (2), 17.115; 3. 5C, Devin Kline, Knoxville, IA (11), 17.515; 4. 33, Jayce Jenkins, Colfax, IA (3), 17.541; 5. 26, Chase Young, Des Moines, IA (13), 17.613; 6. 35, Kevin Hetrick, Gladstone, IL (17), 17.841; 7. 02S, Josh Jones, Knoxville, IA (8), 17.892; 8. 4, Chris Horton, Indianola, IA (9), 17.903; 9. 0, Mike Mayberry, Fremont, IA (19), 17.928; 10. 99, Matthew Stelzer, Papillion, NE (12), 17.973; 11. 23K, Rob Kubli, Milo, IA (5), 17.995; 12. 21, Evan Epperson, Muscatine, IA (10), 18.152; 13. 8R, Chase Rudolf, Norwalk, IA (4), 18.158; 14. 48D, Dallas Mendenhall, Unionville, MO (18), 18.471; 15. 64C, Casey Greubel, Lacona, IA (15), 18.728; 16. 41D, Dan Henning, Columbia, IA (6), 18.812; 17. 50, Mike Ayers, St. Charles, IA (16), 18.87; 18. 56, Joe Simbro, Pleasantville, IA (1), No Time; 19. 67, Jon Hughes, Knoxville, IA (14), No Time;
Heat 1, 6 Laps, No Time: 1. Rob Kubli (1); 2. Mike Mayberry (2); 3. Eric Bridger (6); 4. Josh Jones (3); 5. Devin Kline (5); 6. Chase Young (4); 7. Casey Greubel (8); 8. Chase Rudolf (7); 9. Mike Ayers (9); 10. Jon Hughes (10);
Heat 2, 6 Laps, No Time: 1. Matthew Stelzer (2); 2. Ryan Leavitt (6); 3. Kevin Hetrick (4); 4. Evan Epperson (1); 5. Jayce Jenkins (5); 6. Chris Horton (3); 7. Dallas Mendenhall (7); 8. Dan Henning (8);
A main, 15 Laps, No Time: 1. Matthew Stelzer (3); 2. Kevin Hetrick (5); 3. Devin Kline (6); 4. Rob Kubli (1); 5. Eric Bridger (7); 6. Ryan Leavitt (8); 7. Jayce Jenkins (4); 8. Mike Mayberry (2); 9. Chris Horton (11); 10. Evan Epperson (12); 11. Chase Young (10); 12. Dan Henning (16); 13. Chase Rudolf (15); 14. Mike Ayers (17); 15. Jon Hughes (18); 16. Josh Jones (9); 17. Dallas Mendenhall (13); 18. Casey Greubel (14);