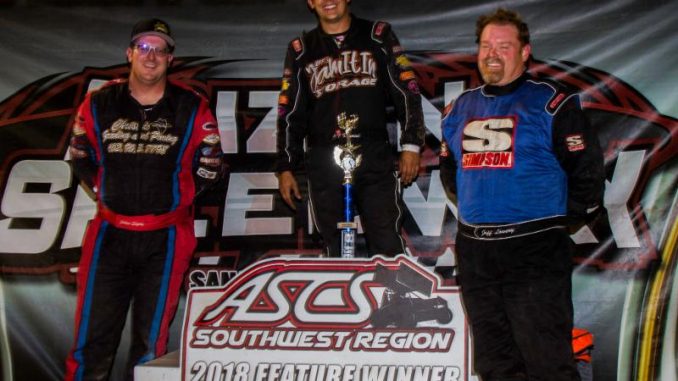 From Bryan Hulbert
QUEEN CREEK, Ariz. (June 30, 2018) – Taking on the ASCS Southwest Region at Arizona Speedway, J.T. Imperial notched his second career victory with the Arizona based region on Saturday night with a run that started from the sixth row.
Gridding the field 11th, Imperial worked into the top three on Lap 14 as Jeff Lowery set the pace. Under pressure from El Paso's Don Grable for the lead, the No. 148 shot for low line pass through the third and fourth turns on Lap 21. Missing the groove and getting loose, Don ended up going for a ride after hitting the front stretch wall.
Moving Imperial to second, the top running No. 45 of Lowery opted to the hub on the restart. Ripping the fence in the No. 75x, Imperial made the race winning pass on Lap 22. Lowery would end up second with Josh Shipley, Billy Chester, and Rick Ziehl making the top-five.
Jesse Baker, Jarrett Martin, Alex Pettas, Steve Cushman, and Mark Clark rounded out the top-ten. Two Heat Races were contested with Ron Gilson awarding $100 to the winners.
The ASCS Southwest Region rolls again on September 1 and 2 at Show Low Speedway Park in Show Low, Ariz. as several tracks across Arizona show down during the hottest parts of the Summer. Rick Ziehl and Jeff Lowery picked up the cash.
For other news, notes, and information on the American Sprint Car Series, from the National Tour to any of the Regional Tours that make up the nearly 150 races across the ASCS Nation in 2018, log onto http://www.ascsracing.com, follow on Facebook, on Instagram, and on Twitter (@LucasOilASCS).
Race Results:
ASCS Southwest Region
Arizona Speedway – Queen Creek, Ariz.
Saturday, June 30, 2018
Heat 1 (8 Laps): 1. 20Z-Rick Ziehl, [2]; 2. 148-Don Grable, [3]; 3. 57-Jarrett Martin, [1]; 4. 33-Steve Cushman, [4]; 5. 7K-Bruce St James, [5]; 6. 99-Chuck Buckman, [8]; 7. (DNF) 71H-Corey Hurley, [6]; 8. (DNF) 2-Alex Pettas, [7]
Heat 2 (8 Laps): 1. 45-Jeff Lowery, [2]; 2. 2B-Billy Chester III, [1]; 3. 22-Jesse Baker, [4]; 4. 01-Joshua Shipley, [3]; 5. 75X-J.T. Imperial, [5]; 6. 7-Mark Clark, [7]; (DNS) 115-Nick Parker,
A Feature (25 Laps): 1. 75X-J.T. Imperial, [11]; 2. 45-Jeff Lowery, [1]; 3. 01-Joshua Shipley, [4]; 4. 2B-Billy Chester III, [8]; 5. 20Z-Rick Ziehl, [7]; 6. 22-Jesse Baker, [5]; 7. 57-Jarrett Martin, [6]; 8. 2-Alex Pettas, [14]; 9. 33-Steve Cushman, [3]; 10. 7-Mark Clark, [12]; 11. (DNF) 148-Don Grable, [2]; 12. (DNF) 7K-Bruce St James, [10]; 13. (DNF) 99-Chuck Buckman, [9]; (DNS) 71H-Corey Hurley, ; (DNS) 115-Nick Parker,