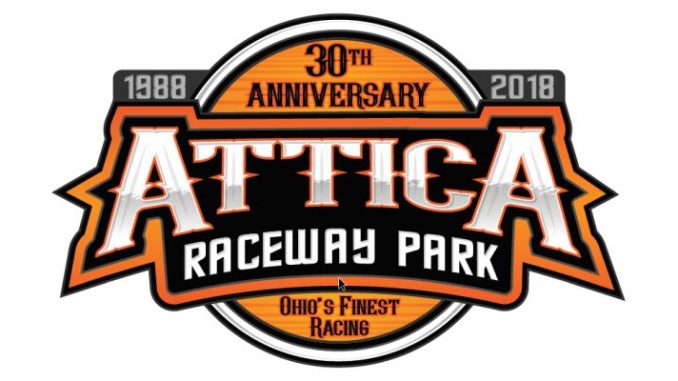 From Brian Liskai
ATTICA, Ohio (July 7, 2018) – A few weeks ago Dustin Stroup nearly destroyed his 305 sprint car in a crash and it left the Fremont, Ohio driver contemplating quitting. The team put the car back together and Stroup was able to hold off Jamie Miller who has four wins and a second in his last five outings, to score the JLH General Contractor FAST 305 Championship Series Presented by Engine Pro win at Attica Raceway Park Friday, July 6.
While the results will show Stroup led all 25 laps for his fourth career Attica win, it was easy as lapped cars racing side by side right in front of him allowed former track champion Jamie Miller to close and race to his inside several times the last four laps.
"That was tough. You don't know where them guys are going and you know you're leading and you start hearing things and I heard something and it was Jamie and I saw him a couple of times. I flipped real heard at Fremont a few weeks ago and Dennis Level has been working with us to diagnosis why it seemed the engine wasn't running right. It came down to checking the rear end and it was mislabeled and our gear choice was then wrong. We changed the rear end and it's back to normal. I have to thank Tony Beaber for the repairs, my Mom and Dad, Adam and everyone that helps out," said Stroup beside his Century 21 Premiere Properties/Slade Shock Technology/Level Performance/Triple X Race cars backed machine.
Stroup and Brandon Moore paced the field to the green for the 25 lap A-main but a tangle involving Matt Ferrell and Shane Call necessitated a complete restart. When the green flew Stroup took the lead over Moore, Miller, Jason Keckler, Kyle Peters and John Ivy.
Stroup steadily inched away from the field while Miller took second on lap four. Call brought out the caution on lap five with Stroup leading Miller, Moore, Peters, Ivy, Keckler, Tyler Street and Paul Weaver.
When the green reappeared Stroup had his hands full with Miller with Ivy moving into third by lap nine. Very heavy lapped traffic just past the half-way point allowed Miller to take a look under Stroup's machine but the leader was able to make great moves to maintain the point.
With five laps to go Stroup found himself in a dilemma with a lapped car running the bottom and another the top. Stroup made some daring moves but as they raced to the white flag Miller dove under him. Stroup was able to get to the bottom of turns one and two and get by one of the lapped cars. Stroup would hold off Miller for the win with Ivy, Moore and Street rounding out the top five.
With his second place run Miller will maintain a significant lead in the FAST standings as the series heads to Limaland Motorsports Park in Lima, Ohio on Friday, July 13.
Attica Raceway Park
Friday, July 6, 2018
Croghan Colonial Bank/Bazell Race Fuels Night
Indicates starting position – [*]
305 Sprints – Fremont Fence
Heat 1 – (8 Laps, top 5 to A)
1. 25-Jason Keckler[2] ; 2. 97-Kyle Peters[4] ; 3. 2L-Landon LaLonde[1] ; 4. 1W-Paul Weaver[5] ; 5. 10-Josh Harrison[3] ; 6. 12-Kyle Capodice[7] ; 7. 36-Seth Schneider[6] ; 8. 47-Matt Lucius[8]
Heat 2 – (8 Laps, top 5 to A)
1. 26-Jamie Miller[2] ; 2. 7M-Brandon Moore[1] ; 3. 83-Shane Call[4] ; 4. 21-Dustin Stroup[6] ; 5. 9R-Dustin Rall[3] ; 6. 5JR-Jimmy McGrath Jr.[5] ; 7. 39C-Scott Riley[8] ; 8. 48-Mike Burkin[7]
Heat 3 – (8 Laps, top 5 to A)
1. 67M-Matt Ferrell[2] ; 2. 8-Bobby Clark[1] ; 3. 77I-John Ivy[5] ; 4. 4*-Tyler Street[3] ; 5. 19R-Steve Rando[6] ; 6. 73-Joe Armbruster[4] ; 7. 28-Tad Peck[7] ; 8. 61-Chuck May[8]
B-Main 1 – (10 Laps, top 5 to A)
1. 12-Kyle Capodice[1] ; 2. 36-Seth Schneider[4] ; 3. 5JR-Jimmy McGrath Jr.[2] ; 4. 73-Joe Armbruster[3] ; 5. 47-Matt Lucius[7] ; 6. 48-Mike Burkin[8] ; 7. 39C-Scott Riley[5] ; 8. 61-Chuck May[9] ; 9. 28-Tad Peck[6]
A-Main 1 – (25 Laps)
1. 21-Dustin Stroup[1] ; 2. 26-Jamie Miller[3] ; 3. 77I-John Ivy[9] ; 4. 7M-Brandon Moore[2] ; 5. 4*-Tyler Street[7] ; 6. 97-Kyle Peters[5] ; 7. 1W-Paul Weaver[11] ; 8. 19R-Steve Rando[15] ; 9. 25-Jason Keckler[4] ; 10. 12-Kyle Capodice[16] ; 11. 36-Seth Schneider[17] ; 12. 9R-Dustin Rall[14] ; 13. 47-Matt Lucius[20] ; 14. 2L-Landon LaLonde[6] ; 15. 73-Joe Armbruster[19] ; 16. 5JR-Jimmy McGrath Jr.[18] ; 17. 83-Shane Call[8] ; 18. 10-Josh Harrison[13] ; 19. 8-Bobby Clark[10] ; 20. 67M-Matt Ferrell[12]
FAST Hard Charger: 47-Matt Lucius +7