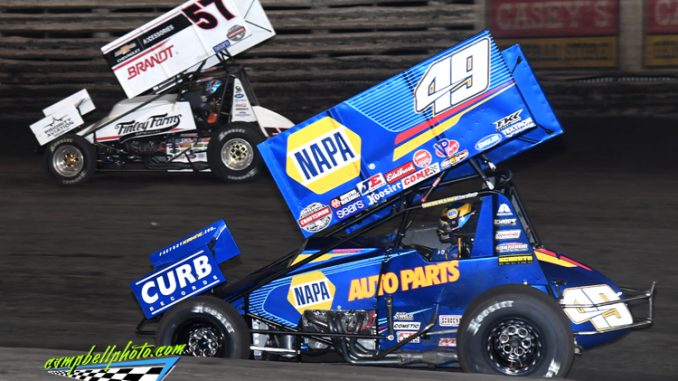 By T.J. Buffenbarger
After the thrilling conclusion to the 58th Annual 5-Hour ENERGY Knoxville Nationals presented by Casey's General Stores here are a my five takeaways from Saturday's program.
Brad Sweet was the fastest car in Knoxville, Iowa since Kasey Kahne Racing unloaded last Sunday at the Capitani Classic. Instead of out tricking themselves Sweet and his team stuck to the plan to hit the bottom and middle of the race track and beat Donny Schatz at his own game at Knoxville. Sweet led nearly every lap he ran in feature competition at Knoxville Raceway since Sunday (Kyle Larson led a lap of the finale). Holding off Schatz in a green-white-checkered finish made the win that much "sweeter".
Kyle Larson put in another outstanding podium finish at the Knoxville Nationals, but came up two positions short at the end. Its still amazes me how fast Larson is at the highest level of sprint car racing while only making a handful of starts compared to his competition.
Aaron Reutzel's star continues to rise in the 410 sprint car ranks. In the midst of an outstanding rookie campaign with the All Star Circuit of Champions Reutzel hung around the top five the entire feature and ended up with a solid fourth place finish. For the most part Reutzel's on track performance wasn't discussed that much at Nationals, but Saturday's performance was one of the hot topics in the media center after the feature.
I'm not sure how anyone, let alone a 22 year old, could handle driving for Jason Johnson Racing at the Knoxville Nationals following Johnson's tragic accident at Beaver Dam Raceway in June. To give you some perspective Carson is older than this website by about a month and a half. The level of maturity he showed through the entire process was inspiring and his on track performance proved he is one of the next young stars that we should see on the World of Outlaws tour by next season. Macedo's problem might become having multiple offers to choose from.
Kendra Jacobs, John McCoy, and the entire team at Knoxville Raceway did an outstanding job that led to a complete sellout for tickets on Saturday night. Granted Knoxville's capacity was reduced over the off season by widening seats, the number of seats lost was minor compared to seeing full grandstands on the front and back stretch again on Saturday night. Every employee I work with on a regular basis at Knoxville pours their hearts and souls into their respective jobs. Everyone on that team needs to be commended from the fair board to the people responsible for cleanup.