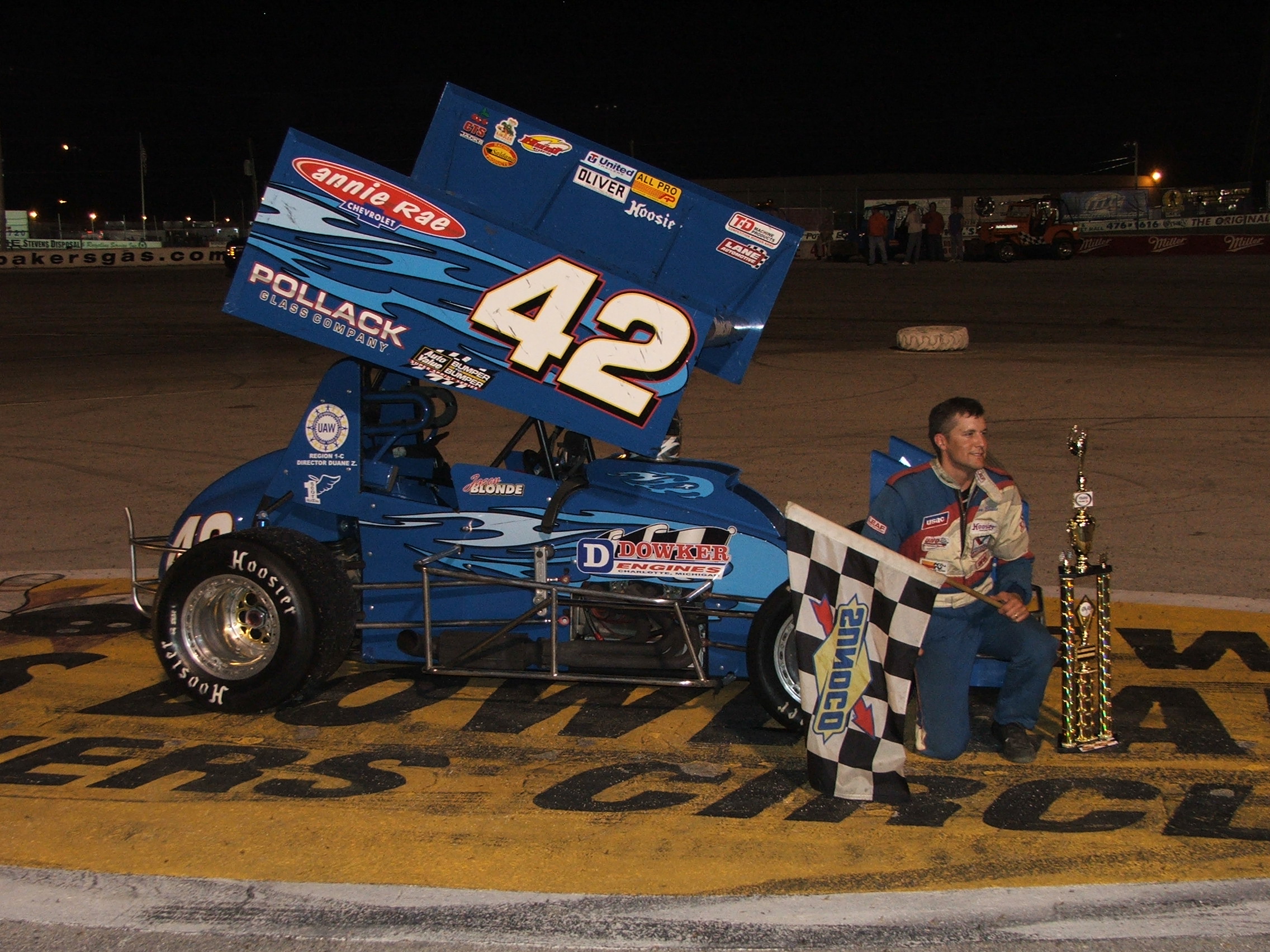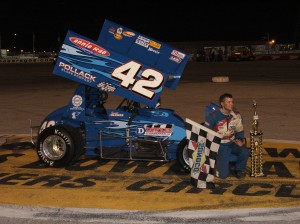 By T.J. Buffenbarger
Toledo, OH — (June 16, 2007) — Jason Blonde won the Auto Value Bumper to Bumper Super Sprint feature Friday night at the Toledo Speedway during the fastest short track show in the world.  Blonde used a last lap pass to overtake 69 year old Hank Lower, who had led 29 of the 30 laps during the main event.  Blonde was driving the T&T Promotions Dowker powered Dowker Chassis.
"I've never had to work so hard to pass someone," said Blonde after the race.  "I figured that I could get [Hank] after that restart.  I could get along side him, but just couldn't get around him."
Lower, who was back with a 410 cubic inch engine for the first time this season, was elated with his run.
"The crew said, 'either get on it or get out of it', so that's what I tried to do."
Lower and Brian Lay started on the front row for the 30-lap main event.  Lower jumped into the lead while Jimmy McCune passed Lay for the second spot.  Blonde methodically moved his way up from mid pack and soon found himself behind Lower.  The duo battled through traffic with Lower holding the advantage until 11 laps to go when Blonde moved past Lower for the lead.  Just as Blonde nosed ahead on the backstretch Troy Underwood pounded the wall in turn two. Underwood was uninjured.
Blonde continued to stalk Lower and as the lead duo raced through lapped traffic the entire top five was dicing through the slower cars.  Blonde and Lower would race side by side for several laps with Lower holding the advantage.  Then coming down to the white flag Blonde made a daring outside move in turns one and two.  The duo raced side by side with Blonde's momentum carrying him past and to the finish line to collect the victory.  McCune slid by Lower for second at the line.  Dave Baumgartner and Ryan Litt rounded out the top five.
Litt was fastest qualifier with a lap of 13.238 seconds around the half mile oval and won the first heat race.  A.J. Lane and Jeff Bloom also won heat race events.
Feature:  1. 42 – Jason Blonde, 2. 19 – Jimmy McCune, 3. 37 – Hank Lower, 4. 55 – Dave Baumgartner, 5. 07 – Ryan Litt, 6. 45 – Brian Lay, 7. 84 – A.J. Lane, 8. 26 – Jeff Bloom, 9. 61 – Mike Ling, 10. 9 – Chad Goff, 11. 44J – Bill Jacoby, 12. 20 – Aaron Katz, 13. 75 – John Hotchkiss, 14. 99 – Dorman Snyder, 15. 24 – Johnny Scherer, 16. 69 – Matt Heaty, 17. 100 – Chad Dellagrange, 18. 4 – Troy Underwood, 19. 81 – Aaron Pierce, 20. 25 – Bill Tyler, 21. 57 – Brian Weltch