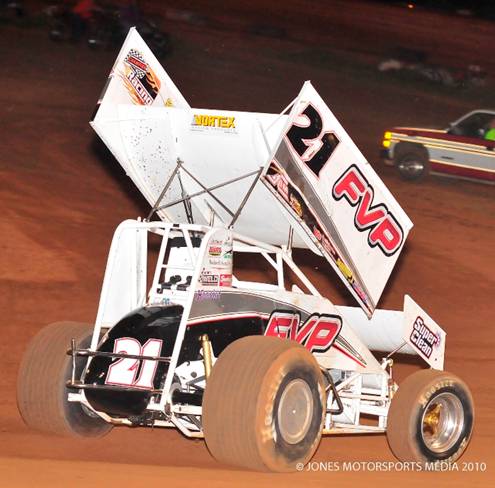 From Bill W, Jimmy Jones-Jones Motorsports Media Photo
April 5, 2010 – It was fifth and tenth place finishes for Brian Brown and the FVP #21 racing team last weekend with the Lucas Oil ASCS National Series. The series visited the Lone Star Speedway in Kilgore, Texas on Friday, and the I-30 Speedway near Little Rock, Arkansas on Saturday. This week, variety is the theme, as Brian races in the 360 season opener at the State Fair Speedway in Sedalia, Missouri on Friday, and with the World of Outlaws in Pevely, Missouri on Saturday.
A tough heat awaited the Grain Valley, Missouri driver on Friday at Kilgore. "The heat races are obviously crucial with the quantity and the quality we're seeing this year with the ASCS National series," says Brian. "We had Brady Bacon and Shane Stewart in front of us, and Sammy Swindell behind us along with the 24 car."
The Maxim with Ostrich power performed flawlessly in a run to the front. "We had a great start the first (start)," says Brian. "We got a run up to second and then slid in front of Brady for the lead. He tried to turn back under me and got spun out, so we had to do it again. I didn't think I'd get the same kind of run, but it worked out. I was able to slide in front of Matt Sherrill. I can't remember a time that both the car and motor were working as well as they were in that heat race. We were three to four-tenths faster than anybody in the heat races."
The run qualified Brian for a redraw for the first four rows of the main event. "The dreaded pill draw came into play and we were starting seventh," he says. "I got to fourth on the start, and I probably stayed on the bottom a half a lap too long. A couple guys got back by me. Soon after, the track took rubber and there was no more passing. We held on and tried to go as hard as we could while saving the tire. To finish fifth with 52 cars there…you feel o.k. about that later. There were some heavy hitters who didn't even get in."
It was time to roll on to Little Rock. "We were scheduled in row two (heat) beside (Tim) Crawley, and I figured the first one of us to the front would win it," says Brian. "The guy in front of him scratched, so he ran away with it. That put Jason Johnson beside us in row two, and we just finished fourth there after having a good race with him."
Running fourth put Brian in the B where he won from a fourth starting spot. "In hindsight, I'm glad we ran it," he says of the B. "We got to work on the car a bit, and that helped us in the feature, and I think it will help us down the road. The guys who were starting in the back of the A were kind of at a disadvantage, because the track changed so much."
Uncharacteristically, the race went green for the distance. Brian climbed from 19th to 10th at the checkers. "The car was excellent on the slick track," he says. "I had a good feel with the car. It was probably good enough to finish up front. It just happened to go 35 laps non-stop at Little Rock, which is almost unheard of. We did well to get in the top ten."
All in all, it was a successful weekend with field of 50+ cars both nights. This weekend, Brian will run at Sedalia Friday and Pevely on Saturday. "We would have liked to get a win, but we were more fortunate than a lot of teams," he says of last weekend. "I really look forward to being in Sedalia and supporting the weekly program there. We've got great sponsors like Ditzfeld Transfer, Impact Sign and Lighting and Impact Wraps there. Champion Brands is just down the road in Clinton. I look forward to a lot of great things there. I've had some good luck with the Outlaws at Pevely, so we're looking forward to that too. In addition, we're doing some things with our FVP people there."
Follow Brian and FVP Racing on Twitter, Facebook and Youtube!
The FVP marketing team has launched a Twitter page, a Facebook page, and a Youtube page (make sure to subscribe to all!) to keep up to date with Brian and FVP racing! You can become a fan and follow along by clicking on the links below:
Twitter: http://www.twitter.com/fvpracing
Facebook: http://bit.ly/2rakgn
YouTube: http://www.youtube.com/profile?user=fvpracing
Web site
For up to date information on Brian Brown, visit www.BrianBrownRacing.com!
T-shirts
Catch Brian at the track for the new t-shirt, and it will also be up on the website soon!
Brian's Q&A
Gabe Valenti asks: Does it affect your confidence when you draw a bad number in one of these ASCS shows?
Brian answers: Knock on wood, we've been pretty lucky with our draws. It does affect your outlook. Any driver that tells you it doesn't, isn't telling the truth. I don't mind drawing a bad number if there are cars ahead of me in the heat that I have a good shot at getting around. Right now, our car has been excellent in the heats, so it's probably better to start back a ways.
Got a question for Brian? Send it to us at sprntcar@iowatelecom.net, and we may answer it in this section! Put "? for Brian" in your subject line.
Brown's Bits
Brian isn't kidding when he said he looks forward to Sedalia. In 33 career feature starts there, he has won thirteen times including beating the ASCS National series. He has also claimed the Michael Ross, Tom Wilson and Bob Ramey Memorials. In all, he has recorded 23 top fives (70%) and 29 top tens (88%). He has won eight of the last fourteen races he has competed in at Sedalia, including one last August.
FVP
FVP specializes in the battery that you need. They know it has to be tough and priced right. They have a line of high-performance batteries for SUVs, trucks, cars and other specialty vehicles that give you quality without breaking the bank. To find a dealer near you, visit them on the web at www.FVPparts.com!
SuperClean
SuperClean is the "super product" for your home, auto, outdoor and marine cleaning jobs. Whether it is grease, oil, wax, tar or dirt that you need to clean from concrete, wheels or just about anything else, SuperClean is the product for you! To learn more about SuperClean, visit www.SuperClean.com!
Splash
Whether it's keeping your windshield clean or free of ice, protecting your RV, boat or pool from freezing in the winter, or your sidewalk safe to walk on, Splash Products from SuperClean are what you need! Click on the "Splash Products" link at www.SuperClean.com!
Marketing Partner of the Week – Housby Trucks
Brian says – "Jack, Kelly and Kevin Housby have been great to me since I was in the Casey's car. They provide our truck, and they do great service on trucks in the Des Moines area."
Since 1969, Housby has been known for the quality of new and used trucks they sell and their excellent customer service. What started out primarily as a Mack Truck dealership has grown into a conglomerate of vertically integrated businesses that share synergy by bringing multiple services to their customers. Businesses include Housby Mack, Inc., Housby Mixer Group, Housby Truck Lube, Vocon Remarketing, Second Generation and Housby Motorsports. Visit www.Housby.com for more information!
Associate Marketing Partner of the Week – Awesome Racewear
Brian says, "When it comes time to decide who will make our uniforms as professional as possible, there's no real decision. Awesome Racewear has the best product for all our needs."
Awesome Racewear, a world-wide manufacturer of high quality American made safety apparel is located in Conway South Carolina. USA. They build only the Best in the Industry in Driving Suits, & Sublimated Crew Shirts. Awesome Race Suits continues to be the leader in the performance industry. With safety, quality, comfort, technology, and design built into one exciting package, you can be sure you are getting the best in the
racing industry with Awesome Race Suits! BUILT TO PROTECT… BUILT FOR YOU TO LOOK SIMPLY AWESOME! Visit them at www.AwesomeRacewear.com!
Brian would like to thank FVP, SuperClean, Splash, Ditzfeld Transfer, Searsboro Telephone Company, www.FaxMeService.com, Housby Trucks, Maxim Racing, Champion Brands, My State Insurance Rates, Smiley's Race Products, Impact Sign and Lighting, Arctic Cat, K&N Filters, Hostiowa.net, FSR Race Products, Fuel-Safe Tanks, Awesome Racewear, Wolfe Eye Clinic, Weld Wheels, Bell Helmets, CP Pistons, Carrillo Rods, A1 Mortgage, Rockwell Security, Paul's Auto Body Supply, Engler Machine, Vortex Wings, Ostrich Racing Engines, Penray, All Pro Cylinder Heads, Butler Built Seats, Rod End Supply, KSE Racing Products, Winters Performance Products, Santomauro Racing Products, Cometic Gaskets, Kaeding Performance, Donovan, Magtech, ISC Racers Tape, Racing Optics, Pro Shocks, Don's Truck Wash, Gardner Farms, Hoosier Tires, XYZ Machining, Brown and Miller Racing Solutions, Peterson Fluid System, Red Devil Brakes, Schoenfeld Headers, www.Impact4800.com and WSIB Insurance for all their help!