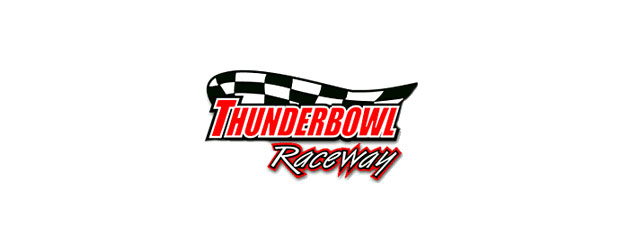 By Gary Thomas
Tulare, CA – May 16, 2010…Making his California return on Saturday night at the Groppetti Automotive Thunderbowl Raceway San Jose's Tim Kaeding took advantage of a final lap 360-degree-spin by leader Tommy Tarlton to drive by and claim his second career Pombo/Sargent Classic victory, in what was a thrilling 30-lap Golden State Challenge Series main event.
Also picking-up wins during the night at the Tulare County Fairgrounds 1/3 mile clay oval were Campbell's Bud Kaeding with the USAC West Coast 360 Series and Chowchilla's Alex Stanford with the dirt modifieds.
For T. Kaeding the victory came during his first night back in California since early March, after spending the first two and half months competing on the World of Outlaws Sprint Car Series tour. "First off I have to say Tommy Tarlton drove one heckuva race tonight so it was tough to see him lose the race like that because he did a real good job, but it's definitely great to get this Roth Motorsports car on the front stretch," said Kaeding. "I have to thank Dennis and Teresa Roth for giving me great stuff and bringing us back home to race in front of all you great fans and we'll just try to have some fun these next few weeks."
The 30-lap Golden State Challenge 410 Sprint Car Series main event featured thrilling action right from the get-go as pole sitter Bud Kaeding and second row starters Tim Kaeding and Bixby, Oklahoma's Shane Stewart went three-wide for the lead heading down the back stretch after flag man Willie Williams waved the green. A caution on lap two allowed everyone to catch their breath after the entertaining start and with a couple laps complete Bud Kaeding sat out front with T. Kaeding second and Stewart third.
A couple more slow downs would occur shortly thereafter, before the final 25-laps would be completed green-to-checkered with some of the most exciting racing of the season seen on the well prepared Thunderbowl clay. When the racing got into a groove it became a battle between the Kaeding brother's as the duo traded the lead back-and-forth running all over the track with the crowd cheering their approval. It soon became a three-way fight with Tarlton joining the fray and when T. Kaeding claimed the lead on lap-seven, the driver of the Corporate America Lending, Tachi Palace Hotel & Casino No. 21 followed along in second.
With "TK" out front aboard the DTR Transport, Roth Motorsports No. 83 Tarlton charged hard after him in an attempt to move into the top-spot and on lap 12 he would execute a beautiful maneuver to make that happen. As the pair rounded turn four Tarlton made an impressive pass of the defending Trophy Cup champ to take the lead of the race. Following that Tarlton would pull away and be in command, as the rest of the field continued to put on a terrific show with side-by-side racing being seen up and down the order. With just under 10-laps remaining however, T. Kaeding started to reel back in Tarlton as heavy-duty lapped traffic began to appear and it became a battle for the lead in no time at all.
As Tarlton was caught in traffic Kaeding quickly closed in and with three-laps remaining he looked to the inside to take the lead, but Tarlton was able to fend him off and hang onto the point momentarily. With the final couple laps clicking off it appeared to be Tarlton's race to win, but with the white flag waving he would get loose in turn two and spin completely around. Luckily he was able to keep the motor lit, but by the time he had straightened it back out T. Kaeding had gone zooming by and drove off to score his 43rd career GSC win in dramatic fashion. Tarlton regrouped and crossed under the checkered in second, with Elk Grove's Kyle Larson in third, Bud Kaeding in fourth and Chico's Jonathan Allard rounding out the top-five.
The rest of the top-10 in the Golden State Challenge Series main event was filled by Shane Stewart, Clovis' Peter Murphy, Vancouver, Washington's Zach Zimmerly, Campbell's Brent Kaeding and Grass Valley's Jason Statler. Bud Kaeding captured the six-lap dash with Zimmerly, Tim Kaeding and Murphy winning the three 10-lap heats. Stewart drove Paul Silva's Rock Star Energy Drink No. 57 sprinter around the 1/3 mile clay oval in 13.640 seconds to record quick-time at the start of the evening.
Three-time Budweiser Oval Nationals winner Bud Kaeding made his first start of the USAC West Coast 360 Sprint Car season pay off by scoring victory in the 30-lap feature for the series driving for Junior Bowman and George Snider. "Winning for these guys in my first race in this car is a pretty good way to end the night," said Kaeding. "I had some my regular crew members come and lend a hand on this car tonight and it was really good in the main event. It was also cool to see my brother win the GSC main because this Pombo/Sargent is always a special race for our family so it feels nice to win here."
Santa Maria's "Showtime" Danny Sheridan jumped into the lead at the waving of the green flag in the USAC West Coast 360 feature, but it didn't last long as Chris Ennis took command on lap-three. Kaeding made his presence known quickly however, as he charged to second on lap-five and was in the lead by the seventh circuit after executing a picture perfect slide-job in turn three aboard the Buster & Ziggy Enterprise No. 2. Kaeding's strongest challenge came from Peter Murphy as the Clovis driver tried hard to get by and score his first victory of the year.
A lap 15 restart saw Kaeding catch the wall and allow Murphy to shoot into the lead, but the three-time and defending USAC Silver Crown Series champ crossed over and rocketed back under the Tarlton & Son Inc. No. 21 to re-take the top-spot heading down the back stretch. The Campbell driver then raced off to score the win over Murphy, Visalia's Jace VanderWeerd, Fresno's Craig Stidham and Visalia's Richard VanderWeerd. Winning the three heat races during the night were R. VanderWeerd, Stidham and Murphy with Bakersfield's Rusty Carlile setting fast-time to begin the event.
Alex Stanford continued his domination at the Groppetti Automotive Thunderbowl Raceway by scoring his third consecutive dirt modified victory at the track. Tulare's Greg Mancebo got the jump on the field when the green lights came on and would lead the first 11 laps, before Stanford was able to get by and check out from the rest of the pack. "I was a little worried there early in the race running second, but this thing started to come in and was awesome later in the feature," said Stanford. "I want to thank all my sponsors and we'll be back next Saturday trying to make it four in a row."
Results from the night can be found at http://www.goldenstatechallengeseries.com and http://www.westcoastsprintcars.com/
The Groppetti Automotive Thunderbowl Raceway will return to action this Saturday night May 22 with the Ocean 360 Sprint Car Series presented by Taco Bravo, dirt modifieds and west coast street stocks in competition. For more info on the event in the coming week stay logged to http://www.thunderbowlraceway.com and http://www.oceansprints.com