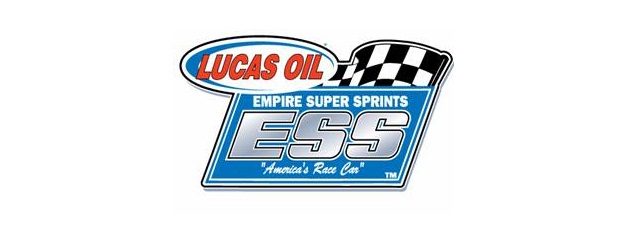 By Dean Reynolds
GRANBY, PQ – Not only did Jessica Zemken dominate the Lucas Oil Empire Super Sprints (ESS) event Friday night at Autodrome Granby, she made a statement that she is again a force in the winged sprint car world. The event kicked off the Northwood 2 Construction/LaSalle Motorsports Canadian Sprint Car Series and also was the first leg of the newly formed Fondations 4 Saisons Quebec Five Star Series.
Zemken's Corr-Pak Merchandising Maxim was so dominant that she lapped right up to the seventh place finishing and defending ESS champion Justin Barger in the non-stop, 25 lap affair. But, what made the win even more special was that it came at a track that she doesn't have a whole bunch of experience at which backs up her triumph just five days prior at Utica-Rome.
"This helps, helps me and helps my team. By winning at a track that I'm not too familiar with shows that we are starting to get everything going on the same page." said the young female driver from Sprakers, NY. "We won at Utica-Rome but I've raced there so much and know the track so well. We expect to do good there. Here at Granby we have run well but to get a win is big, big for all of Tony Stewart Racing."
Two-time champion Lance Yonge jumped out to the lead at the start of the green and led to lap six was on the counter. Slowed a bit by lapped traffic, Zemken took her six year old sprinter to the top and around Yonge's Johnson Farms #17J for the lead. She would never look back from there.
"We went with the hard tire at the last minute and that was the right choice. Even though there was plenty of lapped traffic staying green helped me. I figured if I problems with lapped cars so did the cars behind me." Zemken noted.
Once in victory lane though, she did have one jab to Yonge…all in fun. "I told him it's about time I was in the center of the podium. There were some races up here in Quebec where he always seemed to get me at the end and I had to look up to him. This time I was the tallest on the podium!"
Yonge continued his streak on finishing no worse than sixth in the three events thus far in 2010 by holding on to the runner-up slot. Current point leader coming in to Granby, Chuck Hebing was third followed by Quebec mates Steve Poirier and Michael Parent.
Rounding out the top ten were Alain Bergeron in his first ESS event of the season, Barger, Daniel Lampron, Dan Kaszubinski and Martin Roy as a teammate to Poirier.
ESS/GRANBY NOTES – A strong field of 25 cars for the first event north of the border…Making first ESS starts of the season joining Bergeron were Lampron, Roy Jr., Donald Lemire, Dale Gosselin, Brian McDonald, David Renaud, Michael Forcier and a big welcome back to Normand Beaudreault in his first race since his horrific crash last year at Edelweiss…Mike Stelter blew an engine just as he crossed the line for heat two. A jumble happened behind which caused Jeff Cook to rollover. Stelter was forced to scratch from the A-Main…The Lucas Oil Tour will be back at Granby on August 27th and play host to another big crowd.
Fondations 4 Saisons Quebec Five Star Series A-Main – Jessica Zemken, Lance Yonge, Chuck Hebing, Steve Poirier, Michael Parent, Alain Bergeron, Justin Barger, Daniel Lampron, Dan Kaszubinski, Martin Roy, Kevin Ward Jr., Jeff Cook, Anthony Cain, Chris Jones, Donald Lemire, Dale Gosselin, Normand Beaudreault, Devin Caron, James Hanson, Tyler Rand, Brian McDonald.
Lap Leaders – Yonge 1-6, Zemken 7-25
Cook's Contracting Services Halfway – Zemken $100
Ohsweken Speedway Winners Bonus – Zemken $100
WestFront Construction Hard Charger – Martin Roy (5 pos) $50
HG Associates Fast Time – Zemken $25
Car Mate Custom Built Trailers Heats – Barger, Ward Jr., Poirier $25.
Heat 1 – Justin Barger, Chuck Hebing, Jessica Zemken, Michael Parent, Normand Beaudreault, Anthony Cain.
Heat 2 – Kevin Ward Jr., Daniel Lampron, Mike Stelter, Jeff Cook, Devin Caron, Dale Gosselin.
Heat 3 – Steve Poirier, Alain Bergeron, Lance Yonge, Brian McDonald, Dan Kaszubinski, Martin Roy Jr.
B-Main – Chris Jones, Jeff Cook, James Hanson, Tyler Rand.
Scratched – Mike Stelter, Added – Donald Lemire
Did Not Qualify – Zach Weigand, David Renaud, Michael Forcier