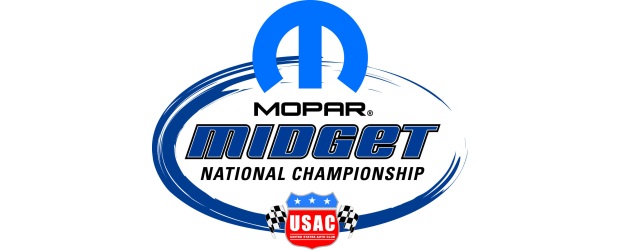 By Dick Jordan
Bryan Clauson of Noblesville, Ind. opens defense of his "Indiana Midget Week" championship Wednesday as the five-race series kicks off at Gas City I-69 Speedway. Thursday night's venue is Lincoln Park Speedway in Putnamville, while Bloomington Speedway hosts Friday night's race. The series visits Lawrenceburg Speedway Saturday night before concluding Sunday night at Kokomo Speedway.
Clauson caught leader Brad Kuhn on lap 17 and led the final 24 laps to win Friday night's 40-lap "Kevin Doty Classic" at Tri-City Speedway. Clauson piloted the Parker Stone/Esslinger Spike to the victory over Kuhn, Jerry Coons Jr., Bobby East and Davey Ray.
Henry Clarke led the opening lap but hit the wall in turn one on lap two. Tracy Hines then led for two laps before encountering mechanical problems. Kuhn traded the lead with Darren Hagen for two laps but Hagen got tangled with a lapped car and hit the wall in turn one and failed to finish.
Clauson continues to lead the USAC Mopar National Midget standings. Friday's race was co-sanctioned by POWRi and also awarded points toward the USAC/SMRS Great Plains Midget title. Brad Loyet of Sunset Hills, Mo., who finished ninth at Pontoon Beach, remains the leader in the USAC/SMRS Midget standings. The "Indiana Midget Week" races all award USAC/SMRS points as well.
Rain forced postponement of Saturday night's scheduled USAC/SMRS Great Plains Midget race at 24 Raceway. Track and USAC/SMRS officials are hopeful of rescheduling the event and will announce a new date when firm.
Former champions of "Indiana Midget Week" include Shane Cottle (2005 and 2006), Jerry Coons Jr. (2007), Tracy Hines (2008) and Clauson last year. Coons continues to pursue the 134th USAC National feature victory for car owners Wilke-Pak Racers of Milwaukee, Wisc., which would break the tie for the all-time USAC lead with Steve Lewis.
Clauson is the winningest driver in "Indiana Midget Week" history, with three wins, including the last two in 2009.
USAC MOPAR NATIONAL MIDGET SERIES POINT STANDINGS
1-Bryan Clauson-471, 2-Bobby East-426, 3-Darren Hagen-398, 4-Dave Darland-387, 5-Tracy Hines-386, 6-Brad Sweet-378, 7-Jerry Coons Jr.-371, 8-Brad Kuhn-364, 9-Zach Daum-271, 10-Henry Clarke-267.
USAC/SMRS GREAT PLAINS MIDGET SERIES POINT STANDINGS
1-Brad Loyet-664, 2-Chett Gehrke-546, 3-Matt Sherrell-460, 4-Rusty Dukes-408, 5-Matt Johnson-376, 6-Ryan Cole-350, 7-Zach Daum-350, 8-Will Pierce-314, 9-Andrew Felker-306, 10-Cody Brewer-256.