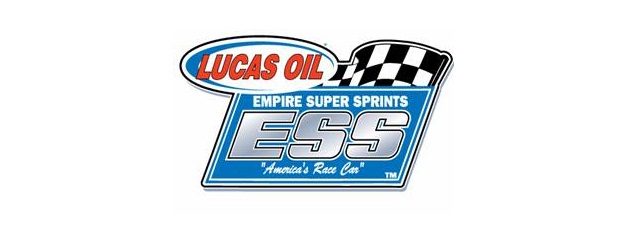 By Dean Reynolds
Probably still one of the best kept secrets in Canada…The 1/3rd mile Autodrome Edelweiss Speedway is nestled among the hills just North of Canada's capital Ottawa. Just across the border in Quebec, Serge Lagace's track continues to chug along every Friday night in front of big crowds weekly.
After several changes with management over the years which found Edelweiss either in trouble or actually closed, Lagace' has given the facility stability and has built on that. A roofer by trade, Lagace' still has his track as a hobby but his heart and dedication has given dirt fans of both Quebec and Ontario a Friday night home. Improvements over the years include a beautiful new VIP tower, lighting and a tacky clay surface. DirtCar sanction small blocks headline weekly here.
The Lucas Oil Empire Super Sprints (ESS) will again make two, $2,000 to win appearances at Edelweiss. The second event could very well see some new teams in the pits as it will be the night before the second annual Quebec Sprint Car Nationals at Autodrome Drummond.
Some of the other specials at the speed plant will be Mr. DIRTCar series and Quebec/Ontario Challenge Series for their mainstay small blocks.
ESS drivers of local interest are Lee Ladouceur, The father/daughter tandem of Rick and April Wilson, Sylvain Erickson, Chris Jones, Tyler Rand and Paul Pekkonen.
For more information on the Lucas Oil Empire Super Sprints please visit www.empiresupersprints.com
ESS Facts – Autodrome Edelweiss:
ESS Events Run: 23
Different Winners: 19
Most Wins: Mal Lane, Lance Yonge, Mike Woodring and Steve Poirier (2)
Last Event Run: 7/17/09
Most Recent Winner: Steve Poirier
Edelweiss Facts:
Location: Rte. 307 North of Cantley, Quebec, West on Rte. 366
ESS Date(s): June 18th and Aug. 13th (night before Quebec Nationals)
Track Promoter: Serge Lagace'
Track Phone: (819) 457-4440
Website: www.autodromedelweiss.com
Sites of Interest:
Canada's beautiful Capital of Ottawa just 15 minutes away.
The Lucas Oil Empire Super Sprints are brought to you by: Lucas Oil, Northwood 2 Construction/LaSalle Motorsports, SUNY Canton, 730 Truck Stop, Hoosier Racing Tires, Les Constructions Ultra, Cooks Contracting Services, Fondations 4 Saisons, Car Mate Trailers, The National Parts Peddler Newspaper, WestFront Construction, Cobra Coaches, The Ohsweken Speedway, Mohawk Racing Parts, Engine Research, Brodix Cylinder Heads, Total Race Supply, Riverside Bar and Grill, Coffrage Daniel Lampron, Mohawk Valley Community College, FX Chevy and many, many associate sponsors.