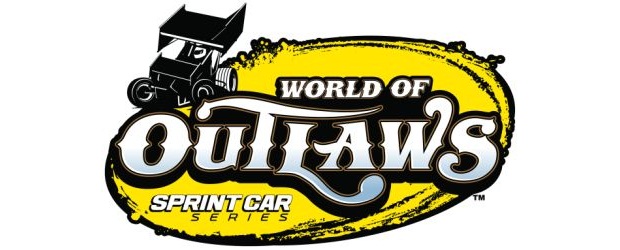 Adding Another to the List:
Grand Forks, ND- June 19, 2010- Throughout his illustrious career, Steve Kinser has won at nearly every track on the World of Outlaws circuit. Entering this season, though one facility that was missing from the list was River Cities Speedway in Grand Forks, North Dakota. The 20-time series champion was able to check off the high-banked ¼-mile bullring on Saturday night after winning a wild race before a huge crowd.
The $10,000 win for Kinser was his third of the season and the 555th of his legendary World of Outlaws career. He dedicated the triumph to his wife Dana, who is recovering from heart surgery that she recently underwent.
"It's special to win a race for Dana," shared Kinser. "She had an aorta put in and had been through a heck of a week with her. She's doing good and wants to thank everybody for their prayers and she'll be healed up and back pretty soon."
Kinser used a strong restart on the bottom of the track to jump out to a quick lead on the 37th lap after leader Craig Dollansky chose to restart on the high side of the track. Kinser led the first 20 laps of the 40-lap contest after beating pole sitter Donny Schatz into turn one on the initial start. The native of Bloomington, Indiana was out front during a couple of caution periods, choosing the low line for the double file restarts each time. He would up leading a total of 24 circuits en route to the victory.
"I just had to go where nobody else went," Kinser noted of the final restart. "I had a tire that was getting a little bit low and had a small leak in it. The car was pretty good on the start and then got tighter and tighter. We finally just took the bleeders out there at the end and it was still going low and we were still having a little trouble. They gave me all the changes in the world there and it all worked out well."
Kinser led the first 20 laps on Saturday night in the Bass Pro Shops Maxim, with Kerry Madsen charging around him up top in turn two on the 21 st go-around. Madsen led the next 14 laps before getting caught up in an accident involving Brian Ellenberger and Toni Lutar. Despite sustaining heavy front end damage, Madsen kept going when the caution came out, thus retaining the lead by way of World of Outlaws rules. On the ensuing double file restart he quickly fell back as he was barely able to steer the car at speed, with Kinser taking the lead and Craig Dollansky battling him off turn four to officially be credited with the lead on the 36th lap.
The final caution of the night flew just a lap later as Madsen, who had led 15 laps spun. He ended up 20th. Dollansky chose the high side of the track on the double restart with Kinser charging into turn one to take the lead. He would lead the final four circuits, as the podium wound up being filled by three Hall of Famers, with Jac Haudenschild second and Sammy Swindell third.
"The track got a little choppy on the bottom and I couldn't run it," explained the winner. "I kept losing the front end. We took those bleeders out and it was still losing air, thankfully it was just a small hole."
Haudenschild lined up 13th on Saturday night and steadily worked his way to the front. He lined up third on the final restart with four laps to go and shot around Dollansky to move into second and briefly was able to close in on his Kinser as the pair headed down the back straightway with a couple of laps to go. The Ohio native wound up second in the Owens-Corning Fiberglass XXX.
"I felt really good and the car felt good," Haudenschild said. "We started back a little bit tonight and got up through there. We ran second to Steve (Kinser), and felt pretty good. The car felt good in the heat races and all night really. We have a XXX car this year and it feels great. We have a great team with Lon Carnahan as the owner and Leonard Lee working on it."
Sammy Swindell used a very strong final restart to shoot from sixth to third in the waning laps aboard the Big Game Treestands Maxim. He charged around Jason Meyers, Joey Saldana and Craig Dollansky on his way to a third-place finish.
"We got a good one that time," said Swindell of a double file restart. "I got pinched off on the one with (Jason) Meyers and that let Haud and Joey (Saldana) get through there. I just had to keep working. The car kept getting tighter and tighter and the track kept getting better and I wasn't expecting that. I'm glad to get a third."
Joey Saldana, the current World of Outlaws point leader, started ninth at River Cities Speedway and fell back to 11th near the halfway point of the race. Over the final 20 circuits he worked his way to the front to finish fourth aboard the Budweiser Maxim. He used his series leading 19 th Top-Five of the season to extend his lead in the World of Outlaws championship standings to 37 markers over Jason Meyers as he chases his first title.
"We just didn't free our car up for the dash and got caught with our pants down there," stated Saldana. "The car was still really tight at the start of the feature and we worked out way up there to third. I was hoping Craig (Dollansky) was going to choose that inside line like everyone else was. The whole race, I was never on the inside line, I was always on the outside. When we got to third we had a shot at possibly winning it or running second. That's the way it goes."
Dollansky led the 36th lap and wound up finishing fifth in a specially painted Aggressive Hydraulics/Big Game Treestands Maxim. Jason Meyers came home sixth in the GLR Investments KPC. Donny Schatz rebounded from a spin while battling for the second spot on the 20th lap to finish seventh in the Armor All/STP J&J. Kraig Kinser, who opened the night by turning the fastest lap in time trials, was eighth in the Quaker State Maxim. Danny Lasoski was ninth piloting the Casey's General Store JEI, with Jason Sides rounding out the Top-10 aboard the Wetherington Tractor Service Maxim.
The World of Outlaws wrap up their stay at River Cities Speedway in Grand Forks, North Dakota on Sunday, June 20.
RIVER CITIES SPEEDWAY NOTES
•FAST QUALIFIER: Kraig Kinser paced the 37 cars that took time with an AMB i.t. timed lap around the high-banked 1/4-mile oval at 10.045 seconds at 107.516 mph. For his qualifying effort, Kinser earned five bonus points. The next four fastest qualifiers also earned bonus points, including: Joey Saldana (4), Jason Meyers (3), Paul McMahan (2) and Jason Sides (1).
•RIVER CITIES SPEEDWAY QUALIFYING WINNERS: Kerry Madsen, Steve Kinser, Jason Meyers and Sammy Swindell won heat races. Donny Schatz won the dash. Wade Nygaard won the Last Chance Showdown.
• FEATURE WINNERS: There have been 26 World of Outlaws Sprint Car Series A-Feature events held in 2010. The winners include: Jason Meyers (The Dirt Track at Las Vegas Motor Speedway, Thunderbowl Raceway, Volunteer Speedway, Tri-State (Okla.) Speedway, Virginia Motor Speedway and I-96 Speedway), Joey Saldana (Thunderbowl Raceway, Volunteer Speedway, I-55 Raceway, Eldora Speedway and Dodge City Raceway Park), Steve Kinser (Volusia Speedway Park, Jackson Speedway and River Cities Speedway), Jac Haudenschild (Paducah International Raceway and Knoxville Raceway), Donny Schatz (Volusia Speedway Park and The Dirt Track at Charlotte), Jason Sides (Houston Raceway Park and Tri-City Speedway), Craig Dollansky (Lone Star Speedway), Chad Layton (Williams Grove Speedway), Paul McMahan (Eldora Speedway), Fred Rahmer (Williams Grove Speedway), Sammy Swindell (Dodge City Raceway) and Brooke Tatnell (Knoxville Raceway).
•1/4-MILE WINNERS: River Cities Speedway is a high-banked 1/4-mile oval. The World of Outlaws have raced twice this season on a track that size. The winners include: Steve Kinser (River Cities Speedway) and Jason Sides (Houston Raceway Park).
World of Outlaws Sprint Car Series Statistical Report; River Cities Speedway; Grand Forks, ND; June 19, 2010
Qualifying
1) 11K-Kraig Kinser 10.045
2) 9-Joey Saldana 10.172
3) 14-Jason Meyers 10.225
4) 91-Paul McMahan 10.239
5) 7S-Jason Sides 10.250
6) R19-Jac Haudenschild 10.272
7) 63-Chad Kemenah 10.273
8) 5W-Lucas Wolfe 10.275
9) 15-Donny Schatz 10.312
10) 11-Steve Kinser 10.402
11) 7-Craig Dollansky 10.416
12) 13-Mark Dobmeier 10.417
13) 3-Kerry Madsen 10.441
14) 6-Danny Lasoski 10.465
15) 15H-Sam Hafertepe Jr. 10.471
16) 1-Sammy Swindell 10.477
17) 9N-Wade Nygaard 10.538
18) 8-Casey Mack 10.561
19) 1K-Chris Shirek 10.710
20) 31-Shane Roemeling 10.991
21) 18-Ryan Wilson 10.994
22) 22-Brian Ellenberger 11.012
23) 10TR-Bob Martin 11.126
24) 11J-Nick Shirek 11.253
25) 4X-Toni Lutar 11.256
26) 91K-Kyle Fedyk 11.353
27) 6N-Greg Nikitenko 11.739
28) 14X-Tom Egeland 11.845
29) 99-Jordan Graham 11.934
30) 27-Chris Ranten 11.936
31) 17-Todd Mickelson 12.019
32) 20J-Kevin Lawson 12.400
33) 54-Cam Schafer 12.418
34) 2-Kevin Ingle 12.439
35) 2L-Austin Pierce 12.895
36) 92-Mitch Mack 13.120
37) 20L-Dusty Lawson 13.259
38) 2B-Ben Gregg -.—
Heat 1 (10 Laps, top 5 finishers transferred to A-feature) – Starting Position [#]
1) 3-Kerry Madsen[1]
2) 15-Donny Schatz[2]
3) 7S-Jason Sides[3]
4) 11K-Kraig Kinser[4]
5) 4X-Toni Lutar[7]
6) 54-Cam Schafer[9]
7) 99-Jordan Graham[8]
8) 20L-Dusty Lawson[10]
9) 18-Ryan Wilson[6]
10) 9N-Wade Nygaard[5]
Heat 2 (10 Laps, top 5 finishers transferred to A-feature) – Starting Position [#]
1) 11-Steve Kinser[2]
2) 8-Casey Mack[5]
3) 9-Joey Saldana[4]
4) R19-Jac Haudenschild[3]
5) 6-Danny Lasoski[1]
6) 22-Brian Ellenberger[6]
7) 2B-Ben Gregg[10]
8) 91K-Kyle Fedyk[7]
9) 27-Chris Ranten[8]
10) 2-Kevin Ingle[9]
Heat 3 (10 Laps, top 5 finishers transferred to A-feature) – Starting Position [#]
1) 14-Jason Meyers[4]
2) 7-Craig Dollansky[2]
3) 15H-Sam Hafertepe Jr.[1]
4) 63-Chad Kemenah[3]
5) 10TR-Bob Martin[6]
6) 1K-Chris Shirek[5]
7) 6N-Greg Nikitenko[7]
8) 2L-Austin Pierce[9]
9) 17-Todd Mickelson[8]
Heat 4 (10 Laps, top 5 finishers transferred to A-feature) – Starting Position [#]
1) 1-Sammy Swindell[1]
2) 5W-Lucas Wolfe[3]
3) 13-Mark Dobmeier[2]
4) 91-Paul McMahan[4]
5) 11J-Nick Shirek[6]
6) 14X-Tom Egeland[7]
7) 31-Shane Roemeling[5]
8) 20J-Kevin Lawson[8]
9) 92-Mitch Mack[9]
Dash (8 laps, finishing order determined first 10 starting positions of A-feature) – Starting Position [#]
1) 15-Donny Schatz[2]
2) 11-Steve Kinser[1]
3) 14-Jason Meyers[4]
4) 3-Kerry Madsen[8]
5) 5W-Lucas Wolfe[3]
6) 7-Craig Dollansky[7]
7) 11K-Kraig Kinser[6]
8) 1-Sammy Swindell[9]
9) 9-Joey Saldana[5]
10) 8-Casey Mack[10]
B-main (12 laps, top 4 finishers transferred to A-feature) – Starting Position [#]
1) 9N-Wade Nygaard[1]
2) 22-Brian Ellenberger[5]
3) 91K-Kyle Fedyk[6]
4) 1K-Chris Shirek[2]
5) 99-Jordan Graham[9] [$200]
6) 54-Cam Schafer[13] [$180]
7) 92-Mitch Mack[15] [$175]
8) 6N-Greg Nikitenko[7] [$160]
9) 2B-Ben Gregg[17] [$150]
10) 27-Chris Ranten[10] [$150]
11) 20J-Kevin Lawson[12] [$150]
12) 17-Todd Mickelson[11] [$150]
13) 20L-Dusty Lawson[16] [$150]
14) 2L-Austin Pierce[14] [$150]
15) 18-Ryan Wilson[4] [$150]
16) 14X-Tom Egeland[8] [$150]
17) 31-Shane Roemeling[3] [$150]
18) 2-Kevin Ingle[18] [$150]
A-main (40 laps) – Starting Position [#]
1) 11-Steve Kinser[2] [$10,000]
2) R19-Jac Haudenschild[13] [$5,000]
3) 1-Sammy Swindell[8] [$3,000]
4) 9-Joey Saldana[9] [$2,700]
5) 7-Craig Dollansky[6] [$2,500]
6) 14-Jason Meyers[3] [$2,200]
7) 15-Donny Schatz[1] [$2,000]
8) 11K-Kraig Kinser[7] [$1,800]
9) 6-Danny Lasoski[16] [$1,600]
10) 7S-Jason Sides[12] [$1,450]
11) 5W-Lucas Wolfe[5] [$1,300]
12) 91-Paul McMahan[11] [$1,200]
13) 63-Chad Kemenah[14] [$1,100]
14) 8-Casey Mack[10] [$1,000]
15) 9N-Wade Nygaard[18] [$950]
16) 10TR-Bob Martin[21] [$900]
17) 4X-Toni Lutar[23] [$850]
18) 11J-Nick Shirek[22] [$750]
19) 91K-Kyle Fedyk[24] [$725]
20) 3-Kerry Madsen[4] [$700]
21) 22-Brian Ellenberger[20] [$700]
22) 13-Mark Dobmeier[15] [$700]
23) 15H-Sam Hafertepe Jr.[17] [$700]
24) 1K-Chris Shirek[19] [$700]
Lap Leaders: Steve Kinser 1-20, 37-40; Kerry Madsen 21-35, Craig Dollansky 36
KSE Hard Charger Award: Jac Haudenschild
Penske Power Position Award: Toni Lutar
World of Outlaws Championship Standings through June 19
1. Joey Saldana 3650
2. Jason Meyers 3613 -37
3. Steve Kinser 3606 -44
4. Jason Sides 3461 -189
5. Donny Schatz 3440 -210
6. Paul McMahan 3311 -339
7. Lucas Wolfe 3295 -355
8. Danny Lasoski 3268 -382
9. Jac Haudenschild 3260 -390
10. Craig Dollansky 3244 -406