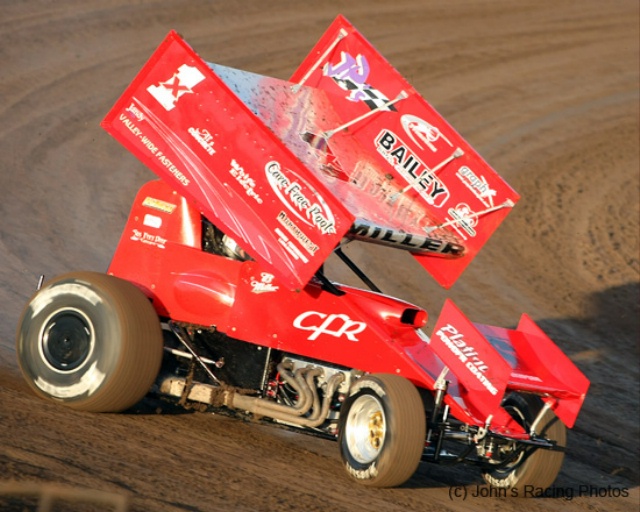 By Gary Thomas
Chico, CA – July 16, 2010…With triple digit weather in Northern California this past Friday night Chico's Brett Miller turned up the heat even more by pulling away from the field and easily dominating all 25-laps in the main event to tally his fourth career sprint car victory at the Silver Dollar Speedway.
The triumph was also good enough to move Miller atop the Silver Dollar Speedway 410 sprint car point standings for the first time in his career.
"It's a pretty big deal for us to get a win tonight because we've had a lot of bad luck during the first part of the season," said Miller, who turns 21-years-old next Wednesday "We've wrecked a lot of stuff and we've been fast enough to win, but we just haven't been in that position yet. Finally tonight everything clicked and fell into place so we couldn't be happier."
Miller went into the event on Friday night ranking second in the Silver Dollar Speedway standings and sat just six-points behind leader and former track champion Jason York. Going out 14th in the qualifying order the "Catfish" ripped off the second fastest lap of the night behind York at the helm of the Care Free Pools, Platinum Powder Coating, Simpson Race Products No. 1x sprinter.
The Chico wheel-man then lined up sixth in his heat race, before moving forward to tally a third place finish and when the number zero pill was drawn for the feature inversion it put him on the outside of the front row in the 25-lapper.
At the waving of the green flag in the main event Miller rocketed into the top-spot and quickly opened up a sizeable advantage over he and rest of the field. Early on it was apparent that the 20-year-old driver was in a league of his own on this night and that was the case right down to the end, as Miller went unchallenged the whole way and crossed the checkered flag for his first win of 2010.
With the victory under his belt Miller will bring the Care Free Pools Racing No. 1x machine into this coming Friday's point race at Silver Dollar Speedway holding a four-point lead at the top of the standings. This Friday's evening of action will also be Care Free Pools Night at the races and the team has some special and fun stuff planned for the night. Prior to this previous Friday's triumph Miller's most recent victory had come during Care Free Pools Night in 2008 and he will try to duplicate that performance on Friday.
The front gate of the Silver Dollar Speedway will open at 6pm this coming Friday night July 23 with qualifying at 6:30 and racing scheduled for 7. Adult tickets are just $12, juniors and seniors $10 and children $5. "We're looking forward to Care Free Pools Night on Friday and it's especially cool that we'll be bringing the point lead into the night so hopefully we can have a good run and stretch it out a little," said Miller. "A couple years ago we had a great night and won during our sponsor night and I'd definitely like to do it again."
For more info on Brett Miller and Care Free Pools Racing log onto http://www.brettmillerracing.net