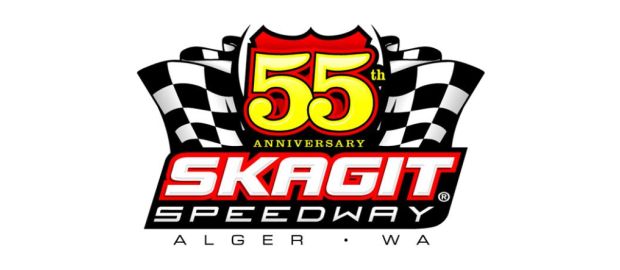 From Kaleb Hart
With his mother pacing the aisles and his car owner sitting on his hands in the grandstands, Travis Jacobson finally collected the big check he's been angling at for a long time. Jacobson led all 40 laps of the 2010 Bob's Burgers & Brew 360 Nationals at Skagit Speedway presented by Goodyear aboard the Shaylen Raye #18r Eagle, scoring a cool $10,000 for his efforts.
Jacobson started outside row one after finishing second in the A Scramble to Roger Crockett. On the start of the feature, Jacobson went wheel to wheel with Crockett through turns one and two, edging him out coming out of the second turn, then slamming the door shut going into turn three. A handful of restarts for flipped and spun cars later, and it was Jacobson taking the victory without serious challenge at the completion of 40 laps. "That initial start was everything", said Jacobson on the podium. "If we don't beat Roger on that first lap, I didn't know that we could catch him". Crockett would trail from a distance in second till about the halfway point of the race when he retired with unspecified mechanical woes. When action resumed, Chad Hillier picked his way forward through the field from his 11th place starting position to lay claim to the runner up spot in the Les Schwab #4 J&J. Shawn Rice also picked his way forward through the field, navigating from 10th to take 3rd in his NW Welding & Fabrication #76 KPC. Other notable runs included Jared Peterson who recovered from a flip Friday night to finish 5th after starting 15th and Jesse Whitney who came from the B Main and a 17th place A Main start to take 7th. Mack Brown won the B Feature. Scrambles went to Roger Crockett and Jesse Whitney.
Rece Goetz was impressive again at Skagit Speedway, winning his second Ford Focus Midget main of the year at the 3/10 mile clay oval. After Dustin O'Brien led lap one, Goetz found speed on the middle groove and launched past him to take the point on lap two. The win for Goetz capped a month of podium victories, as he had previously scored Deming Speedway's 600 Clay Cup title. O'Brien hung on for second and Garrett Johnson was third. The race capped off the initial Washington State Racing Series for the Ford Focus Midgets and at the conclusion, Seth Hespe was awarded the inaugural series championship.
Join us next week at Skagit Speedway for Ladies Night Out, where the first 5,000 women get in free of charge. For racing event and ticket information, look us up online at www.skagitspeedway.com
360 Sprints
B Scramble – Jesse Whitney, Mack Brown, Casey Adams, Josh Edson, Jonathan Jorgenson
A Scramble – Roger Crockett, Travis Jacobson, Evan Funk, Danielle Huson, Trey Starks, Josh Dewitt
B Main – Mack Brown, Whitney, Shane Broers, Adams, Jorgenson, Edson, Colton Akerstrom, Brock Lemley, Steve James, Colton Heath, Cam Smith, Bud Ashe, Matt VanDerSys, Cale Brooke, Steve Parker, Bill Rude, Clayton Sibley, Jeff Dunlap, Roy Blumenhagen
A Main – Travis Jacobson, Chad Hillier, Shawn Rice, Jason Solwold, Jared Peterson, Henry Van Dam, Whitney, Funk, Devin Madonia, Rod Perkins, Kelsey Carpenter, Brown, Jorgenson, Edson, Logan Forler, Seth Bergman, Huson, Starks, Crockett, Broers, Dewitt, Adams
Lap Leaders – Jacobson 1-40
Ford Focus Midgets
Heat 1 – Garrett Johnson, Rece Goetz, Dustin O'Brien, Gaylon Stewart
Heat 2 – Seth Hespe, Todd Hartmann, Tina Jorgenson, Carla Stewart
Main – Rece Goetz, O'Brien, Johnson, Hartmann, Hespe, G Stewart, C Stewart, Jorgenson
Lap Leaders – O'Brien 1 Goetz 2-20