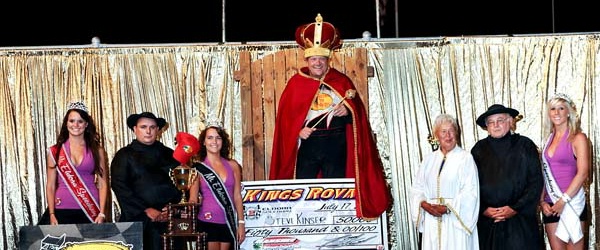 From Tony Veneziano
Concord, NC-August 6, 2010- Fans from coast-to-coast will have the chance to relive all the excitement, pageantry and prestige of the 27th Annual Kings Royal from the famed Eldora Speedway this weekend, as a super-sized two hour broadcast of the $50,000 to-win crown jewel event for the World of Outlaws, will air on SPEED on Saturday, August 7 at 4 p.m. Eastern.
Bobby Gerould will call all the action of the thrilling 40-lap feature event that saw the best sprint car drivers in the world compete at the high-banked half-mile in Ohio, with Hall of Famer Brad Doty offering expert analysis and insight, along with Shane Andrews reporting from the pit area.
Along with all of the current stars competing with the World of Outlaws, NASCAR superstars Tony Stewart and Kasey Kahne raced in the Kings Royal for the first time, while former World of Outlaws champion Dave Blaney returned to the event for the first time since 1996.
In addition to all the on-track action, a number of segments featuring driver interviews will air, including an exclusive sit-down interview with 20-time World of Outlaws champion Steve Kinser, who will talk about his resurgence in 2010, along with driving for Eldora Speedway owner Tony Stewart and his bid for a record 21st title.
Following the original airing of the Kings Royal on Saturday, August 7 at 4 p.m. Eastern, replays of the broadcast on SPEED will take place on Tuesday, August 10 at Noon Eastern and on Wednesday August 11 at 3 a.m. Eastern.
For more information on the World of Outlaws visit www.worldofoutlaws.com/sprint and for more information on SPEED visit www.SPEEDtv.com.