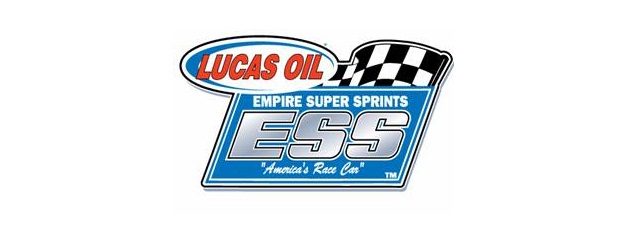 By MIKE MALLETT
HOGANSBURG, NY – Early in the season Steve Poirier had little luck and nothing seemed to go his way. On Friday night at the Mohawk International Raceway luck was again on his side as he scored his second consecutive Lucas Oil Empire Super Sprint victory of the season.
"Sometimes you feel like luck isn't on your side but the last four or five races it's starting to be on our side again," said the former series champion after the victory. "In the past I can honestly say we had luck on our side. Sometimes when you don't have it you try to figure out what you can do differently to change it but there is nothing. Tonight we were lucky to get the win."
Poirier's win in the 25-lap Mohawk Racing Parts A-Main was his third win at MIR in the last four races and it was his 24th series victory of his career which also was worth $2,500. It came as part of the SUNY Canton Series as well as the Northwood 2 Construction/LaSalle Motorsports Canadian Sprint Series.
The feature got off to a rocky start with a tangle at the green flag. James Hanson, Zach Weigand and Jami Russell all got together entering turn one causing Weigand to flip three times off the bank outside the turn. All drivers were uninjured.
The second start went much smoother and Justin Barger took the lead from his front row starting position. He was able to assume a large lead on the field as Poirier and eventual second place finisher Lance Yonge were battling their way to the front of the field.
At lap 13 Barger continued to pace the field and was working slower traffic with his No. 32 Cortlandt Auto Body ride while Poirier took the second spot away from Brian McDonald using the high side of the speedway after he started on the outside of the sixth row.
"I was surprised how good the top was," said Poirier. "I thought the inside was going to be good. The first time I tried the outside the car was very good. My car was a little bit tight and I think that made it better in the slippery part of the track. In traffic I was happy to pass cars on the outside because I wasn't as good on the bottom."
Everything in the main event changed on the 20 circuit when Hanson spun in turn four collecting several drivers in the top five including McDonald, Alain Bergeron and Jeff Cook. Hanson rolled over with several drivers sustaining damage to their rides. No one in the incident was injured as well.
On the restart, Barger had five slower cars between himself and Poirier. As he went into turn one he caught an implement tire on the inside of the speedway and broke the front end on his Rider powered Maxim ride handing the lead to Poirier.
"I figured he (Barger) was going to get away because there were four or five lapped cars between us," stated Poirier. "I was going to be patient with the lapped cars because I was already a half track behind."
This put multiple cars back on the lead lap and handed the top position to Poirier while Yonge was now second with several cars blocking him from Poirier's back bumper.
The St. Mathieu de Beloeil, PQ., native took advantage of the cushion with the slower cars and ran away from Yonge behind the wheel of his AMB Moteurs powered Eagle. Yonge was unable to focus on Poirier as he was in a battle of his own with Chuck Hebing. Hebing was in a Jeff Cook owned mount after severely damaging his primary ride in a flip during warm-ups.
Poirier easily led the final five laps to claim the victory while Yonge was able to get back by Hebing coming off of turn four in his Castner Performance powered Maxim to take the runner-up spot at the checkered flag which netted him $1,500.
"We changed some things tonight before the feature and we must of have done something right," said Yonge who was debuting a new Maxim. "The car was really good out there. It seems like the last month we've had terrible luck with the draw and we have to start behind most of these guys. Tonight we had some luck and missed the wreck and we'll take this and learn from it."
As he stated above, Yonge's finish was nearly lost as he just missed the wreck that collected several of the top five on lap 20. The Penn Yan, N.Y., driver actually had a bent tail bumper and a scratched up gas tank.
"I barely scooted underneath of James (Hanson) when he spun," commented Yonge. "I really thought I was going to be in the wreck and he just went up the speedway and I barely missed him. I don't know how I wasn't involved."
Hebing, of Ontario, N.Y., managed to salvage a top five finish after he broke a spindle in hot laps and flipped numerous times in turn two. He was uninjured but his car was several damaged.
"This is a really good run for us tonight," said Hebing. "We wouldn't be out here if Jeff (Cook) didn't let us run his backup car and I have to thank him. The crew worked hard tonight and it was a good run so I can't complain."
Parent, of Granby, PQ., finished in fourth while Chris Jones, of Picton, Ont., earned his first top five finish of the season with the ESS. Rounding out the top ten were Kevin Ward Jr., Jeff Cook, McDonald, Tommy Wickham and Tyler Rice.
ESS/MOHAWK NOTES: A solid field of 24 cars entered into competition for the sole event at the Mohawk International Raceway in 2010….Making first starts in 2010 were Tim Smythe and former MIR champion Carey Terrance. Terrance's start in the A-Main was his first ever Sprint Car start…Good to have Parent and Anthony Cain back after their injuries sustained at Can-Am last month…The next weekend for the Empire Super Sprints finds Friday, August 13th at Autodrome Edelweiss in a $2,000 to win A-Main event and then the second annual Quebec Sprint Car Nationals at Autodrome Drummond where the winner gets $6,000.
Mohawk Racing Parts A-Main – Steve Poirier ($2,500), Lance Yonge, Chuck Hebing, Michael Parent, Chris Jones, Kevin Ward, Jeff Cook, Brian McDonald, Tommy Wickham, Tyler Rice, Mike Stelter, Lee Ladouceur, Anthony Cain, Devin Caron, Paul Pekkonen, Justin Barger, Alain Bergeron, Dan Kaszubinski, Carey Terrance, James Hanson, Jami Russell, Zach Weigand.
Did not qualify: Mark Zemcik, Tim Smythe
Lap Leaders – Barger 1-20, Poirier 21-25.
Car Mate Custom Built Trailers Heats
Heat 1: Dan Kaszubinski, Alain Bergeron, Justin Barger, Kevin Ward, Jeff Cook, Devin Caron
Heat 2: Steve Poirier, Brian McDonald, Mike Stelter, Tyler Rice, Lee Ladouceur, Jami Russell
Heat 3: Michael Parent, Carey Terrance, Lance Yonge, Chris Jones, Anthony Cain, James Hanson
KSE Racing Products B-Main Finish: Tommy Wickham, Chuck Hebing, Paul Pekkonen, Zach Weigand.
C&B Enterprises/Cobra Coaches Dash – Michael Parent.
Ohsweken Speedway Winner's Bonus – Poirier $100
Cook's Contracting Services Halfway – Barger $100
WestFront Construction Hard Charger – Hebing (17 pos.) $50
MVCC Aviation Extra – Cook $50
HG Associates Fast Time – Poirier (15.144) $25
Car Mate Custom Built Trailers Heats – Kaszubinski, Poirier, Parent $25