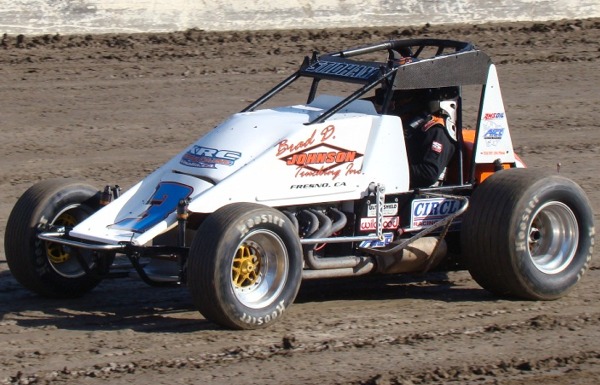 From Lance Jennings
SANTA MARIA, CA – SEPTEMBER 8, 2010… The Southwest Contractors 360 Clash Championship will be up for grabs this Saturday, September 11th, at Hanford's Giant Chevrolet Kings Speedway. The "Jim Turner Memorial" will be the finale for the special four race mini-series featuring the USAC West Coast 360 Sprint Car Series. Joining the powerful Sprint Cars will be the IMCA Stock Cars and Bud Light Mini-Stocks. The Spectator Gates will open at 5:30pm, with Time Trials scheduled for 6:30pm, and racing to follow.
"Southwest Contractors have been very supportive of the series and what we are trying to accomplish in 360 Sprint Car Racing on the West Coast," says Series Promoter Chris Kearns. "They have helped out in so many areas, from last year's points fund and special events to our 2010 points fund and the Mini Series."
The 360 Clash mini-series has it's own $5000 point fund, with $2500 to the series winner, $1500 for second, and $1000 for third. The 30-lap main event will pay $1200 to win and $200 to start with extra bonuses available. This includes a $100 certificate to the driver that earns "Hard Charger / Best Passing Job" honors on the night from Kirkey Racing Fabrication.
Fresno's Craig Stidham won the 360 Clash features at Tulare and Bakersfield. The pilot of the #3S Brad Johnson Trucking / KRC Safety Maxim scored a ninth place finish at Santa Maria on August 28th and has a one point lead over Davey Pombo. Stidham will be looking for the Turner Memorial victory to put a lock on the 360 Clash championship.
Kerman's Davey Pombo recorded a fourth place finish at Tulare and was fifth at Bakersfield. At Santa Maria, the driver of the #3 Junior Bowman / Buster & Ziggy Enterprise Bullet charged to a third place finish. Pombo won the 30-lap feature at Hanford on August 7th and will be looking for the 360 Clash title on Saturday.
Hanford's Justyne Hamblin is third in the 360 Clash standings. Piloting the #8 JH Motorsports / Tachi Palace Hotel & Casino Speed Tech, Hamblin was sixth at Tulare and third at Bakersfield. At Santa Maria, the defending West Coast 360 champion drove to a fifth place finish. Justyne won at Hanford on June 5th and has a shot at the crown with a Turner Memorial victory.
Fresno's T.J. Smith won the 360 Clash feature at Santa Maria on August 28th and is fourth in the point chase. The driver of the #14 Steve LeGras / UHL Rubber Maxim scored a nineteenth place finish at Tulare and sixth at Bakersfield. Smith is the hottest driver on the circuit with three wins in the last four races, including the August 21st victory at Hanford. Look for T.J. to have a strong run at Saturday's Turner Memorial.
Bakersfield's Rusty Carlile is fifth in the 360 Clash point standings. Driving the #51 Southwest Contractors / N.T.S Incorporated Bullet, Carlile was third at Tulare, tenth at Bakersfield, and seventh at Santa Maria. The veteran driver has enjoyed success at Hanford, including last year's Cotton Classic victory. Rusty is looking for his first win of the season and it could happen at the Jim Turner Memorial.
Among the other top contenders expected to be in action are Tipton's "Hollywood" Danny Faria Jr., San Martin's Wes Gutierrez, Clovis' Peter Murphy, Bakersfield's Chris Ennis, Visalia's Jace and Richard VanderWeerd, Bakersfield's Ricky Kirkbride, 2007 Bandit champion Jesse Mack of Visalia, and 2006 SCRA 360 champion Jonathan Logan of Hanford.
The USAC West Coast 360 Sprint Car Series would like to thank Southwest Contractors, Hoosier Tire, Amsoil, BR Motorsports, Competition Suspension, Cory Kruseman's Sprint Car & Midget Driving School, Crow Enterprizes, DJ Safety, Extreme Mufflers, Hilborn Fuel Injection, Hinchman-Indy Racing Uniforms, Integra Shocks, Kaeding Performance, Keizer Wheels, King Racing Products, Kirkey Racing Fabrication, Port City Racing, Saferacer.com, Saldana Racing Products, and Sander Engineering for their support.
Giant Chevrolet Kings Speedway is located on the Kings County Fairgrounds in Hanford, California. Reserved Grandstand tickets are $13 and General Grandstand tickets are $10. The track offers also offers a Family Pass for two adults and three kids. Reserved Family Passes are $40 and General Family Passes are $30. For more event information, please visit www.giantchevroletspeedway.com or call (559) 584-RACE (7223).
For more information on the USAC West Coast 360 Sprint Car Series, please visit www.westcoastsprintcars.com, www.usacracing.com, www.racesantamariaspeedway.com, or follow the series on facebook.
—————————————————————-
SOUTHWEST CONTRACTORS 360 CLASH POINT STANDINGS:
1. Craig Stidham 185; 2. Davey Pombo 184; 3. Justyne Hamblin 161; 4. T.J. Smith 147; 5. Rusty Carlile 144; 6. Danny Faria Jr. 143; 7. Wes Gutierrez 137; 8. Chris Ennis 115; 9. Ricky Kirkbride 99; 10. Geoffrey Strole 99; 11. Jesse Mack 89; 12. Jared Little 74; 13. Peter Murphy 69; 14. Albert Pombo 59; 15. Richard VanderWeerd 56; 16. Jonathan Logan 54; 17. Andy Ferris 44; 18. Ronnie Case 44; 19. Jace VanderWeerd 39; 20. Adam Frith-Smith 35.