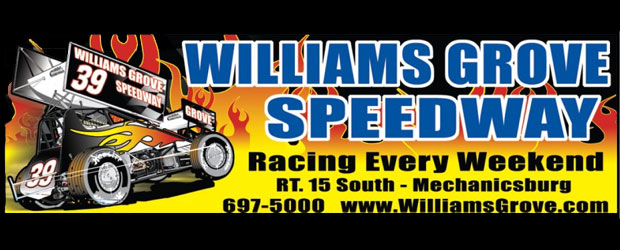 From Williams Grove Speedway
MECHANICSBURG – Mark Smith of Tower City tuned up for the 48th annual National Open next weekend by claiming the 30-lap, $4,000 to win feature event for 410 sprint cars at Williams Grove Speedway Friday night.
Smith inherited the lead from Tyler Walker at the halfway point to record his third sprint win of the season at the oval including a 360 victory in August.
Adrian Shaffer wired the field for the victory in the 358 sprint main.
Smith began the National Open tune up event from the third spot and followed second starter Trevor Lewis for the first 13 laps before moving into second behind leader Walker with 16 laps to go.
And just a few moments later, Walker saw the motor expire on his Keen No. 17 machine, giving way to Smith for a restart.
Eighth starter Aaron Ott was up to third for the return to action and got by Lewis during the ensuing circuit to put pressure on Smith over the final distance.
A second caution period for a stopped Brent Marks with six to go saw Ott drive to Smith's outside and challenge for the lead only to fall short.
The victory was the 12th of Smith's career at Williams Grove.
Ott finished second followed by Greg Hodnett, Lance Dewease and Chad Layton.
Completing the top 10 was Fred Rahmer, Alan Krimes, Danny Dietrich, Donnie Kreitz and Rick Lafferty.
Heats went to Layton, Kreitz and Krimes with the consolation going to Lafferty. Brian Leppo set fast time over the 30-car field with a lap of 17.334 seconds.
Shaffer recorded his fifth career division victory from the pole in the 20-lap 358 sprint main, driving the Stewart Smith No. 27S. Shaffer endured a pair of restarts for the checkers.
Brian Garland followed Shaffer throughout the race and crossed the line second. Chad Trout rode home third followed by Tim Berkheimer and Logan Schuchart.
Sixth througth 10th went to Glenndon Forsythe, Pat Cannon, Scott Geesey, Blane Heimbach and Ricky Stonebraker.
Heats were taken by Eric Tomecek, Heimbach, Forsythe and Berkheimer. Brie Hershey won the consolation.
FEATURE FINISHES, SEPTEMBER 25, 2010:
410 sprint feature, 30 laps – 1. Mark Smith, 2. Aaron Ott, 3. Greg Hodnett, 4. Lance Dewease, 5. Chad Layton, 6. Fred Rahmer, 7. Alan Krimes, 8. Danny Dietrich, 9. Don Kreitz Jr., 10. Rick Lafferty, 11. Steve Buckwalter, 12. Brian Leppo, 13. Trevor Lewis, 14. Doug Esh, 15. Justin Henderson, 16. Stevie Smith, 17. Adam Wilt, 18. Keith Kauffman, 19. Brian Montieth, 20. David Gravel, 21. Danny Holtgraver, 22. Brent Marks, 23. Brad McClelland, 24. Tyler Walker.
358 sprint feature, 20 laps – 1. Adrian Shaffer, 2. Brian Garland, 3. Chad Trout, 4. Tim Berkheimer, 5. Logan Schuchart, 6. Glenndon Forsythe, 7. Pat Cannon, 8. Scott Geesey, 9. Blane Heimbach, 10. Ricky Stonebraker, 11. Nate Hammaker, 12. Tim Wagaman, 13. Steve Fannasy, 14. Billy Johns, 15. Cory Haas, 16. Jay Galloway, 17. Danny Massey, 18. Aaron Spahr, 19. Ted Thomas, 20. Eric Tomecek, 21. Austin Reed, 22. Chris Arnold, 23. Kevin Nouse, 24. Brie Hershey