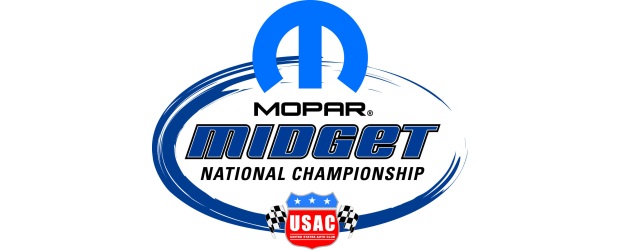 From Dick Jordan
Indianapolis, IN — The USAC Mopar National and Western Midgets square off November 13 at Tulare (Calif.) Thunderbowl Raceway as part of this year's "Pacific Coast Nationals" program also featuring the AMSOIL USAC National and USAC/CRA Sprint cars. Bryan Clauson leads the 2010 National standings entering the event but the real drama is expected to come in the battle for the 2010 Western Midget crown, where three drivers are separated by only 10 points!
Cory Kruseman of Ventura, Calif. leads Alex Schutte of Redding, Calif. by just seven points and Robby Josett of Agua Dulce, Calif. by 10 after competing in last Saturday night's 40-lap feature at Las Vegas, Nev. Kruseman finished seventh, Josett fourth and Schutte fifth in Saturday's race.
Kody Swanson of Kingsburg, Calif. led the final 22 laps to win the "Speedfest 2010" USAC Western Midget race at the Las Vegas Motor Speedway Bullring. Swanson piloted the Wilke-Pak Racers Speedway Motors/Toyota Spike. Daniel Bedford led the first 18 laps but officially finished ninth. Zach Daum finished second ahead of Alex Bowman, Josett and Schutte.
Kruseman, Schutte and Josett are all bidding for their initial USAC racing series championships and with only three races remaining on the calendar (Tulare, Nov. 20 at Ventura, Calif. and Nov. 25 at Irwindale, Calif.), the battle will most likely continue until the final checkered flag.
USAC MOPAR WESTERN MIDGET SERIES POINT STANDINGS
1-Cory Kruseman-644, 2-Alex Schutte-637, 3-Robby Josett-634, 4-Randi Pankratz-370, 5-Jake Swanson-364, 6-Kody Swanson-333, 7-Cody Swanson-308, 8-Scott Pierovich-282, 9-Josh Lakatos-244, 10-Sean Dodenhoff-230.
USAC MOPAR NATIONAL MIDGET SERIES POINT STANDINGS
1-Bryan Clauson-1,440, 2-Jerry Coons Jr.-1,342, 3-Darren Hagen-1,318, 4-Tracy Hines-1,317, 5-Brad Kuhn-1,298, 6-Dave Darland-1,153, 7-Bobby East-870, 8-Brad Sweet-860, 9-Brad Loyet-767, 10-Zach Daum-767.