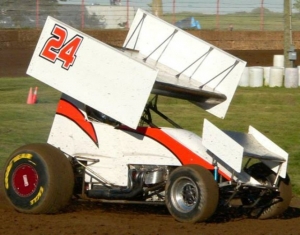 From Bill W
November 2, 2010 – It's a frustrating time as far as the healing process is going for sprint car driver, Terry McCarl, but the excitement is building as he prepares an assault on the 2011 season. The Altoona, Iowa driver is preparing his TMAC Motorsports #24 and formulating a game plan, while on the medical side, he awaits surgery in the next two weeks.
The plan right now is to continue owning his own team. "I'm looking forward to it," says TMAC. "I'm kind of going back to the basics right now. I'm lining up sponsors right now, and we have three or four already in our corner for 2010. We're working on more as we speak. I'd really like to thank Deanfield Farms, AmeriCashAdvance.com, DeBerg Concrete, Rossie Feed & Grain and Ryan Yager Trucking."
Currently, the plan calls for running in the Midwest and hitting some big shows, but the opportunity to drive for someone else could present itself as well. "Unless a really good ride came along, I'm running my own team and we're running Knoxville weekly," says TMAC. "I'm planning on going to Florida, and there may be some other rides at some other races along the way, but that's the plan."
The healing process is a disappointment for TMAC, as he had planned to possibly make a comeback this weekend at the World Finals. "I was really hoping to be back for Charlotte, but my leg bone is not growing back properly," he says. "I'm having surgery on Friday, November 12. They're going back in and taking a screw out to help the bone move a little more to heal."
The World Finals are an event that TMAC has enjoyed. "It was disappointing to miss Charlotte, because I had some sponsors lined up," he says. "I really like that track and the event. I've always run well there. I'm disappointed in that, but excited about running my own team next year and trying to win another championship at Knoxville."
The relationship with friend Lynton Jeffrey will continue in 2010. "I teamed up with Lynton when I came back (from a torn biceps) in July," says TMAC. "I brought my motor and things, and Lynton provided the car. We are working on a couple of deals to team up and park together at the track. We can share parts and crew that way. He is a really good business man, and we're trying to put a team together to run in the area."
Jeffrey won the track title at Huset's Speedway ,where TMAC has reigned supreme on six occasions. "It's a feather in his cap," he says. "There have been a lot of great champions at Huset's and he can add his name to it. I think that track makes you a good driver. I hope Austin and Carson can get up there too, depending on what classes they decide to run."
Sons Austin and Carson are also preparing for next season, and are in search of some good partners as well. "Austin lost his biggest sponsor, but they need to realize Dad can't foot the whole bill for these teams," says TMAC. "Austin and Carson are both lucky to have AmericashAdvance.com in their corner to help them out. Deanfield Farms is with them too. Austin needs a 410 motor to go racing at Knoxville. Carson is ready to go with an Automotive Machine 305 from Manny Rockhold, and he's going to run that at all the Knoxville and area shows. Maybe later in the year, he can try a 360. It's going to me a 'McCarl Fest' at Knoxville."
Websites for the McCarl Gang!
Driverwebsites.com has developed websites for the McCarl boys. Check out www.TerryMcCarl.com, and check out www.AustinMcCarl.com and www.CarsonMcCarl.com!
In"Terry"gation
Charlie Springs asks: What are your prospects in finding a ride?
TMAC Answers: I've had some offers this Fall, but the leg wasn't there. There's not a whole lot out there right now. I'd like to find something for Australia too. We would also run 360 shows if they paid good money. Right now, I'm excited to get my team going. You look at drivers like Brian Brown and Jason Johnson, and they are having to own their own teams right now. There are a lot of pluses to that too.
Got a question for TMAC? Send it to us at sprntcar@iowatelecom.net, and we may answer it in this section! Put "? for TMAC" in your subject line.
Some TMAC History!
TMAC has 251 career sprint car victories. He is 4th on the all-time list at the Knoxville Raceway with 49, and is tops at Huset's Speedway with 84. TMAC has won at 58 different tracks in 17 states and two provinces in Australia, and he's won under sixteen sanctions.
Website Updates
Keep up to date with McCarl Motorsports at www.TerryMcCarl.com. We keep it fresh for TMAC fans!
"Tuesdays with TMAC"!
"Tuesdays with TMAC" is an up close and personal look at colorful sprint car veteran Terry McCarl. To receive "Tuesdays with TMAC", send an e-mail to sprntcar@iowatelecom.net with "TMAC" in the subject line.
TMAC Motorsports would like to thank sponsors Deanfield Farms, AmeriCashAdvance.com, DeBerg Concrete, Rossie Feed and Grain and Ryan Yager Trucking.