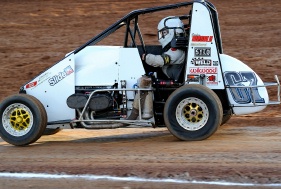 From Daniel Powell
In an effort to help raise much needed funds for the Queensland flood victims, Polytek Engineering Motorsport is pleased to announce a wonderful fundraising incentive.
The Polytek Engineering Motorsport team have pledged to donate all sponsorship money raised and prize money earnt during the annual Australian Grand Prix event for Speedcars at Sydney Speedway on Saturday night, January 22.
Polytek Engineering Motorsport team driver Jeremy Evans is very much looking forward to next weekend's event; especially since he recorded a career best Speedcar result of a sixth place feature race finish at Sydney Speedway last Wednesday night aboard the NSW # 67 Fontana powered Aggressor machine.
Polytek Engineering Motorsport team owner Gavin Wesble, who thought up the incentive, is hopeful that this wonderful cause is well supported by the Australian Speedway community.
"I've got a lot of friends that have been affected by this terrible natural disaster and I just wanted to help out in my own little way," expressed Wesble. "All sponsorship and prize money that is earned on the night will be donated and I'm hoping that everyone can get behind what we're doing. It doesn't matter how big or small the donation is, as every little bit helps towards getting everyone back on their feet."
To see how you can be a part of this worthwhile cause, contact Gavin Wesble from Polytek Engineering Motorsport on either 0409 462 343 or polytekeng@bigpond.com