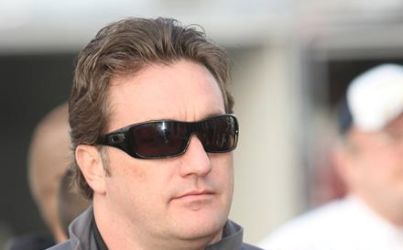 By Bill W
February 1, 2011 – Sprint car driver Terry McCarl will get things underway this weekend with stops in Sylvania, Georgia and Ocala, Florida with the All Star Circuit of Champions. The Altoona, Iowa driver is pumped by sponsorship on his Florida trip from Hungry Howie's Pizza, BubbaQue's and Frubob Fruit Floats.
The sponsors for the southern trip were some of the first to take advantage of TMAC's new marketing opportunities for 2011. In turn, he wants to do his part in getting the word out about them. "Those who know me, know I'm a pizza lover," says TMAC. "I've been eating at Hungry Howie's for a long time in Florida, and it's great to have them on board for the trip. Bubbaque's offers some of the best barbeque in Florida, and we're washing it down with a Frubob Fruit Float. I'm excited to have them all aboard, and hopefully we can take them to Victory Lane."
Good friend, Mark Burch, was also instrumental in getting the season started for TMAC. "I really have to thank Mark," he says. "We're using his truck and trailer and a 360 motor of his too. That's just awesome. Mark is an incredible friend. I can't say enough about him."
In the shop, the work has been just as intense, though some of the crew is still overseas. "While my crew chief, Gary Isom, is getting married in Australia, Steve Fitzpatrick has been working his tail off to get things ready," says TMAC. "Brandon Ikenberry is in Australia working for Kerry Madsen and Kory Miller, my third guy just got back. Kory and I have been thrashing. Steve came and helped. It's cool to have all those guys in your corner."
The action this week includes the All Stars first ever visit to Screven Motor Speedway in Sylvania, Georgia on Thursday, and a return to Ocala (FL) Speedway on Friday and Saturday. TMAC picked up the Ocala finale in 2009. He has racked up numerous wins in Florida at the following speedways: JAX Raceways in Jacksonville, Volusia Speedway Park in Barberville, East Bay Raceway in Gibsonton and in Ocala. The wins have come with the World of Outlaws, All Stars, ASCS and USCS.
TMAC is at home in the "Sunshine State". "We've had a lot of success in Florida," he says. "It's a place I really feel comfortable. While others are feeling things out at the beginning of the season, we've been able to win a lot of races down there. There's a comfort factor there."
TMAC would also like to thank the people who have always been there for him in trips to the Southeast. "For years the Florida trip has been possible because of Burnett's Rock and Landscaping, Morgan Strawberry Farms and Bulldog Pest Control," he adds.
Hungry Howie's Pizza
Excellent product, superior customer service and the marketing savvy to compete with the big pizza chains has propelled Hungry Howie's Pizza from a single-store operation to 500 stores nationwide. To find the locations in Florida, visit www.FloridaHungryHowies.com!
BubbaQue's
At BubbaQue's, you can eat out, or cater in. Visit one of their eight Florida locations. Find them on the web at www.BubbaQuesBBQ.com!
Frubob Fruit Floats
This year an estimated 1.45 billion Fruit Floats will quench the world's thirst for something unique. And now it's America's turn to "Shake It Up!" Simply put, Frubob is the only 100% natural Fruit Float with real pieces of fruit bobbing in real fruit juice, each piece waiting to release a natural burst of flavor for a taste unlike anything else. Visit Frubob on the web at www.FrubobUSA.com!
Websites for the McCarl Gang!
Driverwebsites.com develops the websites for the McCarl boys. Check out www.TerryMcCarl.com, as well as www.AustinMcCarl.com and www.CarsonMcCarl.com!
In"Terry"gation
Scott Bruce from Webster City, IA asks: Would you like to promote more 410 shows in the Midwest? It seems there have been a few more 410 shows the last couple years in this region.
TMAC Answers: I would love to promote more 410 shows in this area and plan on it in the future. I was out racing with the WoO and then was injured most of last year so I didn't have the time to devote to it, but I plan on it in the future.
Got a question for TMAC? Send it to us at sprntcar@iowatelecom.net, and we may answer it in this section! Put "? for TMAC" in your subject line.
This Week In TMAC History!
TMAC went from a hospital bed to Victory Lane at Ocala two years ago. Suffering from kidney stones on a flight from Australia, TMAC laid in a hospital bed in Los Angeles for a couple of days before heading for Ocala and winning the All Star finale. He had yet to pass the stones but did keep Danny Lasoski, Stevie Smith, Lance Dewease and Greg Hodnett behind him for the win.
Website Updates
Keep up to date with McCarl Motorsports at www.TerryMcCarl.com. We keep it fresh for TMAC fans!
"Tuesdays with TMAC"!
"Tuesdays with TMAC" is an up close and personal look at colorful sprint car veteran Terry McCarl. To receive "Tuesdays with TMAC", send an e-mail to sprntcar@iowatelecom.net with "TMAC" in the subject line.
TMAC Motorsports would like to thank sponsors Deanfield Farms, Eagle Chassis, DeBerg Concrete, AmeriCashAdvance.com, RFG, Phil and Vivian, Mark Burch Motorsports, Ryan Yager Trucking, Vortex Racing, Hoosier Tire, Schoenfeld Headers, K&N Filters, Don Ott Engines, HRP, All Pro Cylinder Heads, Bob and Beulah Elder, Country Builders Construction, Engler Injection, T&P Brothers, Winters, DriverWebsites.com, CM Rock, Jocko's Sprint Parts, Sander, Brown and Miller, Morris Automotive, Chase Graphics, Pro Shocks, Mac Tools, Ben Cook, Bell Helmets, Burnettt's Rock and Landscaping, Morgan Strawberry Farms, Bulldog Pest Control, Aurora Rod Ends, Crow Safety, Justice Brothers, KSE Steering, CIP Racing Hoods, Strange Performance, Saldana Racing Products, Scribner Plastics, Waterman Fuel Pumps, Weiland Racing, Butlerbuilt, PBS Bushings.