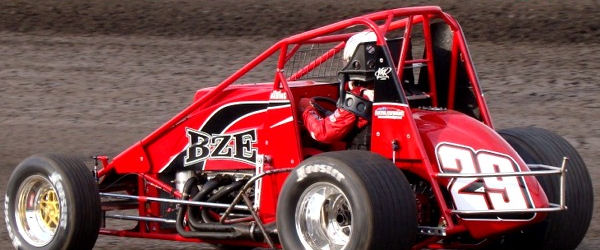 By Lance Jennings
HANFORD, CA – MARCH 21, 2011… Under threatening skies, officials with the USAC West Coast 360 Sprint Car Series and the Giant Chevrolet Kings Speedway worked hard to complete last Friday's program. While the forecasts were favorable, a wind shift brought the rains earlier than expected. With four 8-lap heat races in the books, the weather forced the semi-main and 30-lap feature to be postponed for a later date.
Hanford's season opener featured thirty-one cars in the pit area. Sharing the card with the famed World of Outlaw Sprints, series officials used a pill pick and passing points format for the program. The top sixteen in heat race points would be locked into the feature, while the balance of cars would race in the semi-main.
Campbell's Bud Kaeding got the action underway by winning the Extreme Mufflers Heat Race #1 after starting eighth. Driving Junior Bowman's #29 Buster & Ziggy Enterprises / Kaeding Performance Maxim, the veteran driver sliced through the field for a convincing win. Kaeding was followed by Fresno's T.J. Smith, "Hollywood" Danny Faria Jr. of Tipton, Ventura's Austin DeBlauw and Jeff Gardner of Fresno. The 3-time USAC Silver Crown Champion was the program's high point driver.
Richard VanderWeerd of Visalia scored the victory in the Saldana Racing Products / Keizer Wheels Heat Race #2. Piloting the family's #10 VanderWeerd Construction / Battery Worx Maxim, VanderWeerd started fifth in the 8-lap event and made his way to the front. Richard was followed across the line by Bakersfield's Rusty Carlile, Jonathan Logan of Hanford, Bakersfield's John Iturriria, and Justyne Hamblin of Hanford.
Avon, Indiana's Jon Stanbrough dominated the DJ Safety Heat Race #3. Driving Steve Watt's #81 entry backed by the Christian Stover Foundation and Steve Watt Enterprises, Stanbrough rocketed from his pole position starting spot. Making his first visit to the Hanford clay oval, last year's USAC Indiana Sprint Week Champion flew to victory. Stanbrough was trailed by Kerman's Davey Pombo, Marcus Niemela of Santa Barbara, San Martin's Wes Gutierrez, and Marty Hawkins of Santa Rosa.
Gardena's Greg Alexander claimed the win in the Competition Suspension Incorporated Heat Race #4. Piloting Chuck Tyler's #72 Trench Shoring / Barnes Systems Maxim, Alexander started on the pole of the night's final heat race. The young driver held off numerous challenges from Auburn's Andy Forsberg and defending series champion Craig Stidham of Fresno. In a tight battle, Alexander took the win followed by Stidham, Forsberg, Garrett Ishii of Caruthers, and Fresno's Kevin Barnes.
After the heat races were completed, the World of Outlaws ran their dashes and semi-main. As the Outlaw feature was poised for the green flag, rain ended the night's action. After several attempts to save the show, officials were forced to postpone the remainder of the program. With Saturday's show at Tulare also in doubt because of rain, the make-up date was to be announced later.
On Saturday, the light rain ended early at Tulare and the show was completed. Officials announced that Hanford's Friday show with the World of Outlaws will be completed on Thursday, March 31st. The USAC 360s will hold their semi-main and feature on that night. Additional cars are welcomed to race on the rare Thursday night program and will have to tag the back of the semi-main.
The USAC West Coast 360 Sprint Car Series would like to thank Southwest Contractors, Hoosier Tire, Amsoil, BR Motorsports, ButlerBuilt, Competition Suspension Inc., Cory Kruseman's Sprint Car & Midget Driving School, Crow Enterprizes, DJ Safety, Extreme Mufflers, Hilborn Fuel Injection, Hinchman-Indy Racing Uniforms, Integra Shocks, Kaeding Performance, Keizer Wheels, King Racing Products, Port City Racing, Saferacer.com, Saldana Racing Products, and Sander Engineering for their support.
Giant Chevrolet Kings Speedway is located on the Kings County Fairgrounds in Hanford, California. Camping is available on the fairgrounds and overnight camping will be allowed in the pits for free. For more event information, visit www.giantchevroletspeedway.com or call (559) 584-RACE (7223).
For more information on the USAC West Coast 360 Sprint Car Series, visit www.westcoastsprintcars.com, www.usacracing.com, www.racesantamariaspeedway.com, or follow the series on facebook.
——————————————————–
USAC WEST COAST 360 SPRINT RACE RESULTS:
March 18, 2011 – Hanford, California – Giant Chevrolet Kings Speedway
EXTREME MUFFLERS HEAT RACE 1: (8 laps)
1. Bud Kaeding (#29 Bowman), 2. T.J. Smith (#14 LeGras), 3. Danny Faria Jr. (#2 Bowman), 4. Austin DeBlauw (#65 DeBlauw), 5. Jeff Gardner (#51T Revcon), 6. Jace VanderWeerd (#88 VanderWeerd), 7. Matt Streeter (#14JR Streeter), 8. Nico Russo (#3N Russo). NT
SALDANA RACING PRODUCTS / KEIZER WHEELS HEAT RACE 2: (8 laps)
1. Richard VanderWeerd (#10 VanderWeerd), 2. Rusty Carlile (#51 Carlile), 3. Jonathan Logan (#32 Evett/Logan), 4. John Iturriria (#27 Iturriria), 5. Justyne Hamblin (#8 JH), 6. Ricky Kirkbride (#87 Van Meter), 7. Ryan Bernal (#11X Olmstead), 8. Geoffrey Strole (#09S Strole). NT
DJ SAFETY HEAT RACE 3: (8 laps)
1. Jon Stanbrough (#81 Watt), 2. Davey Pombo (#3E Eames), 3. Marcus Niemela (#69 Watt), 4. Wes Gutierrez (#007 WG), 5. Marty Hawkins (#3M Hawkins), 6. Andrew Murray (#18 Murray), 7. Dennis Howell (#62 Howell), 8. Matt Day (#97 Day). NT
COMPETITION SUSPENSION INC. HEAT RACE 4: (8 laps)
1. Greg Alexander (#72 Tyler), 2. Craig Stidham (#3 Stidham), 3. Andy Forsberg (#92 Forsberg), 4. Garrett Ishii (#71G Ishii), 5. Kevin Barnes (#36B Barnes), 6. James Bondurant (#77 Keener), 7. Dave Knott (#28 Knott). NT
REMAINDER OF PROGRAM RAINED OUT
———————————————————-
USAC WEST COAST 360 SPRINT POINT STANDINGS: (3/18)
1-Bud Kaeding-8, 2-Richard VanderWeerd-8, 3-Jon Stanbrough-8; 4-Greg Alexander-8; 5-T.J. Smith-7; 6-Rusty Carlile-7; 7-Davey Pombo-7; 8-Craig Stidham-7; 9-Danny Faria Jr.-6; 10-Jonathan Logan-6.
———————————————