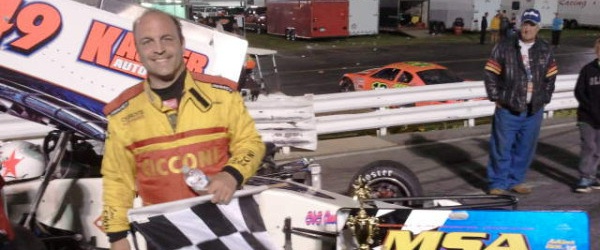 From Robert Gill and Bob Gagwer
ALTAMAHAW, NC — Lou Cicconi actually had time to collect his thoughts as the Midwest Super Modifieds Association rocketed around Ace Speedway.
A comfortable lead afforded that rare opportunity during Friday night's high-speed show.
"Once I got out front I was pacing myself because I didn't want to use it up," he said later, referring to his No. 49 car while soaking up the atmosphere of Victory Lane.
Cicconi gained control on an early restart and bolted away to win the 50-lap feature for the Midwest Super Modifieds, a touring series of powerful winged cars.
The driver from Aston, Pa., who some five hours earlier nearly established a track record with a qualifying lap of 13.251 seconds, led the final 36 laps.
Trent Stephens of Ravenna, Ohio, was the runner-up. Mark Sammut of Ontario placed third as fans packed the grandstands to watch the season opener for the circuit that's primary based in Ohio.
"I got the five (laps) to go and I was like, 'All right, probably should try something' and I was a little bit too far away," Stephens said.
"A great race from my point of view. Had a big turnout. It was pretty nice racing in front of a big crowd the first race of the year."
Sammut's No. 78 car led eight laps before Cicconi took command.
Bobby Dawson of South Amherst, Ohio, came in fourth. Joey Scanlon of Salem, N.H., finished fifth.
Meanwhile, a scary situation snuffed out Burt Myers' much-anticipated Super Modifieds debut nearly as quickly as it began — and landed the star driver in the hospital.
The reigning champion of Bowman Gray Stadium in Winston-Salem and the NASCAR Whelen Southern Modified Tour, who would have carried a proverbial banner as the only competitor from the Southeast in Friday's main event, was ensnared in a fiery wreck on his second practice lap.
Myers, piloting the No. 52 car owned by Super Modifieds president Randy Burch, crashed hard into a portion of Ace's concrete outside wall between turns one and two.
The car, while disintegrating and catching on fire, hopped airborne, knocking down some billboards and melting other signs stationed above the concrete outside wall.
Ace general manager Brad Allen said track personnel needed 90 minutes to clean up and perform repairs to the fencing.
What remained of the destroyed Super Modifieds car was scooped into pieces and hauled away. Myers, suffering from possible broken ribs, was taken to Alamance Regional Medical Center.
Super Modified Qualifying: Lou Cicconi 13.251, Dave Shullick Jr. 13.265, Charlie Schultz 13.302, Trent Stephens 13.359, Joey Scanlon 13.475, Bobby Dawson 13.545, Paul White 13.569, Tim Ice 13.706, Talon Stephens 13.753, Mark Sammut 13.805, Jack Smith 13.917, Rich Reid 13.950, John Ivy 13.962, Brandon Fisher 13.976, Jimmy Paller 14.058, Jon Henes 14.128, Denny Fisher 14.158, Matt Palmer 16.368, Mark Miller 19.181.
Heat 1 (10 laps): Denny Fisher, Jim Paller, John Ivy, Talon Stephens, Paul White, Jack Smith, Mark Miller.
Heat 2 (10 laps): Mark Sammut, Tim Ice, Brandon Fisher, Rich Reid, Matt Palmer, Jon Henes.
Heat 3 (10 laps): Bobby Dawson, Trent Stephens, Dave Shullick Jr., Lou Cicconi, Charlie Schultz, Joey Scanlon.
Super Modified Feature (50 laps): Lou Cicconi, Trent Stephens, Mark Sammut, Bobby Dawson, Joey Scanlon, Dave Shullick Jr., Charlie Schultz, Talon Stephens, Jim Paller, John Ivy, Rich Reid, Tim Ice, Jack Smith, Denny Fisher, Paul White, Brandon Fisher, Matt Palmer, Mark Miller.

Photo Gallery