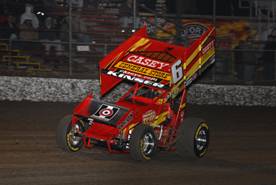 By Parsons Motorsports PR
Granger, IA—May 25, 2011—Memorial Day Weekend has historically been the biggest racing weekend of the year and that tradition will certainly continue this weekend for Kraig Kinser aboard the Casey's General Store Maxim and the rest of the World of Outlaws Sprint Car Series.
A holiday double dip is on tap for the best sprint car drivers in the world, beginning at The Dirt Track at Charlotte on Friday, May 27, an event that will be televised live on SPEED beginning at 8 p.m. Eastern, followed by a trip to I-96 Speedway in Michigan on Memorial Day (Monday, May 30), for an event that was postponed by rain and unsafe track conditions last Saturday night.
Kinser, who hails from Bloomington, Ind., but has called the Charlotte area home for a few years recently, made his debut at The Track at Charlotte in 2002. He has picked up three Top-Five finishes in a dozen career starts at the track, including a career-best runner-up performance in the finale of the 2008 World Finals. The third generation driver finished ninth in the spring race at the Charlotte in 2008 and also was ninth in the opener of the 2009 World Finals. He finished 13th last spring at the progressively banked four-tenths-mile.
The Circle K NOS Energy Outlaw Showdown on Friday night will mark the first of two visits this season to The Dirt Track at Charlotte for the World of Outlaws, with the World Finals capping the season for the fifth straight year.
Kinser raced at the sprawling half-mile at I-96 Speedway in Lake Odessa, Mich. for the first time in 2004. He finished fourth at the track in 2005 in just his second start at the facility. Returning to I-96 in 2008, the native of Bloomington, Ind. finished ninth. Kraig made his way onto the podium in 2009 at I-96. The event will mark one of two stops this season for the series in the Great Lakes State.
Kinser enters the two events this weekend just outside of the Top-10 in the series standings, having picked up six Top-10 and two Top-Five finishes through the first 15 events of the season.
Kraig on The Dirt Track at Charlotte:
"You always look forward to going to the tracks that you've had success at. At this point, I just look forward to getting out on the track and some nice weather. We'll go over there and see what we can do. Qualifying will be important as it always is. It will be good to hopefully get two races in over the weekend and begin to race now twice a week and sometimes more with the schedule picking up."
Kraig on I-96 Speedway:
"Hopefully Mother Nature will cooperate and all the fans are able to come back. They had a great turn out last Saturday night. I've had some good runs there in the past and have learned a lot of things there in the past that will hopefully come in handy when we go back. I raced a lot in Michigan early in my career, so I always enjoy going up there and seeing all the great fans they have."
Kraig on the weather this season:
"It's just the way it goes sometimes. I don't know if it's ever been quite as bad as this year, but we've had some years with a lot of rainouts. The start of this year will definitely stick out for a while. It's hard to get into a groove when you keep getting rained out. We have a good team here with the Casey's General Store team and we'll get some laps in at the end of May and hopefully can get going and get into a rhythm."
Kraig Kinser By the Numbers: The Dirt Track at Charlotte & I-96 Speedway:
0.4- Miles around The Dirt Track at Charlotte
0.5-Miles around I-96 Speedway
1- Career Top-Five finish at Charlotte
2- Career Top-Five finishes at I-96; Races this season in the state of Michigan
3- Career Top-10 finishes at Charlotte
4-Total nights at The Dirt Track at Charlotte this season
5- Career starts at I-96 Speedway
11.4- Average finish at I-96 Speedway
12- Career starts at Charlotte Motor Speedway
15.3- Average finish at Charlotte in 12 starts
768- Miles from Charlotte Motor Speedway in North Carolina to I-96 Speedway in Michigan
1938- Points earned this season through May 20
2002- Year of first start at Charlotte Motor Speedway
2004-Year of first start at I-96 Speedway
21,100- Dollars earned through May 20
Keep up with all the action: Follow Kraig Kinser on Twitter at http://twitter.com/kraigkinser6 and receive live updates from the track each and every race night. Also keep up with Kraig online at the recently redesigned www.KraigKinser.com.
Tune in: Listen live to each and every World of Outlaws event on DIRTVision.com with "The Voice of the Outlaws" Johnny Gibson on the call. Visit www.DIRTVision.com for live audio of each and every World of Outlaws Sprint Car Series event.