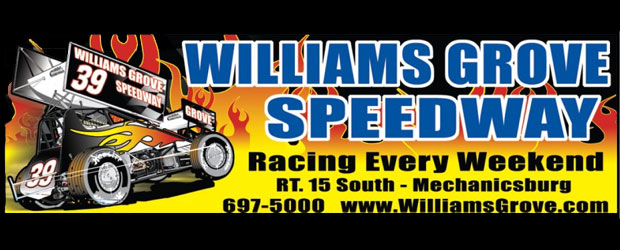 From Williams Grove Speedway
MECHANICSBURG, PA–A severe thunderstorm struck Williams Grove Speedway Friday evening and caused the Keystone Cup event for sprint cars to be cancelled.
This was the sixth weather related cancellation of a sprint car program at Williams Grove this season. It also marked the second year in succession that the annual Keystone Cup date was lost to the elements.
The speedway's rain check policy can be found in its entirety at williamsgrove.com.
Williams Grove will be back in action on May 28 when the Saturday Night Series will continue with the running of the annual Bill Heckert Memorial in the super sportsman division.
Time trials for the sportsman cars are scheduled to begin at 6:30.
The 358-late models and four-cylinder stock cars are also on the card.
Sprint car racing will return to the Grove on Friday evening, June 3. A double header is on tap featuring the Grove's premier sprint car division along with the sprint cars of URC.
The first heat is scheduled to start at 7:30.
There will be no time trials in either division on June 3.
The current Lawrence Chevrolet Point standings for the sprint car division are as follows.
1. Fred Rahmer-1300
2. Lance Dewease-1240
3. Doug Esh-1150
4. Brian Leppo.-1140
5. Greg Hodnett-1085
6. Brian Montieth-1060
7. Tyler Walker-1040
8. Steve Buckwalter-1035
9. Danny Dietrich-995
10. Don Kreitz-930