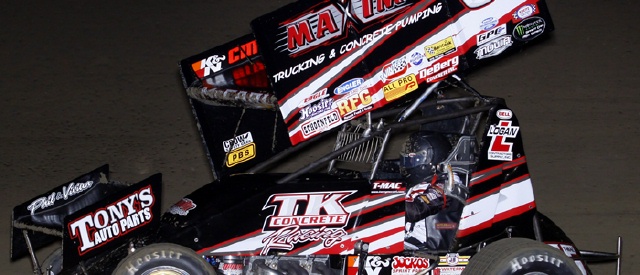 By Bill W
May 31, 2011 – Mother Nature gave everyone a reprieve last weekend, and the Knoxville Raceway ran for the first time in three weeks. Terry McCarl scored quick time and an impressive heat win in the VerMeer Motorsports #55 before recording a top ten finish. At Huset's Speedway in South Dakota on Sunday, he would finish a solid third, before rain took Monday's finale. He will return to the two venues this weekend.
Competitors struggled to get a handle on Knoxville's rough surface on Saturday. Despite being the 20th of 32 cars out to time, TMAC set the standard in time trials. "We've been fast every night," he says. "On Saturday, we were able to get quick time, and win the heat convincingly. Knoxville has it where you can keep track of your lap times, and we were a half second quicker than any of the heat winners."
The Altoona, Iowa driver drew an eight for the feature invert, putting him outside of row four. "We were confident heading in," says TMAC. "We tightened it up just a little bit, not a ton. The straightaways were slick, but the turns got some moisture coming up and got heavy and rough."
The track proved to be tricky, and TMAC would finish eighth. "I hadn't seen Knoxville that rough in a long time," he says. "It was disappointing, because I thought we had the fastest car by far all night long. That's part of racing, and we'll be back this week. I'm excited about this new Eagle."
Sunday saw the team make the trip to Huset's. The event was sanctioned by NOSA, so the heat draw/passing points system was in use. TMAC won his heat after drawing the pole on a damp night. "We were just a little tight all night long," he says. "It was misting and raining off and on, but we were able to win the heat."
Starting sixth in the main event, TMAC came upon a familiar sight in front of him as he advanced to fourth. "We were able to get up to fourth right away," he says. "Some kid in a 17A was beating us. I had to jump a start a little to get by him. Austin did a really good job."
After disposing of his oldest son and Chuck McGillivray, he tried to reel in leader, Shane Stewart. He would finish third at the checkers. "We were up to second at one point, but the car was too tight," says TMAC. "I was kind of hanging on. We weren't super-fast. (Mark) Dobmeier got by us and we ended up running third. I haven't really driven the #55 too much. The more Matt, Gary, Joey and I work together, the better we're going to get."
Monday resulted in a rain out, but TMAC set his second quick time of the weekend before the race was called. "It felt good," he says. "I think we figured out some of our mistakes from the night before. We're getting better every night, and we're looking forward to Huset's and Knoxville again this week."
To check out opportunities to partner with TMAC Motorsports on a nightly basis, visit www.TerryMcCarl.com or call 515 957-0020!
Front Row Challenge/Ultimate Challenge
The 16th Annual Front Row Challenge and the 10th Annual Ultimate Challenge will be held Monday and Tuesday, August 8 and 9, 2010 at the Southern Iowa Speedway in Oskaloosa, Iowa. Order your seats NOW by calling McTwo Promotions, Inc. at 515 957-0020. Visit www.OskyChallenges.com for further details.
Websites for the McCarl Gang!
Driverwebsites.com develops the websites for the McCarl boys. Check out www.TerryMcCarl.com, as well as www.AustinMcCarl.com and www.CarsonMcCarl.com!
In"Terry"gation
Tim Pitt of Knoxville asks: Terry, did you ever want to try any other form of racing, like Indy or NASCAR?
TMAC Answers: When I was a little boy, Indy was my dream. I'm a little old now. When I was young, AJ Foyt was my idol. It didn't quite work out that way.
Got a question for TMAC? Send it to us at sprntcar@iowatelecom.net, and we may answer it in this section! Put "? for TMAC" in your subject line.
This Month in TMAC History!
On May 26, 2002, TMAC was victorious with the Interstate Racing Association (IRA) at the Cresco Speedway in Cresco, Iowa. With 39 cars on hand at the banked 3/8 mile oval, TMAC topped Travis Cram, Joe Roe, Colin Northway and John Haeni.
"Tuesdays with TMAC"!
"Tuesdays with TMAC" is an up close and personal look at colorful sprint car veteran Terry McCarl. To receive "Tuesdays with TMAC", send an e-mail to sprntcar@iowatelecom.net with "TMAC" in the subject line.
VerMeer Motorsports would like to thank TK Concrete, Maxim Trucking & Concrete Pumping, Tulip City Agency, Logan Contractors Supply, Van Maanen Electric, Tony's Auto Parts, Monarch's Restaurant & Lounge, Skyline Ready Mix, QTC (Quality Traffic Control), DPLM (Dennis Parking Lot Maintenance), Van Gorp Construction, Don Ott Racing Engines and Ulrich Motor.
TMAC Motorsports would like to thank sponsors Deanfield Farms, Eagle Chassis, DeBerg Concrete, AmeriCashAdvance.com, RFG, Phil and Vivian, Mark Burch Motorsports, Ryan Yager Trucking, 212 The Boiling Point Bar & Grill, Vortex Racing, Hoosier Tire, Chris Spaulding – Attorney at Law, Schoenfeld Headers, K&N Filters, Don Ott Engines, HRP, All Pro Cylinder Heads, Bob and Beulah Elder, Country Builders Construction, Engler Injection, T&P Brothers, Winters, DriverWebsites.com, CM Rock, Jocko's Sprint Parts, Sander, Brown and Miller, Morris Automotive, Chase Graphics, Pro Shocks, Mac Tools, Ben Cook, Bell Helmets, Burnettt's Rock and Landscaping, Morgan Strawberry Farms, Bulldog Pest Control, Aurora Rod Ends, Crow Safety, Justice Brothers, KSE Steering, CIP Racing Hoods, Strange Performance, Saldana Racing Products, Scribner Plastics, Waterman Fuel Pumps, Weiland Racing, Butlerbuilt, PBS Bushings.