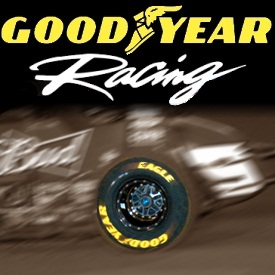 By Lee Elder
ATWOOD, Tenn. (June 6, 2011) – Whoever said you can't win 'em all never met Tim Crawley. Crawley won four straight events in the United Sprint Car Series presented by Goodyear Speedweeks, capping the streak off with a win at Clayhill Motorsports.
Goodyear is the Official Tire Company and the presenting sponsor for the series, providing the same lineup of bias-ply tires for the USCS that it sends to various sprint car programs at tracks around the country, as well as other touring series.
Crawley started fifth at Clayhill and only led the last three laps, but that was enough to get his fourth straight win. Jerrod Hull finished second after leading much of the race. Jeff Swindell was third, followed by Terry Gray and Anthony Nicholson. There were 22 starters in the feature race.
Gray won the Goodyear Speed Dash.
More information about Goodyear Racing is available at www.racegoodyear.com. More information about the USCS is available at www.uscs.com.