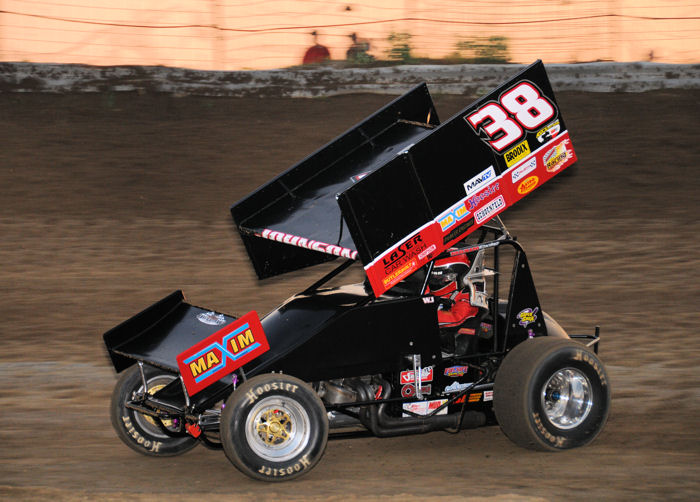 From Bill W
July 6, 2011 – The strong runs continued for Wayne Johnson and the BDS Motorsports #38 team. A second place run at the I-80 Speedway, and a run from 12th to 6th at McCool Junction last weekend have the team on top of the ASCS-Midwest standings as they embark on a trip to Minnesota, South Dakota, and on to Oregon in the next week.
The Knoxville, Iowa driver started last weekend's racing at the Junction Motor Speedway near McCool Junction, Nebraska with the ASCS-Midwest series. He would finish third in his heat. "It wasn't enough to get in the redraw, but I felt good about the car," says Wayne. "We had (Jack) Dover and (Brian) Brown on the front row, so that made it tough."
A rubber-down surface welcomed the teams the last time at the beautiful 3/8-mile facility, but on Thursday, it was racy. Wayne would drive from his starting spot outside of row six to a sixth place finish. "The track was a lot better than our last trip there, but it was almost too much better," he admits. "There was a big curb and that's where everyone was running. It wasn't a tire grinder like our last race there, and going from twelfth to sixth…it was a good run."
A second place run in his heat netted him a spot in Friday's redraw at I-80 Speedway near Greenwood, Nebraska. This time, Wayne drew the front row and led the feature early on. "Brown and I started up front," he says. "I knew the best part of the racetrack was going to be the bottom. We were able to get out into the lead. I came up on some lapped cars, and I knew if I got up off the bottom, it wouldn't be good."
Wayne stuck to his guns on the bottom, and Brown, who won for the third time this year at the track, was able to sneak by. Wayne would finish a solid second. "I could hear Brown on the outside, but I wasn't going to give up the bottom," he says. "I had to check up a little in traffic and he got a good run on the top on me. He went to the bottom, and it was kind of over then. It was one of those deals where it is better to be in second in traffic. We just got beat. If you're going to get beat there, then it should be Brown. He's pretty damn good there."
Wayne had a new 410 between the frame rails for Saturday night at the Knoxville Raceway. It was a night to get things tuned with the new power plant, and it resulted in a fourteenth place finish. "We got our new Parker 410," he says. "It has a ton of power in it, and we struggled a bit to get it grounded. We were spinning the tires a bit. It was way different from most of the racing we've been doing, which has been with the 360. We're doing a little bit of tuning on it and we'll be ready."
Wayne and owner/mechanic Bryan Sumby will hit the Lucas Oil ASCS National tour again this weekend at the Jackson Speedway in Jackson, Minnesota on Friday, and the I-90 Speedway in Hartford, South Dakota on Saturday. Monday, he plans to begin the ASCS Northwest Speedweek for six nights of racing.
Monday night, the week starts at the Southern Oregon Speedway in Medford, then moves to Coos Bay Speedway on Tuesday, Cottage Grove Speedway on Wednesday, Willamette Speedway in Lebanon, Oregon on Thursday and Friday and Saturday will be at the Grays Harbor Speedway in Elma, Washington. "I'm looking forward to the trip," says Wayne. "We're going to have to haul butt to make Oregon, but we're looking forward to it."
Big Sale on T-Shirts!
Wayne Johnson Racing has a variety of 2010 apparel and it is ALL on sale! $10 for t-shirts, hats, women and kids' shirts and more! E-mail WayneJohnsonRacing@yahoo.com to place your order!
Buy Your Outlaw Wings from Wayne
Wayne is an Outlaw Wings dealer located in the Knoxville, Iowa area. Wayne credits the new Outlaw top wing for his 2009 wins at Little Rock and Cowtown. Contact Wayne for your Outlaw Wing, as he has some special Holiday deals going! Outlaw Wings – "When Downforce Matters"!
Wayne's Website
To learn more about Wayne and the team, log on to www.WayneJohnsonRacing.com!
Wayne's World
Paul Holland asks: You've mentioned rehabbing your foot and ankle. What part does conditioning play in your racing?
Wayne answers: More than anything it is cardiovascular. I don't want to get winded or anything having asthma. As far as lifting, I've always been in pretty good shape with that. I have no neck, so it can't get tired. More than anything, it is cardiovascular and getting your breathing right.
Got a question for Wayne? Each week, Wayne will answer your questions about "Tech Tips", or anything that's on your mind. If you ever wondered what a part on a sprint car is all about, send an e-mail to us at sprntcar@iowatelecom.net, and we may answer it in this section! Put "? for Wayne" in your subject line. He'll try to keep it clean if you do!
Wayne's Fast Facts
Wayne ran strong in his 2009 trip to Southern Oregon Speedway near Medford. He was leading the first ten laps before the late, great, Jesse Hockett made it by for the win. Wayne settled for second aboard Harold Main's #35A.
"Wednesday's with Wayne"
"Wednesday's With Wayne" is an up close look at the past, present and future of colorful and talented sprint car driver Wayne Johnson. You'll never know what to expect next with Wayne, so don't miss us on Wednesdays!
To receive "Wednesday's with Wayne", send an e-mail to sprntcar@iowatelecom.net with "Wayne" in the subject line.
Wayne would like to thank the following for making this possible: BDS Motorsports, Parker Machine, Champion Oil, BMRS Brown and
Miller Racing Solutions, Max Muscle, Butlerbuilt, Hinchman, Schoenfeld Headers, Super Shox, Hoosier Racing Midwest, Rod End Supply,
Fuel Safe, Simpson, Conroy Pneu Controls, KSE, Maxim Chassis, RJR Components, Kinsler Fuel Injection, Astro Titanium, ITI Lubricants,
DMI, Laser Carwash and Speedway Motors.