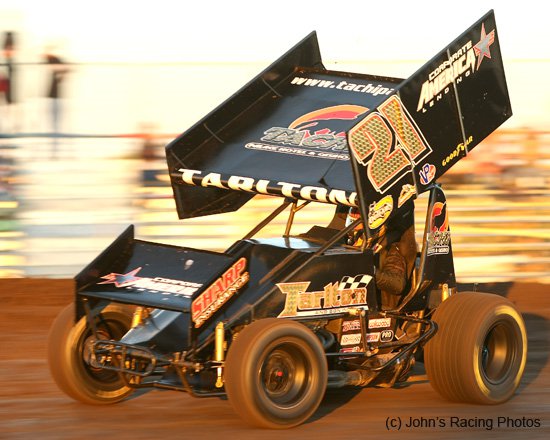 Inside Line Promotions
– LEBANON, Ore. (July 17) – Four races at different tracks in as many days.
It was a busy schedule last week for Tommy Tarlton, who competed on the ASCS Northwest Region's annual Speedweek throughout Oregon. The best way to summarize his week was to say his best race was the one he blew an engine at.
"That's how the week goes sometimes," the Easton, Calif., native said. "I enjoyed the traveling and going to all those places. Oregon is beautiful.
"I'm kind of happy that we went on that trip. Not so much for the race results, but because we figured out what has been plaguing the team this year and we got it resolved."
A blown engine, an ill-handling race car and only one top five, yet Tarlton still finished 10th in the Speedweek points and had a shot at winning twice.
It started last Monday at Southern Oregon Speedway in White City, where Tarlton finished second in his heat race to earn a bid in the redraw. That aligned the top eight in points after the heat races for the feature based on a random draw by a child in the stands. Tarlton's pick was the No. 3, starting him on the inside of the second row.
On an extremely wet track, he maintained a top five the entire race. However, without much passing, Tarlton tried to move around the 1/3-mile oval and lost a couple of positions when he got out of line battling for second on the one-lane track. Tarlton finished fifth, which was his 19th top five of the season.
"You had to take what you could get," he said. "I was happy to get out of there with a top five."
On Tuesday, Tarlton again ventured to a track he had never raced at – Coos Bay Speedway in Coos Bay, which is on the Oregon Coast.
And again, Tarlton earned a trip to the redraw by winning his heat race. This time he started on the outside of the third row after the No. 6 was pulled.
He picked up a couple of positions and was having a torrid battle for third place for about 10 consecutive laps midway through the race before lapped traffic got in the way. At one point, it was either slam on the brakes or flip.
Tarlton reworked his way to the bumper of the third-place car and the duo again raced side by side, with Tarlton preferring the "top" groove. But with five laps remaining, Tarlton's engine expired and he was relegated to a 15th-place finish.
"That was by far the most fun race of the week," he said. "It wasn't any fun to finish like that, but I had a blast sliding around that track and racing for a top three."
Unfortunately, that started the downward spiral for Tarlton, who struggled on Wednesday at the Cottage Grove Speedway in Cottage Grove – the only track in Oregon he had ever raced at.
He finished sixth in his heat race and won the B Main, but Tarlton was unable to maneuver the car how he wanted and ultimately finished 18th in the feature.
"We've been throwing a bunch of things at that car for awhile and after Cottage Grove, I thought it was time to pull out the new car from upstairs," he said.
Tarlton said the change was a good one on Thursday at Willamette Speedway in Lebanon, where passing was at a premium. He started in the back of his heat race and finished sixth, forcing him to run a B Main.
Tarlton claimed the fourth and final transfer, and then drove from 19th to 14th in the main event.
"Although that wasn't the finish I wanted, I know that the change in cars worked and now we won't be battling that issue," he said.
Speedweek was supposed to conclude with races featuring the ASCS National Tour on Friday and Saturday at Grays Harbor Raceway in Elma, Wash., but rain washed out the weekend. The team made it to the track on Friday morning, then made the long haul home later that afternoon after the downpour cancelled the event.
Tarlton is scheduled to race with the ASCS National Tour on Friday and Saturday at the Cottage Grove Speedway in Cottage Grove, Ore. Both races will be taped for a delayed broadcast by VERSUS.
For live updates of Tarlton and the rest of the races, visit www.insidelinepromotions.com.
QUICK RESULTS –
July 11 – Southern Oregon Speedway in Medford, Ore. – Heat race: 2 (3); Feature: 5 (3).
July 12 – Coos Bay Speedway in Coos Bay, Ore. – Heat race: 1 (2); Feature: 15 (6).
July 13 – Cottage Grove Speedway in Cottage Grove, Ore. – Heat race: 6 (7); B Main: 1 (3); Feature: 18 (16).
July 14 – Willamette Speedway in Lebanon, Ore. – Heat race: 6 (6); B Main: 4 (3); Feature: 14 (19).
SEASON STATS –
27 races, 27 features, 5 wins, 19 top fives, 19 top 10s, 21 top 15s, 25 top 20s
UP NEXT –
Friday and Saturday at the Cottage Grove Speedway in Cottage Grove, Ore., with the ASCS National Tour
FAVORITE NUMBER –
10: Where Tarlton finished in his first career ASCS Northwest Region Speedweek, which was four races at four tracks in four days throughout Oregon last week.
SOCIAL MEDIA LINKS –
Website: www.tarltonandson.com/racing and www.tommytarlton.com
Twitter: https://twitter.com/#!/tarltonracing
Facebook: http://www.facebook.com/#!/profile.php?id=100001286852863
APPAREL –
Tarlton has black t-shirts, sweatshirts and hats, and white women's shirts available for purchase at every race he attends. For information on where you can get them, visit http://www.tarltonandson.com/tarlton-racing-schedule.
ON THE AIR –
Tarlton was a guest on the Lucas Oil ASCS Show by Racinboys on May 3. Click on the link below to listen. Tarlton's interview begins around the 32-minute mark.
http://www.meridix.com/mbp/general/index.php?liveid=Racinboys&recordid=18831
Check out the link below to see highlights of Tarlton's King of the West Sprint Car Series' win at Thunderbowl Raceway in Tulare, Calif., on May 14.
Here are a couple of videos from Tarlton's victory and runner-up performance with the King of the West Sprint Car Series at the Howard Kaeding Classic at Ocean Speedway in Watsonville, Calif., on July 1-2:
http://vimeo.com/25952465 and http://vimeo.com/25950506
Here is a link to Tarlton spinning around on the back of his car during a heat race at Ocean Speedway on July 8:
Check out this link to an in-car video of Tarlton winning the B Main at the Cottage Grove Speedway in Cottage Grove, Ore., on July 13:
SPONSOR SPOTLIGHT – BG Products, Inc.
Located in Wichita, Kan., BG Products, Inc., produces various automotive, industrial and heavy equipment products. BG Products, Inc., which was established in 1971, focuses on adding efficiency, economy and reliability to your vehicle. For more information, visit www.bgprod.com.
"We have been with BG Products since 1996 because they have amazing products," Tarlton said. "We run every product they make that a sprint car can run. And, knock on wood, I haven't had a rear end failure in my whole career while using BG Products."
Tarlton would like to thank his sponsors, including Tarlton and Son, Inc., Corporate America Lending, Tachi Palace Hotel & Casino, Bandy & Associates, Simpson and Sharp Insurance & Bonding for their continued support.