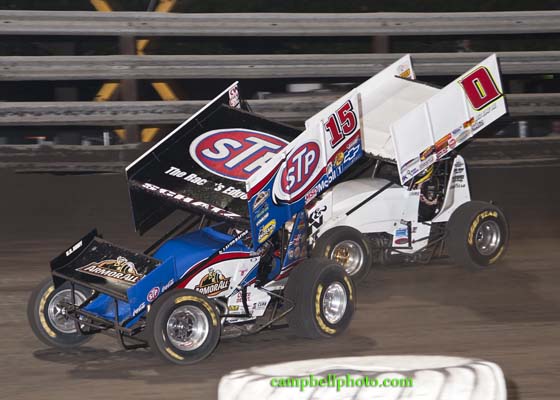 From Jonathan Allard Motorsports
Wednesday during the opening night of the 51st Annual Goodyear Knoxville Nationals, Jonathan Allard tallied an eighth place finish in the Last Chance Qualifier.
JA timed in with the 19th fastest lap of the 45 cars assembled, putting his William's Motorsports entry in the fourth heat, where he would finish in the seventh spot.
In the LCQ, Allard gridded the field in the 11th position with just four cars transferring into the 25-lap feature.
JA used a strong start to get past Todd King, and Jeff Meyer as he advanced into the eighth position.
As the track remained narrow, Allard searched as he looked to pick up momentum as he charged towards the top four positions.
With Doug Clark's checkered flag waving, JA was in the eight spot, missing out on the feature event.
"Unfortunately our Nationals did not get off to the start that we had hoped for," said JA. "We definitely have our work cut out for us on Saturday if we want to make it in the feature."
ON TAP: Up next for JA and his Williams Motorsports team will be the World Challenge at the Knoxville Raceway on Friday night.
MERCH: Don't forget to stop by the trailer and pick up a fresh JA T-Shirt. We have many different colors and sizes available.
STAY CONNECTED: Stay up to date with JA by visiting his website at www.allardmotorsports.com or by following him on twitter at www.twitter.com/allard0.