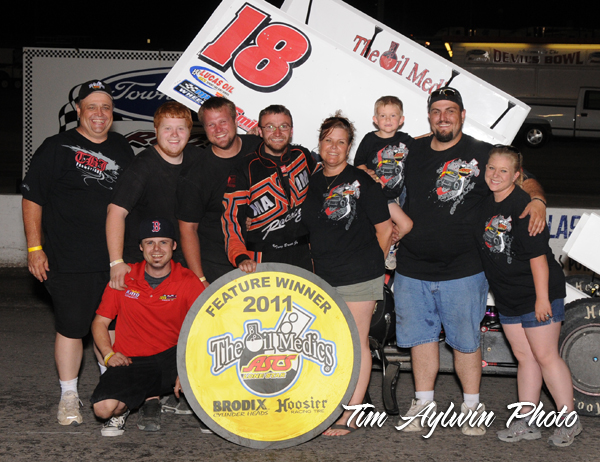 Inside Line Promotions
– KILGORE, Texas (Oct. 18) – Tony Bruce Jr. admits it was one of his best weekends at Lone Star Speedway. Unfortunately, the way it ended left a sour taste in his mouth.
"We were good all the way until it counted the most," he said. "Every single race we were in all weekend we went forward expect the one that was the most important on Saturday night. We were a lot better car than what we showed."
The Liberal, Kan., native charged from 14th in the B Main to earn a transfer, then drive from 22nd to sixth last Thursday in the first of the three-day inaugural LoneStar Sprint Nationals at the high-banked, 3/8-mile track in Kilgore, Texas. That was the high point for Bruce Jr., who overcame a mechanical issue early in the night at the ASCS National Tour event.
"An oil line was rubbing on a hose clamp," he said. "It was basically from the first lap. I was pulling a tear off every time I got out of a corner and back on a straightaway. When we had a caution, it was just spraying me down. I had no choice but to pull it in."
Bruce Jr., who drove from fourth to first on the opening lap, gave up second position with a couple of laps remaining in the heat race. He finished ninth, which forced him near the back of a B Main.
After starting 14th, Bruce Jr. worked his way toward one of the four transfer positions and was in fifth place by lap six. On the ninth lap, he was in fourth and picked up another spot in the closing circuits. That earned him a transfer to the feature, which he started 22nd on a rough track.
Bruce Jr. continued to pass cars and was in 12th place within seven laps. He cracked the top 10 by the midpoint of the race and passed a handful of cars to secure sixth place – his best ASCS National finish of the season, which was only two spots out of locking himself into Saturday's feature redraw.
"I think we were just good," he said. "We didn't change anything after the B Main. As good as the car was, we just left it alone."
A high pill draw started Bruce Jr. in the back of his heat race on Friday, when he drove from eighth to fourth. That earned him enough points to start 14th in the feature. However, the track slicked off and the top groove was fast enough that if a driver stayed up there and didn't make a mistake, he wouldn't get passed.
"The way the track was we needed traffic," he said. "Once everyone got strung out, that was about it. It was kind of right around the top side of the race track. You just had to keep your momentum up and hope the guy in front of you made a mistake."
Bruce Jr. finished 11th and his point total started him third in a 15-lap B Main on Saturday. Unfortunately, the setup made the car too tight and he fell back to seventh. Bruce Jr. passed one car, but finished sixth in the consolation race – two positions out of a transfer.
"We were just extremely tight there at the beginning," he said. "We were in limbo about what to do. Instead of doing the right thing, we did nothing and just left it from the night before.
"We were way too tight to rotate the corner. I was turning the car three or four times around the corners. It just wanted to drive straight."
He will race with the ASCS National Tour this Friday and Saturday at Devil's Bowl Speedway in Mesquite, Texas, for the 38th annual Winter Nationals.
For live updates of Bruce Jr. and the rest of the competition throughout the event, check out www.insidelinepromotions.com.
QUICK RESULTS –
Oct. 13 – Lone Star Speedway in Kilgore, Texas – Heat race: 9 (4); B Main: 3 (14); Feature: 6 (22).
Oct. 14 – Lone Star Speedway in Kilgore, Texas – Heat race: 4 (8); Feature: 11 (14).
Oct. 15 – Lone Star Speedway in Kilgore, Texas – B Main: 6 (3).
SEASON STATS –
51 races, 44 features, 1 win, 5 top fives, 19 top 10s, 30 top 15s, 41 top 20s
UP NEXT –
Friday and Saturday at Devil's Bowl Speedway in Mesquite, Texas, with the ASCS National Tour
FAVORITE NUMBER –
27: Cars passed in the feature and B Main on Thursday at Lone Star Speedway in Kilgore, Texas, to record a season-high sixth-place finish with the ASCS National Tour.
SOCIAL MEDIA LINKS –
Website: www.tonybrucejr.com
Twitter: www.twitter.com/tonybrucejr
ON THE AIR –
Bruce Jr. was a featured guest on the ASCS Show by Racinboys on May 24. Check out the link below for his interview, which starts at approximately 44:20 into the show.
http://www.meridix.com/mbp/general/index.php?liveid=Racinboys&recordid=19159
He was also on the April 26 edition. Click on the link below to listen to Bruce Jr.'s interview, which begins around the 52:25 mark.
http://www.meridix.com/mbp/general/index.php?liveid=Racinboys&recordid=18733
SPONSOR SPOTLIGHT – TBJ Promotions
TBJ Promotions is a full-service promotional company with an emphasis on sprint car racing. Owned and operated by Tony Bruce Jr., TBJ Promotions runs the Rock-N-Roll 50 at Riverside International Speedway in West Memphis, Ark. (May 7), the Steve King Memorial at Jetmore Motorplex in Jetmore, Kan. (May 28-29) and the Eagle Nationals at Eagle Raceway in Eagle, Neb. (June 10-11). For more information, visit www.tbjpromotions.com.
"We know what to do and know how to do the right thing in racing," Bruce Jr. said. "I've lived the promotional side and the racing side. I'm out to win for the competitors and I'm out to win for the fans."
Bruce Jr. would like to thank his sponsors, including The Oil Medics, Travelwizer.com, Ticketmob.com, LRB Manufacturing, Hoosier and Smiley's Racing Products for their continued support.