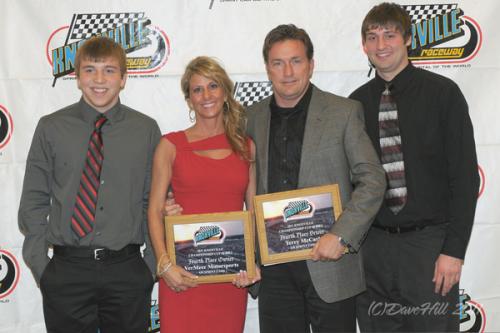 By Bill W

February 6, 2011 –Getting his sprint car start off to a better start in 2011 would have been tough for sixteen year old Carson McCarl. Try winning your first ever competition at Knoxville Raceway and becoming the youngest winner in the track's storied history. Throw in two more wins and a track championship (again the youngest to ever do so) and you've got a heck of a year! The Altoona, Iowa driver will be stepping up his game for his 2012 sophomore campaign, as he tackles a 360 sprint car.
Entering 2011, Carson drove a championship car. His chassis had won the 2001 Knoxville track championship. The ten-year old chassis didn't stop him from leading from green to checker in the season opener, just over a month after his sixteenth birthday. "Winning that first race was huge," he says. "Then we were able to win two more and get the championship. That was definitely the highlight of the season, along with getting my feet wet in the 360 at the end of the year."
In a sport where the mental side can make or break you, that win propelled Carson to the season he had. "Before that first night, I kind of knew what I was doing, and kind of what to expect, but getting the win was big for me," he says. "I had expected to do well, not necessarily win, but hang in there. That gave me a lot of confidence for the rest of the year."
He joined in the family tradition at Knoxville Raceway as he would win three times at the historic oval and take the championship in a close race over Jamie Ball. "Realistically, I didn't think there was any way we would win the championship," says Carson. "It was great to get one though. My Dad has six at Knoxville, so to get one of my own was really special."
Thanks to Gary Dean and the Berryhill family in Oklahoma and AmericashAdvance.com, Carson was able to try his luck with a 360 under the hood at the end of the year. He would finish first in his first competition, a UMSS heat at the Cedar Lake Speedway in Wisconsin. "That was a good feeling," he says. "We were running fifth in the feature and I was tagged and spun out. We were able to come back and get close to a top ten despite breaking the Jacob's ladder. We raced a couple of other times and got sixth at Kasson, Minnesota, so that gave me some good experience."
With the support of the help of the Berryhill's and new car owner, Gary Dean, Carson is set for 2012. "Of course, I'm looking forward to it," he says. "Winter needs to hurry up and end. Of course, the Berryhill's have a lot to do with me having the opportunity, and Gary Dean has stepped up to be my car owner this year. Without them, I wouldn't be able to do it. Brad Goebel has been working hard in the shop too, getting things ready for April."
Carson will be running a variety of tracks this year. "We may not run for points at Knoxville," he says. "It will be good for me to get away now and then and run some shorter tracks. As of right now, we're looking towards April and maybe I-80 Speedway with the ASCS-Midwest series."
What was the difference in the 305 and 360 sprints? "There was definitely a feeling of more power, and of course, the competition is a step up," says Carson. "There are a lot of good drivers in the 360's who have been doing it for years, so I know what I'm getting into."
Visit Carson on the Web!
Keep up to date on Carson's racing at www.CarsonMcCarl.com!
Carson's Releases!
Stay up close and personal with Carson McCarl's racing. To receive Carson's Releases, send an e-mail to sprntcar@iowatelecom.net with "Carson" in the subject line.
Carson would like to thank Deanfield Farms, AmeriCashAdvance.com, Vortex, Rossie Feed & Grain, Hoosier, DeBerg Concrete, HRP, Engler Machine, Phil and Vivian, Eagle Motorsports, Rider Racing Engines, Chase Graphics, CM Rock, Hinchman Racewear, Schoenfeld Headers, BMRS, Crow Safety, Butlerbuilt, KSE, Aurora Rod Ends, Chris Spaulding – Attorney at Law, K&N Filters, Sander, Bell and Jocko's for all their help!
6 18 11 Knox 052(2)