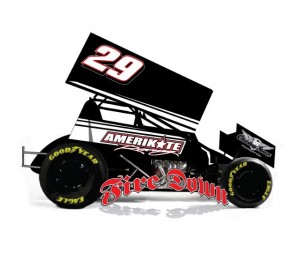 From Peterson Media
With the Northern California season going green on Saturday night, Sacramento, CA driver, Willie Croft, is eager to hit the dirt at the Marysville Raceway Park for the running of the Sherm Toller Memorial.
Croft comes into the season again behind the wheel of his potent Holey Smokes BBQ/Christian Stover Foundation/A.R.T. no. 29.
Following a 2011 season where he followed the King of the West Tour and earned a sixth place finish in the standings, Croft is eager to get back to the track that saw him pick up a win.
"I really got my start racing in Marysville regularly, so for whatever reason we seem to run really well here and I'm excited to get back in the seat," said Croft. "We've got some really awesome new partners this year joining a bunch of great companies from last year, and I can't wait to use their components this year.
Croft again plans to chase after the 2012 King of the West crown aboard his FK Rod Ends/K&N/ButlerBuilt backed machine, but also plans on hitting several 360 ci races in the area when the King of the West is dark, and also plans on running in several big 410ci races such as the Mini Gold Cup this Spring and the Dirt Cup and Gold Cup later this Summer.
"It's going to be fun this year racing with my new born son watching, I'm excited to watch him take racing in first hand," Croft continued.
With the season getting so close to firing off, Willie Croft would also like to thank Paul Silva of Silva Motorsports for his help in final 2012 preparations.
Willie Croft would like to thank Holey Smokes BBQ, The Christian Stover Foundation, ButlerBuilt , Brown and Miller, Sander Engineering, FK Rod Ends, Hinchman Indy, Schoenfeld, K&N, Smith Precision Products, All Pro Cylinder Heads, Shark Racing Engines, A.R.T., M.R.O. Industrial Supply, Redline Oil, Kaeding Performance, PaPa's Beef Jerky, Dan Olson Products, Vortex Wings, AIC Powdercoating, and GUTS for their support in 2012.
ON TAP: Willie and his Willie Croft Racing team will be in action Saturday night at the Marysville Raceway Park.
STAY CONNECTED: Stay connected with Willie by visiting www.williecroftracing.com or following @WCroft29 on Twitter.
PETERSEN MEDIA: Petersen Media specializes in motorsports media constructing news releases, both pre and post race, as well as constructing email lists to keep sponsors, and fans up to date. Petersen media also utilizes today's Social Media networks to provide trackside updates to fans and sponsors, and can customize packages to fit your team's needs.
For more information contact Sales@petersenmediainc.com, 916-342-3424, visit www.petersenmediainc.com, www.facebook.com/PetersenMedia or follow @Petersen_Media on twitter.