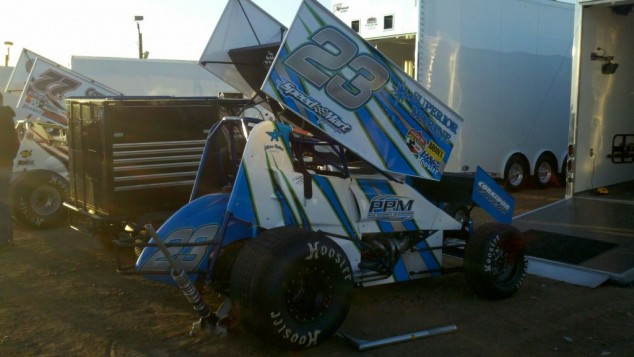 PETERSEN MEDIA
– Snohomish, WA driver, Seth Bergman posted twin 10th place finishes over the weekend at Cocopah Speedway with the Lucas Oil ASCS National Tour.
A fifth place effort in heat one on Friday night was good enough to get Bergman's Superior Marine/Corridor Electric/Speedmart No. 23 into the feature event from the 15th starting spot.
As the Friday night finale got underway, Bergman battled in his 15th position as the track was narrow early on in the feature.
With laps clicking off, Bergman had moved into the 13th spot, and looked for more as he began working the top side of turns one and two with just four laps remaining.
Bergman was able to use a late race move to get around Henry Van Dam for the 10th spot as they came around to take the white flag.
The checkered flag waved over Bergman holding off Van Dam and securing the 10th spot.
Starting the Saturday night feature in the 11th spot, Bergman would take over the tenth spot on the start, and hold on for the duration of the race.
Cocopah Speedway stayed extremely narrow during the final night, and Bergman was caught in line in the 10th spot, and would hang on to the position as the checkered flag flew on the weekend.
"I have to thank Ben, and all my guys and sponsors for sticking behind me," said Bergman. "We've got plenty of speed and will keep working at it, and hopefully these top ten's start turning into top five's."
Bergman and his Pete Petersen Motorsports team would like to thank Superior Marine, Corridor Electric, Speedmart Inc, Eagle Chassis, ButlerBuilt, and 7 Industries for their support in 2012.
ON TAP: Bergman and the PPM team will now head east, and battle the Gulf South Region at the Golden Triangle Raceway in Texas on Friday, March 16th.
PETERSEN MEDIA: Petersen Media specializes in motorsports media constructing news releases, both pre and post race, as well as constructing email lists to keep sponsors, and fans up to date. Petersen media also utilizes today's Social Media networks to provide trackside updates to fans and sponsors, and can customize packages to fit your team's needs.
For more information contact Sales@petersenmediainc.com, 916-342-3424, visit www.petersenmediainc.com, www.facebook.com/PetersenMedia or follow @Petersen_Media on twitter.