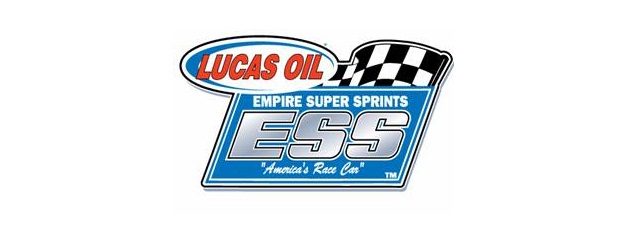 By Dean Reynolds
SYRACUSE, NY – After a very successful Motorsports Expo, the Lucas Oil Empire Super Sprints (ESS) will be making many exciting sponsorship announcements. The first comes from Dan Pilat and his Pilat Graphic Design out of Waterloo, NY. For 2012 Pilat Graphic Design will be the title sponsor of the annual Most Improved Driver Award.
The Most Improved award is voted on by the ESS Board of Directors and Officials and is one of several prestigious awards that are handed out at the annual awards banquet. For this season ESS is proud to have Dan Pilat's business as the title sponsor.
Pilat Graphic Design specializes in Motorsports and commercial signs and graphics as well as decals, banners, digital printing and custom painted helmets. With over 15 years of experience, their attention to detail and outstanding customers service will help you get ahead of the competition.
Samples of his work will be seen at the Lucas Oil ESS events with the cars of defending champion Chuck Hebing, Paul Habeck and Charlie Donk all lettered by Pilat. The three sharp winged sprinters were in display at the Motorsports Expo.
For more information in Pilat Graphic Design, please log on to www.pilatdesign.com or simply call 315-539-3484.
The 30th season for ESS will kick off on March 24th at the famed Selinsgrove Speedway as several of the tour stars will be a part of the Mach 1 Series event that pays the winner $2,500.
The full point season will then kick off at the Can-Am Motorsports Park on Sat. April 28th where the battle for the Lucas Oil Empire Super Sprint championship begins!
For the latest news, please log on to www.empiresupersprints.com or you can follow us on Facebook and Twitter where it's always excitement guaranteed and for over 30 years!
The Lucas Oil Empire Super Sprints are brought to you by: Lucas Oil, Le Groupe Ultra, SUNY Canton, Hoosier Racing Tires, Westward Painting Company, Fondations 4 Saisons, Mach 1 Chassis, Lee's Repair Auto and Truck, Car Mate Trailers, The National Parts Peddler Newspaper, Cobra Coaches, The Ohsweken Speedway, Fondations 55, Mohawk Racing Parts, Engine Research, Brodix Cylinder Heads, Riverside Bar and Grill, Northwood 2 Construction/LaSalle Motorsports, 730 Truck Stop, Coffrage Daniel Lampron, Jasmin Peloquin Sport, FX Chevy and many, many associate sponsors.