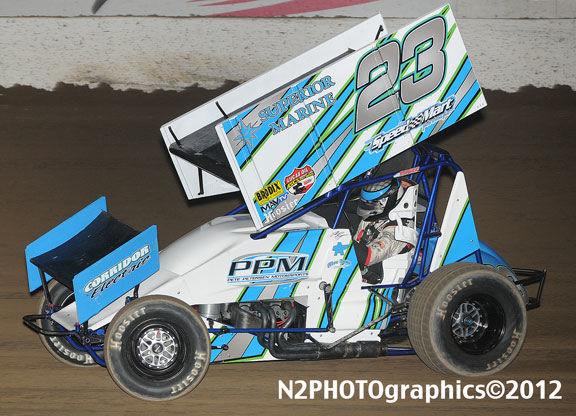 By PETERSEN MEDIA

Just a week after posting a pair of tot-ten finishes with the Lucas Oil ASCS National Tour, Seth Bergman posted a pair of fifth place finishes with the ASCS Gulf South Region over the weekend in Beaumont, Texas and Baytown, Texas.
Friday night saw the PPM/Superior Marine/Corridor Electric No. 23 score a second place finish in heat race action, lining Bergman up sixth in the feature event.
As cars were lining up, Bergman's right rear tire began losing air, and Bergman was forced to the pits for a quick change, but would be relegated to the 15th spot to start the feature event.
Now in the middle of the pack, Bergman was able fight through traffic, and avoid a host of wrecks in front of him to score a fifth place finish at the checkered flag.
"We had a very strong car on Friday, but unfortuatnely we got an early flat and had to start deeper then we were supposed to," said Bergman. "Ben and Brett did a great job of getting it changed, and luckily we avoided some of the madness that went on during the race and scored got back up to fifth."
Saturday night saw the team head to Baytown, Texas, for the final night of their regional double header.
After winning his heat race in dominating fashion, Bergman found himself on the pole for the feature event.
When the race got underway, it was apparent that Bergman's car was too tight run the bottom, and he couldn't find anything to work with on the top side of the speedway, and he found himself falling back through the field.
Able to get in line in the fifth spot, Bergman held strong, and kept the fifth position as the race concluded.
"Saturday night we just made a couple mistakes on our set up," he explained. "We learned some things for the future which is the whole point of running these regional shows."
Bergman and his Pete Petersen Motorsports team would like to thank Superior Marine, Corridor Electric, Speedmart Inc, Eagle Chassis, ButlerBuilt, and 7 Industries for their support in 2012.
ON TAP: Bergman and the PPM team will now meet back up with the Lucas Oil ASCS National Tour as they invade the Devils Bowl Speedway on March 23-24th.
PETERSEN MEDIA: Petersen Media specializes in motorsports media constructing news releases, both pre and post race, as well as constructing email lists to keep sponsors, and fans up to date. Petersen media also utilizes today's Social Media networks to provide trackside updates to fans and sponsors, and can customize packages to fit your team's needs.