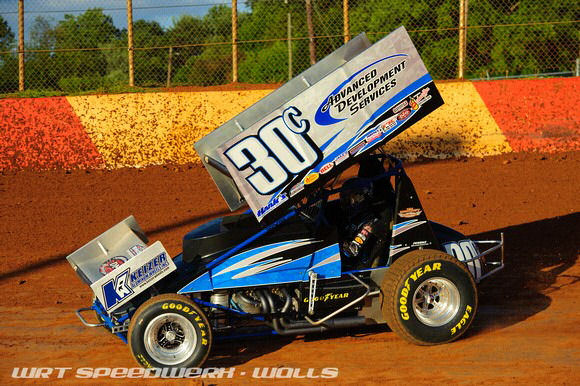 PETERSEN MEDIA
Lance Dewease is very excited to announce his return to sprint car racing, as the Fayetteville, PA driver has been cleared by doctors and will wheel his Vapor Risk Management machine Friday March 23rd at the famed Williams Grove Speedway.
In October of 2011, Dewease was involved is a vicious accident at the Lincoln Speedway, that caused a serious neck injury, and sidelined the veteran shoe.
After an off season that consisted of surgery and a tremendous amount of rehab, Dewease will return to action a little earlier than he anticipated.
"I'm tickled to have the ability to hop back in the seat of my car," said Dewease. "Any time you wreck and have a serious injury, you wonder if and when you can get strap back in and overcome injury."
In 2011, Dewease racked up some impressive numbers as he competed in 75 events, claimed championships at the famed Williams Grove Speedway, his sixth, and the All Stars Circuit of Champions- Eastern Region Championship, parked in victory circle eight times while recording 59 top-ten finishes.
In 2012 Dewease will look to race all over the great state of Pennsylvania, and compete in big World of Outlaw races out east and throughout the mid west.
Dewease would like to thank Viper Risk Management Group, Wings Unlimited,
Hank's Performance Products, Schaeffer Racing Oils,
Penske Racing Shock,s
FK Rodends,
Keizer Aluminum Wheels,
DMI Racing Components,
Astro Titanium,
Morrison Racing Engines,
Tom Shockey Collision, Kirkey Seats, FW Graphics,
WRT Web Designs,
WRT SpeedWerx, and Schoenfeld Headers for their continued support.
STAY CONNECTED: Stay up to speed with Lance by visiting his website, www.lancedewease.com.
PETERSEN MEDIA: Petersen Media specializes in motorsports media constructing news releases, both pre and post race, as well as constructing email lists to keep sponsors, and fans up to date. Petersen Media also utilizes today's Social Media networks to provide trackside updates to fans and sponsors, and can customize packages to fit your team's needs.
For more information contact sales@PetersenMediaInc.com, by phone at 916-342-3424, visit www.petersenmediainc.com, www.facebook.com/petersenmedia or follow @Petersen_Media on twitter.