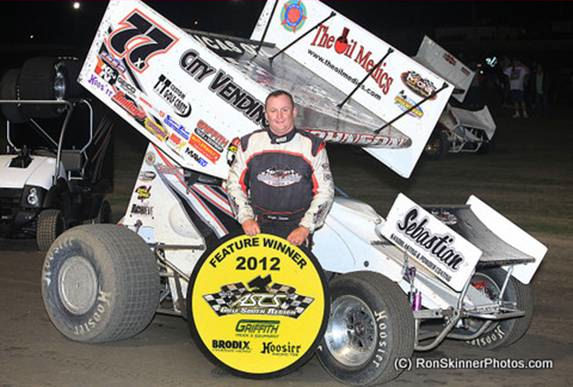 By Bill W, Ron Skinner photo
March 21, 2012 – The first win of the season was sweet for Wayne Johnson and the Wayne Johnson #77x Racing Team. Last Friday night, the Knoxville, Iowa driver drove to victory over an ASCS-Gulf South field at the Golden Triangle Raceway Park in Beaumont, Texas. A second place finish at the Royal Purple Raceway in Baytown capped off the weekend on Saturday. This weekend, it is back to Lucas Oil ASCS National Series action at the Devil's Bowl Speedway in Mesquite, Texas on Friday and Saturday.
Wayne started fourth in his heat on Friday at Beaumont and finished second. He used some knowledge that he acquired a year ago driving for Travis Rilat. "We got snuck by there last year when we drove Travis's car," he says. "I took some mental notes for when I went back, and I'm glad I did. It sure made my car good!"
Originally starting seventh, Wayne took advantage of several accidents happening in front of him. By the time the green flag flew, he was up front. "They had like five restarts…crash after crash after crash," he says. "By the time, we finally got started, we were outside of row one."
That didn't mean he would lead from the outset though. "Aaron Reutzel started on the pole and got the jump on me," says Wayne. "I think he led three laps or so. I was able to get by him after that. It was slick through the middle, and the top started coming in, while the bottom was going away."
Wayne would cruise from there to take his first win of the 2012 season. "The car was the best we've had all year," he says of the Missile Motorsports, Sebastian Sandblasting & Powdercoating, City Vending #77x. "What it boiled down to was I drove Travis's car last year, and that's what we did. I saw what they did, and we stole their setup."
In Baytown on Saturday, Wayne charged from seventh to second in the heat. The redraw saw him starting outside of row one for the main event. "We were pretty good there in the heat," he says. "Seth (Bergman) started on the pole beside us in the feature and we got the jump on him. We led six or seven laps before Travis got by us on the top. I followed him for a while until Gary Wright passed us both on the bottom!"
Now running third, Wayne had to go to work on Rilat to regain second. "I think I should have stayed with the bottom, but I didn't," he says in hindsight. "Towards the end, Travis started running down there, and was kind of holding us up. I started moving around and found something in the middle to get back by him again."
The runs gave Wayne some confidence heading into this weekend's Devil's Bowl events. "I wish they were National races, but we'll go back down there with the tour in another month or so," he says of Beaumont and Baytown. "We have some good notes, and hopefully, we can go back and do it again."
The team has been staying with some good friends in the "Lone Star State". "I need to thank the TnT guys for letting us stay with them down here the last couple weeks," says Wayne. "It's been fun!"
Follow Updates on Facebook!
Wayne will update as his race night goes on at his Facebook page. Find it by searching for Wayne Johnson Racing or clicking the following link…
http://www.facebook.com/#!/WayneJohnsonRacing
Outlaw Wings!
Check out the new "recessed rivet" design put out by Outlaw Wings. Talk to Wayne about purchasing Outlaw Wings for your car! Outlaw Wings – "When Downforce Matters"!
Wayne's Website
To learn more about Wayne and the team, log on to www.WayneJohnsonRacing.com!
Wayne's World
Walter Meedy asks: What has been your key in getting around Devil's Bowl Speedway?
Wayne answers: I think more than anything, it is just the laps there you know. It's different from any other track. You race uphill into turn one, and then it's downhill into the front stretch. It's just an odd place that boils down to racing there a lot, and knowing what you need to do. I couldn't have been but 18 or 19 years old the first time I was there.
Got a question for Wayne? Each week, Wayne will answer your questions about "Tech Tips", or anything that's on your mind. If you ever wondered what a part on a sprint car is all about, send an e-mail to us at sprntcar@iowatelecom.net, and we may answer it in this section! Put "? for Wayne" in your subject line. He'll try to keep it clean if you do!
Wayne's Fast Facts
Wayne's last trip to the Devil's Bowl was a prosperous one, and he took the win there on October 21, 2011. Sam Hafertepe Jr. was second, ahead of Koby Barksdale, Bryan Dobesh and Aaron Reutzel.
Partner of the Week – Partner of the Week – Hoosier Tire Southwest
Hoosier Tire Southwest is located in beautiful Balch Springs, Texas. They can be reached at 1-972-289-RACE (7223). Call them if you have questions about purchasing Hoosier tires. All Hoosier tires are sold through Hoosier's extensive distributor network. Retail tire prices are set by individual distributors and dealers. The goal is to have the tires you need when you need them. The extensive Hoosier distributor network was developed to bring American made tires closer to the end user as well as provide product support on a local level using many tire experts. If you want to become a member of the Hoosier "family," contact them about arranging a purchase. Find them online at www.hoosiertire.com/DIST/disthtsw.htm!
"Wednesday's with Wayne"
"Wednesday's With Wayne" is an up close look at the past, present and future of colorful and talented sprint car driver Wayne Johnson. You'll never know what to expect next with Wayne, so don't miss us on Wednesdays!
To receive "Wednesday's with Wayne", send an e-mail to sprntcar@iowatelecom.net with "Wayne" in the subject line.
Wayne Johnson Racing would like to thank Vern Rengen and Missile Motorsports, Sebastian Sandblasting & Powdercoating, City Vending, Outlaw Wings, Team Achieve, The Oil Medics, Century Signs, Smiley's Racing Products, Hoosier Tire Southwest, Simpson, Butlerbuilt, Super Shox, Maxim, Speedway Motors, Rod End Supply, Schoenfeld Headers and RCM Design.
IMG_7653