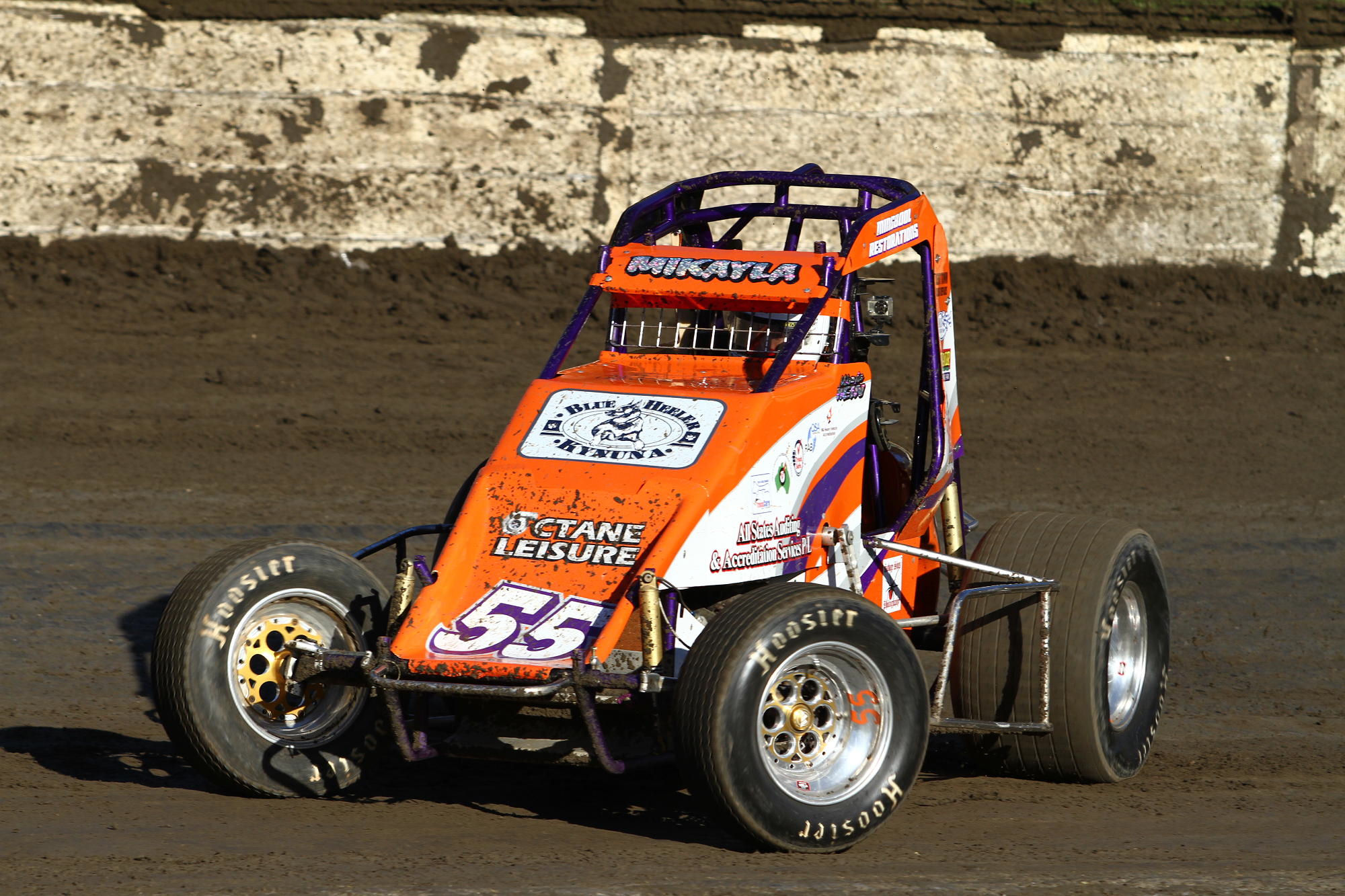 By Daniel Powell
The sensational debut wingless sprint season continued for Mikayla Hein during last Saturday night's latest round of the Murray Bridge Speedway Wingless Sprint Track Championship when she recorded her third feature race victory of the season.
Fresh from finishing equal third in the overall Oval Track Imports Series point standings, the SA # 55 All States Auditing & Accreditation Services supported Eagle driver drove to her second wingless sprint feature race win at the track she calls home, Murray Bridge Speedway. Apart from her two feature race wins this season at Murray Bridge Speedway, she has picked up her other feature race win at Speedway City (Adelaide, SA).
Hein had started the feature race from outside of the front row after she had recorded a fourth and a victory in her two heat races earlier in the night. At the drop of the green flag, Hein powered to the front and managed pace the field for the entire 15-lap distance to win by a comfortable margin over her nearest rival.
When asked what the key was Hein's key to her feature race success, she said that picking the right race line was it.
"I tried the top and the bottom of the track at different stages during the feature race, but the top was where I felt the most comfortable, so I stayed there," she explained. "To win my third feature race in my debut season is something that I could have ever imagined happening going into the season, as I just wanted to build up some consistency and enjoy myself, but with the support of my team and sponsors, I've been able to enjoy some success, which has been great for everyone."
Hein will return to Murray Bridge Speedway on Saturday night, April 28 for the next round of their track championship.
Special thanks must go to Robin and Cody Atkins from Atkins Motorsport, along with her Mum and Dad, Pop, Michael and David for all of their ongoing support.
Mikayla Hein is proudly supported in the 2011/12 season by – All States Auditing & Accreditation Services, Smithfield Mechanical Repairs, Heatleys Industrial & Safety, Old No 7 Transport, Active Motor Wreckers, CMV Truck Dismantlers, Blue Heeler Hotel – Kynuna, Octane Leisure, Oval Track Imports, Pickos Photos, Savage Shots Photography, Bridge Bearings and Bolts, Mingbool Restorations, ASCO Fabrications, JRM Group, Kent Town Crash Repairs, Port Gawler Off Road Hire Park, Race Craft Designs, Transport and Warehousing Solutions, M McNamara, M & J Gray, and Steve and Linda.