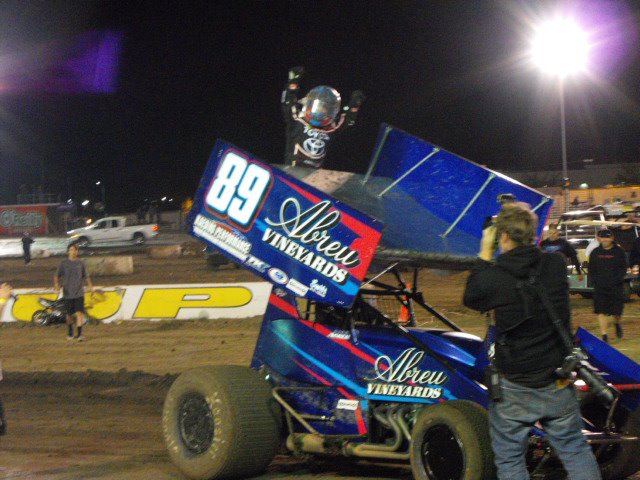 PETERSEN MEDIA
Young Rico Abreu will remember April 27th at the Silver Dollar Speedway for the rest of his life, as the St. Helena native charged from his fifth starting spot and scored his first career sprint car win in the non stop affair at the Silver Dollar Speedway.
"What an awesome night," Abreu simply said. "I've dreamed of this feeling, and this supersedes my wildest dreams."
Abreu had been knocking on the door in two previous outings at the Silver Dollar Speedway, as he led a majority of the season opener, and scored second a week ago in 410 action.
Friday night, was a 360 race, and with 20 cars on hand, Abreu started the night off by ripping off the second quickest lap.
With the inversion being a six, Abreu found himself rolling off in the fifth spot for the 25 lap feature.
From the waving of the green flag, fans in attendance would witness an historic night, as Abreu maneuvered his Abreu Vineyards/Kaeding Performance/Maxim to perfection around the Silver Dollar Speedway as he found the top-side of the track to his liking late in the feature.
As he railed around the top, he closed in on race leader, Willie Croft who seemed to have the race at hand.
"I was Willie in traffic, and knew we were going to get a chance," Abreu commented.
With three to go, Abreu darted under Croft exiting turn two, and went on to pick up the win.
"I can't thank all my guys enough, and I'm pumped to win my first race in Chico," said an exstaic Abreu in victory lane.
Saturday night, Abreu took his momentum to the Placerville Speedway for the third round of the Cancen Oil King of the West Series present by Goodyear.
The youngster kept up his strong weekend by timing in third quickest on the 24 cars assembled at the speedway.
Charging to a third place finish in his heat, Abreu's time put him in the dash draw, and during the draw exchange, Abreu opted to switch with Tim Kaeding, handing Kaeding the one, and receiving the three in return.
"He looked to confident with his, so I had to trade him, that obviously backfired," said Abreu.
Scoring a second place finish in the Dash, Abreu went on to share the front row with TK in the 30-lap feature event.
After the initial start, Abreu fell back to third behind Jonathan Allard, and TK, but after a lap four caution, the race really intensified.
Abreu hooked up in a thrilling battle with JA, Willie Croft, and Shane Golobic, and had fallen back to the fourth spot during a long green flag run.
The Friday night feature winner, showed he is an up and coming force, by charging back by Croft and Allard into the second spot, where he set his sites on Kaeding who had encountered traffic.
While charging out of turn two and attempting to go around a lapped car, Abreu, was forced of the track, and as he tried to reclaim his spot, he clippied the exit ramp, and sent him machine in a front flip down the back stretch, ending his night in the 18th spot.
"We had a great car tonight, and were coming," said Rico. "It's rough to end up on your head, but overall it was a great weekend, memorable for sure, I won a sprint car race."
ON TAP: Rico will now head back to Dodge City, KS for a pair of USAC National Midget races on May 5th and 6th.
STAY CONNECTED: Stay updated with Rico by visiting his website at www.ricoabreuracing.com, 'liking' him on facebook at www.facebook.com/ricoabreuracing or following him on twitter @RicoAbreu24.
VIDEO: Be sure to check out http://www.youtube.com/ricoabreuracing for video of Rico, as content is constantly being uploaded!