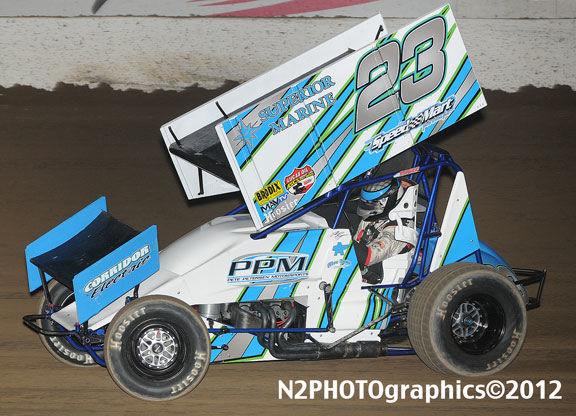 PETERSEN MEDIA
– Snohomish, WA driver, Seth Bergman, finally got the monkey off of his back and scored his first career Lucas Oil ASCS National win as he picked up the 4th Annual Rock-N-Roll 50 at Riverside International Speedway.
"Wow," Bergman simply said. "To win this race as our first one is pretty huge, and a testament to this team."
In what is arguably the most grueling race on the 2012 schedule, Bergman and his Pete Petersen Motorsports team shined late in the feature as Bergman worked his way up form the fourth starting spot to become a factor late in the race.
Bergman ran inside the top four all night, and as laps wore down, he worked his way up to the second spot as he began closing in on leader, Brad Loyet.
Bergman took the point on lap 36- and simply checked out, as he stretched his advantage to a straight away until progress was halted on lap 44.
Over the final six laps, Bergman again walked away form the field as he scored his first National triumph in dominating fashion.
"I can't thank my family enough for sticking with me through all of this, and my car owner for keeping me on the road," Bergman continued. "This is simply amazing."
Bergman was also in action on Friday night at the Salina Highbanks in Salina, OK, and his night went much different.
With five laps to go, Bergman was running in the 10th spot when he slowed with five to go with a flat tire and was forced to make a switch.
Crew Chief, Ben Gregg, made the switch and Bergman would end up 11th at the stripe.
Bergman and his Pete Petersen Motorsports team would like to thank Superior Marine, Corridor Electric, Speedmart Inc, Eagle Chassis, ButlerBuilt, and 7 Industries for their support in 2012.
ON TAP: Bergman and his team will now head to Creek County on Friday May 4th, before heading to Lucas Oil Speedway on Saturday night.