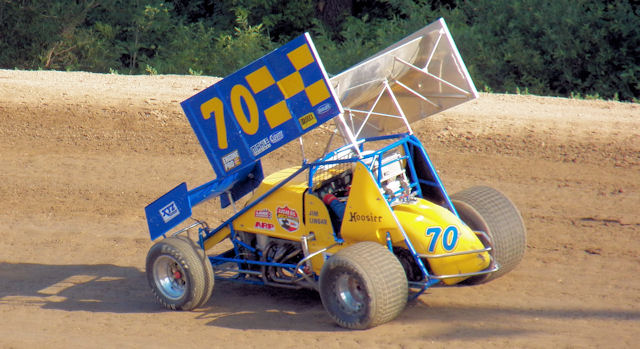 By Maggie Nixon
PLYMOUTH, Ind. — Wednesday, May 2, 2012 — Dirt track racing is back in
northern Indiana as Plymouth Speedway will host UMP Modifieds, 410
non-wing sprints and Plymouth Speedway Hornets Saturday night at the
Bullring!
The 1/5-mile dirt track inside the 3/8-mile asphalt track boasts 65′
corners with 5′ banking. The straightaway is 50′ wide with 2′ of
banking.
Track promoter Eric Saunders says this one-of-a-kind track is a
driver's track, and those practicing for the first time Sunday agree.
Travis Ray of Argos said, "You've got to have finesse,this is going to
be a drivers track. The clay has a tremendous about of grip in it. I
liked it a lot, it's fast and it's going to be a blast."
"The track's tight, but it'll be fun," said Kevin Atkins of Warsaw,
who is excited to have dirt track racing so close to home.
"The track will be just fine when they get more cars on it," said Joe
Gearte. "I have raced all over the country, and every track is
different. I'm just glad open wheel racing on dirt is back here at
home."
"It's going to be interesting," said Jim Lingar, "I'm looking forward
to coming back here."
Lingar had raced at the Plymouth Speedway in the late '60s, he said.
"It'll be a little hard to distinguish the pavement from the dirt at
the first straightaway, but it will be fun."
Lingar added about his return to Plymouth: "It's amazing how much has
changed, but how so many things are the same."
For the first time out in the dirt, this was great," said Eric's dad,
Irish. "It's great to see the those sprint cars wheeling down the
straight. I haven't seen that in northern Indiana for years and
years."
Gates open at 5 p.m. Saturday, free pit party from 5:30 to 6:30,
drivers meeting at 7, hot laps at 7:15, racing at 8. Along with the
UMP Modified, non-wing 410 Sprint and Hornets, there will be
one-on-one spectator drag races.
Regular asphalt stock car racing for Outlaw Late Models, Late Models,
Street Stocks and Hornets is Friday night. Gates open at 5 p.m.,
practice – 5:30, qualifying – 6:30, drivers meeting – 7:30 and opening
ceremonies at 8 p.m.
Dirt shows — always Saturdays — include non-wing sprints, UMP
Modifieds, USAC Midgets and SOD Sprints with NASCAR Champion Tony
Stewart competing June 16. The USAC Midgets will also run an
asphalt/dirt double-header, dubbed "Plymouth Palooza" July 6-7.
The Speedway is once again offering a discount, and by logging on the
track's website, spectators can print a $1 off coupon good for any
Friday night race. Check it out here:
www.plymouthspeedway.net/friday_night_coupon_offer.htm
Visit www.plymouthspeedway.net or "like" the track's Facebook page:
Search Plymouth Speedway.
Follow us on Twitter, Maggie@plymouthspeedway.