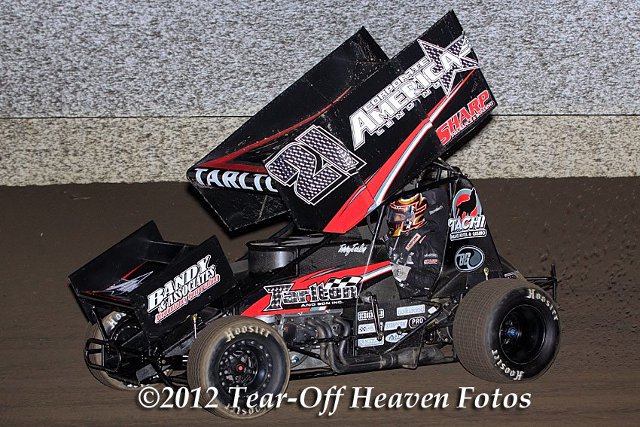 PETERSEN MEDIA
After taking the last two weeks off from racing, Tommy Tarlton returned to the Kings Speedway Saturday night, and scored his first win of 2012, as he continues his stout 2012 campaign.
"What a way to come back after a couple weeks off," said Tarlton. "I want to thank Jason Meyers for filling in for a few nights, but it feels great to get back here, and score a win."
Again in action with the Rebel Cup Series, Tarlton put together what was nearly a flawless night as he started his night off by timing in with the fourth quickest lap of the night during time trials.
Starting in the third row of his heat, the Easton, CA driver marched his Corporate Lending America/Tachi Palance and Casino/Sharp Insurance machine to a second place finish, putting him in great position for the feature event.
Staring in the fourth position for the 30-lap contest, Tarlton simply showed the rest of the field he was the dominant car from the start as he quickly grabbed the lead by the ninth circuit, and never looked back.
Tarlton was able to weave his Bandy and Associates/Pro Signs/BG Lubricants machine through traffic to perfection as he lapped up to fourth place, and went on to win his first feature of 2012 over Steven Tiner.
"Paul Baines and my guys had this car dialed in all night," said Tarlton. "It was a pleasure to drive, and I can't thank all of my sponsors for continuing to support us, and let us have some fun on the weekends."
Tommy would like to thank Corporate Lending America, Tachi Palace and Casino, Sharp Insurance, Bandy and Associates, Pro Signs, BG Lubricants, Pro Shocks and Astro Titanium for their continued support.
VIDEO: Check out some behind the scenes action as well as some of the racing action from Tommy's opening night of action at the Marysville Raceway Park at http://vimeo.com/37919846
STAY CONNECTED: Stay connected with Tommy by visiting www.tommytarlton.com or follow @Tarlton_Racing on Twitter.